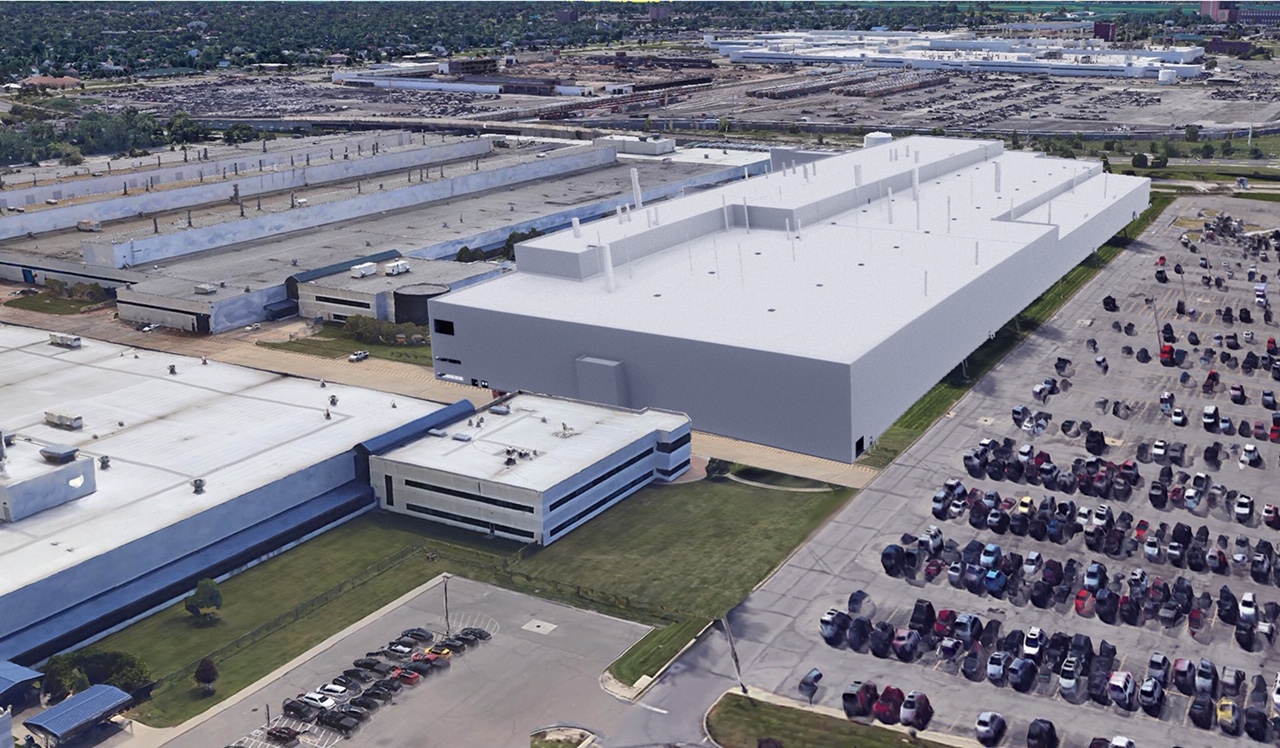 Detroit completes deal for Fiat Chrysler plant; automaker to move forward with 5,000-job plan
Nearly 215 acres assembled just after deadline closes
The City of Detroit has completed several transfers of land ownership to assemble a cohesive plot of land for a new Fiat Chrysler assembly plant, paving the way for the automaker to build a nearly 215-acre plant that would employ 5,000 workers, officials announced today.
Pending City Council approval of $107.6 million worth of land deals, FCA will move forward with building the new plant, as well as converting two existing plants at the Mack Avenue Engine Complex and a retooling of the Jefferson North Assembly Plant. FCA announced in late February it would only move with the plan if all land deals were completed in 60 days; the final acquisition was completed Thursday, three days after the deadline.
The City of Detroit is using $36 million from uncommitted City of Detroit bond funds, a $7.5 million loan to the Detroit Brownfield Redevelopment Authority and $7.1 million from the recent sale of the Millennium Garage toward purchasing parcels of land from a wide variety of owners, including DTE Energy, the Great Lakes Water Authority, Soave Enterprises and Hantz Farms. The City has also requested $57 million in grants and loans from the State of Michigan toward clean-up and site preparation.
A key, much-discussed part of the deal included a land purchase from Crown Enterprises — the Moroun family. That deal, which included 82 acres of land, was completed late Thursday.
"We appreciate the tireless efforts of Mayor Duggan and his administration and the Neighborhood Advisory Council to reach this important milestone," said Mark Stewart, FCA Chief Operating Officer. "We look forward to working with City Council, State of Michigan and the Michigan Strategic Fund Board as they consider the merits of this deal, which will create thousands of good-paying, union jobs and expand our manufacturing footprint in the state and city we call home.
LAND BREAKDOWN
The City of Detroit has assembled nearly 215 acres of land, none of which include residential homes, from a variety of owners. Some parcels were purchased, while many owners entered into land-swap deals to exchange their land with land owned by the City.
The largest landholder in the proposed FCA footprint was Crown Enterprises, which held 82.2 acres of land. The City will pay $43.5 million to the Morouns for the land. The second-largest landholder is the City itself; 55.6 acres of the land to be turned over to FCA is City-owned, meaning there were zero transfer of funds.
DTE Energy held 41.4 acres of the needed land. The energy company agreed to swap those 41.4 acres for 25.1 acres of City-owned land at a value of $3.6 million. Other entities that entered into land-swap deals with the City include Soave Enterprises, which is exchanging 5.3 acres of its land for 9.5 acres of City-owned land at a value of $300,000; Hantz Group, which is exchanging 3.9 acres of land for 1.7 acres of City-owned land for no cost; and private landowner Michael Kelly, which is exchanging 0.3 acres of land for 1.4 acres of City-owned land at no cost.
The remaining acreage was purchased by the City, including 10.8 acres of land owned by the Great Lakes Water Authority ($1 million); 0.1 acres of land owned by the Detroit Public Community School District ($10,000); 6.9 acres of land owned by Conrail ($500,000); and 8.1 acres of land held by a private landowner ($3 million).
In total, the agreements provide for 155 acres of City-owned land to be swapped and $48 million of cash to be used in the acquisition of 214.6 acres. The City and State have agreed to environmental cleanup and site preparation at a cost of $60 million, bringing the total cost of sale and preparation to $108 million.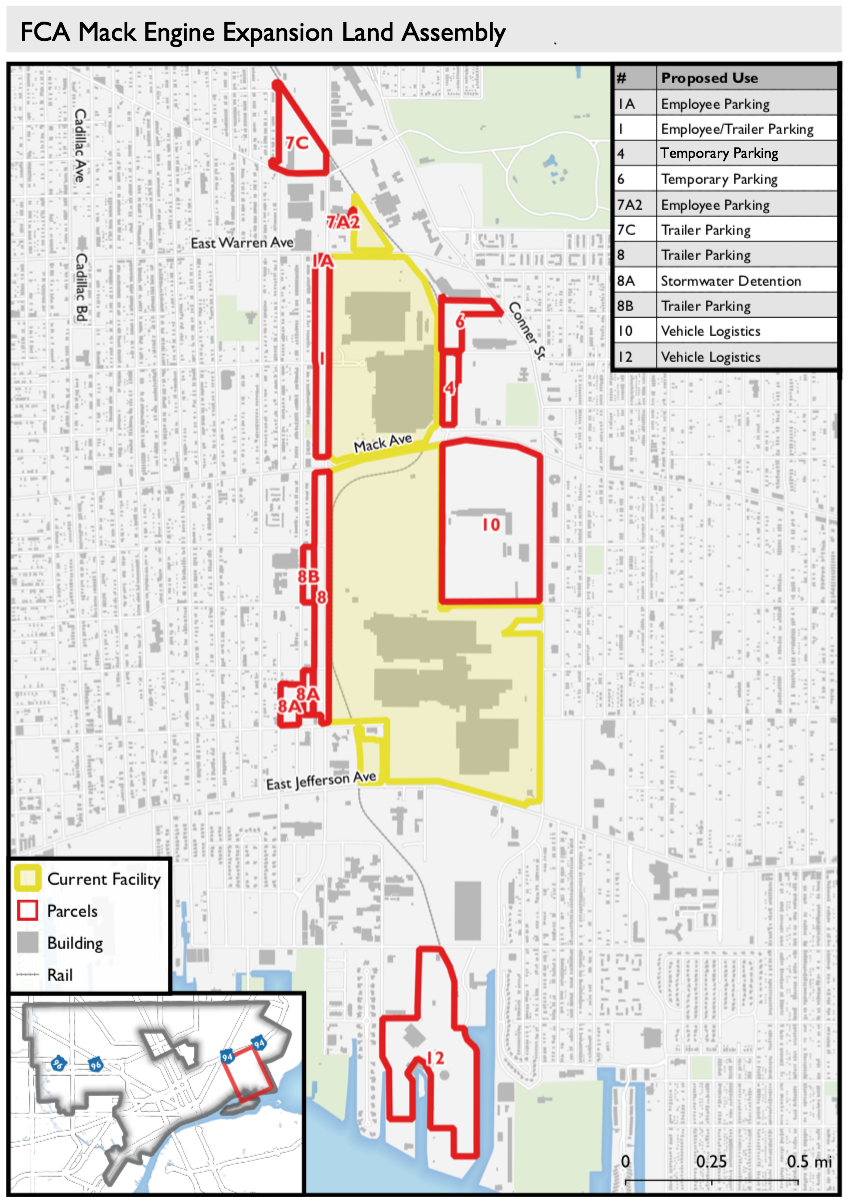 COMMUNITY BENEFITS AGREEMENT
Under Detroit's Community Benefits Ordinance, the impact area's Neighborhood Advisory Council voted 8-1 to approve a $35.2 million community benefits agreement on April 25.
After fulfilling contractual obligations, FCA will provide Detroiters -- including residents, veterans and returning citizens of the impacted area -- the opportunity to apply for open production positions in advance of the general public. The application window for available positions will open as early as the second half of 2019. To ensure a robust talent pipeline of qualified Detroiters, the City will be expanding training opportunities and one-stop shops provided through Detroit At Work.
The CBA also requires $5.8 million from FCA for job training through Detroit at Work and a commitment to give Detroiters priority access to jobs at the new plant; $7 million from the City for traffic calming and road improvements, including speed cushions, new paving, sidewalks and more; and $1.8 million from FCA in housing-repair grants for owner-occupied homes (applications will be made available in August).
Also as part of the CBA, FCA will establish a partnership with Wayne County Community College District to create an automotive manufacturing co-op program, combining on-the-job experience with academic coursework to get a 2-year associate's degree. The CBA also includes provisions for the city to demolish 300 vacant homes in the impact area over the next three years, $800,000 for community-selected neighborhood revitalization projects, and an ivy-covered wall and landscaping to serve as a buffer between the plant and the community.
"I can't say enough about the neighbors who got engaged in the process, faithfully attended meetings and especially those who served as NAC members. They represented their neighbors extraordinarily well and negotiated a comprehensive community benefits package that the entire city should be proud of," Mayor Mike Duggan said.
THE PLANT
Fiat Chrysler announced in February its plans to invest $1.6 billion in expanding its Mack Avenue facilities with an all-new plant and retooling an existing plant, as well as an additional $900 million in modernizations to its Jefferson North Assembly Plant.
The new construction would be the first new automotive plant in the Motor City in nearly three decades when Chrysler built JNAP in 1991.
"This new facility, along with investment at Jefferson North, will help us further strengthen and grow our U.S. manufacturing footprint to satisfy the global demand of Jeep vehicles," FCA COO Mark Stewart said at the time of the announcement.
The new plant would be home to a previously announced three-row SUV under the Jeep brand. FCA looks to complete construction of the new plant, as well as roll out the next-generation Jeep Grand Cherokee — already built at JNAP, but proposed to shift production to a retooled Mack Avenue plant — and new plug-in hybrid electric vehicles by 2021.
In the last decade, there have only been three new automotive plants built in the United States — all in the South, and all for international automakers.
The most recent plant, a Mazda/Toyota facility, was built in Huntsville, Ala., in 2018. Prior to that, two plants came on line in 2011: A Toyota plant in Blue Springs, Miss., and a Volkswagen plant in Chattanooga, Tenn.
Here in Michigan, a new automotive plant hasn't been built since 2006, when General Motors opened its Lansing Delta Plant and created 2,200 jobs. Prior to that, GM opened a Lansing plant in 2001, bringing 2,000 jobs; Chrysler opened the Jefferson North Assembly Plant in 1991, bringing 4,500 jobs; Ford opened its Flat Rock plant in 1987, bringing 2,000 jobs; and GM opened Poletown in 1985, bringing 1,600 jobs.
"This simply would not have been possible without the faith that FCA's CEO Mike Manley placed in the people of Detroit, the tremendous support of the State, and the cooperation of the property owners who understood the rare opportunity this represents for our city and worked with us throughout this complicated process," Duggan said.