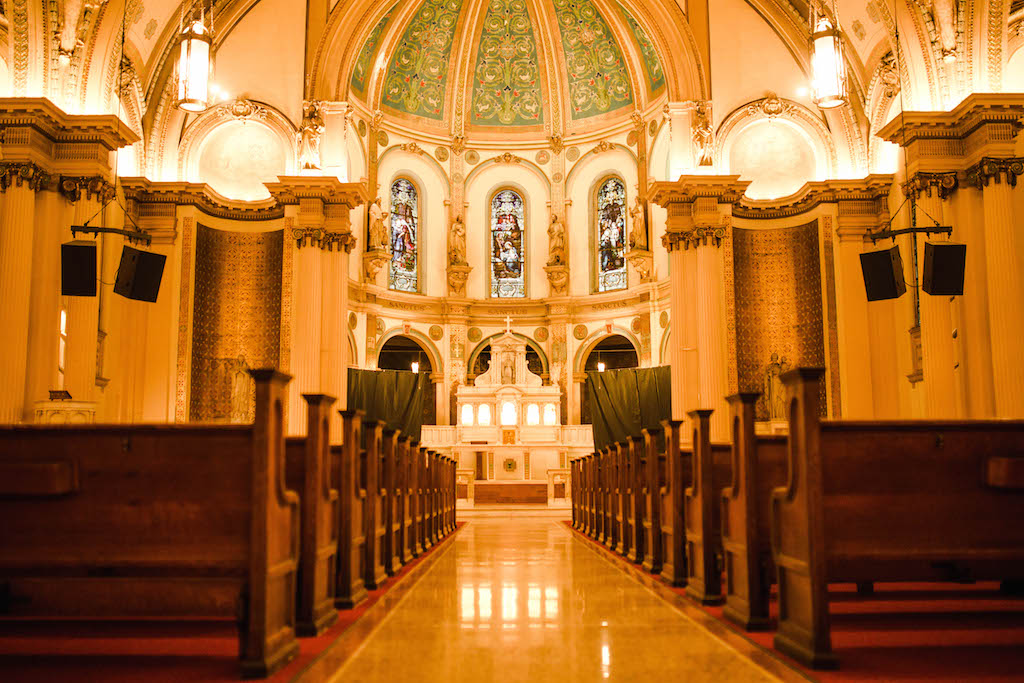 In Core City, a Catholic church is reborn as Detroit Gospel Theatre
With an assist from a legendary music producer, a 109-year-old church gets a new lease on life
Editor's Note: this article was originally published in December 2017.
Detroit's population and industrial boom in the early 20th century were boon times for religious leaders, who commissioned places of worship befitting growing congregations of the time. With money to spend and an eagerness to please the most high, Detroit's turn-of-the-century churches would become some of the most ornate structures in the city.
Marble flooring, intricate stained glass, mile-high ceilings, solid wood pews. St. Leo Roman Catholic Church, built in 1908 on Grand River and West Warren, was no different. At one point holding 2,500 congregants, it was a Catholic stronghold just outside downtown – until it wasn't.
As Catholic residents decamped to the suburbs, the Archdiocese of Detroit, one by one, began shuttering or selling churches in the city. This year, after the congregation dwindled to about 150, the Archdiocese sold St. Leo's.
But the spirit of God remains. Matt Miller, a fixture in Detroit's nightclub scene, acquired the building with a business associate and has re-christened it as Detroit Gospel Theatre, a new venue for local gospel artists.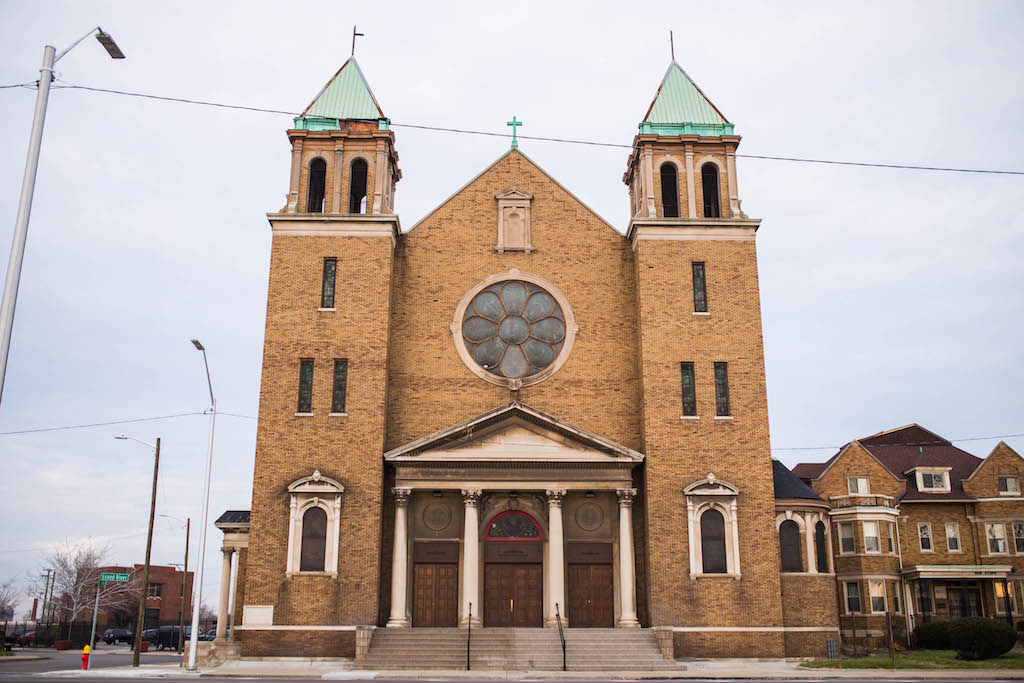 "Being in the entertainment field all these years, we had seen the venue and decided we would try and give it go here in the city of Detroit as a gospel theater," says Miller, who cut the ribbon on the theater in November. 
Longtime Detroiters may not know Miller's name, but have been touched by his influence. For decades, Miller operated two nightclubs in the city: Slammer's Lounge and the Cabaret Lounge, the former on East Davison, the latter near Conner and I-94. It was at the latter where he hired a young band billing itself as Chapter 8 to be the club's house band in the 1970s.
"They worked for me for five years," Miller says. "At that particular time, they worked for me constantly -- they were actually on five days a week."
Chapter 8 was a jazz band fronted by Caroline Crawford, who departed the group for the disco outfit Bohannon. Crawford was replaced with local singer Anita Baker and continued to build upon their following each night at Cabaret.
Anita Baker went on to become, well, the Anita Baker, clocking a lengthy list of urban contemporary hits and helping to define the nighttime radio genre of quiet storm. Along the way, she was backed by producer Michael J. Powell, a Chapter 8 bandmate who shaped Baker's sound.
[/html] [html format="ckeditor" extra_classes="story-quote-section" different_values="0"]
"Being in the entertainment field all these years, we had seen the venue and decided we would try and give it go here in the city of Detroit as a gospel theater."
[/html] [html format="ckeditor" extra_classes="story-main-content" different_values="0"]
Miller and Powell remained in touch over the years, and now Powell is a board member for the Detroit Gospel Theater. Other board members were involved with "The Scene." The theatre's communications director once handled merchandising and marketing for Michael Jackson.
"We kept everything intact that was here," Miller says, noting that a regular soup kitchen, a small school, a dentist and a pharmacy established in the church under the Archdiocese will remain. "Basically what we don't have is a Sunday service."
No, there will be no sermons on Sunday, but there will be concerts. Gospel plays. A planned recording studio, and other opportunities for artist development. "We are offering the theater to anyone who wants to get into the market. We work along with people that are just starting out…and we're trying to have a facility that's affordable."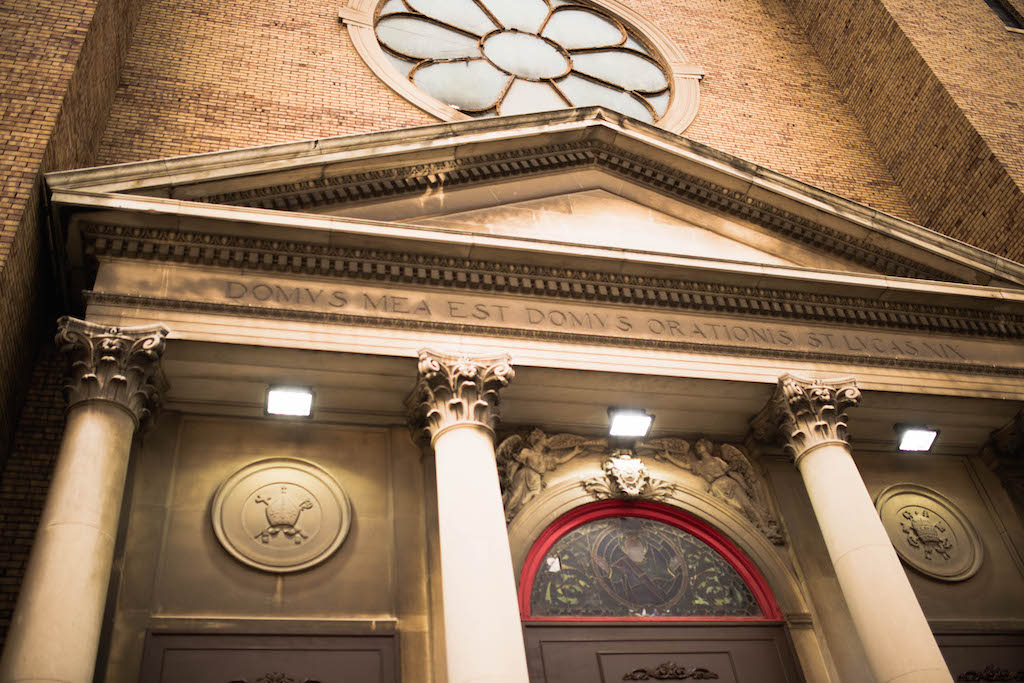 The new theater is also trying to put some celebrity muscle behind the venue. "Mike (Powell) has personally reached out to Aretha," Miller says. (Powell has earned production credits on several of the Queen of Soul's late-career projects.) "We're going to reach out to her and see if she can record."
For now, several events are already in the pipe. On this month's docket is a youth gospel concert and a Christmas concert.
After years of running clubs – and he still maintains a nightclub in Eastpointe, Club Allure – Miller admits he's new to the business of gospel. But whether the music is secular or spiritual, he says there's a need for more live venues in the city for artists to develop a following – just as Chapter 8 were able to do in his establishments.
"Your larger venues tie it up where your average person cannot go to see it," Miller says. "It's very hard for the average entertainer who has it in his blood to be able to perform."