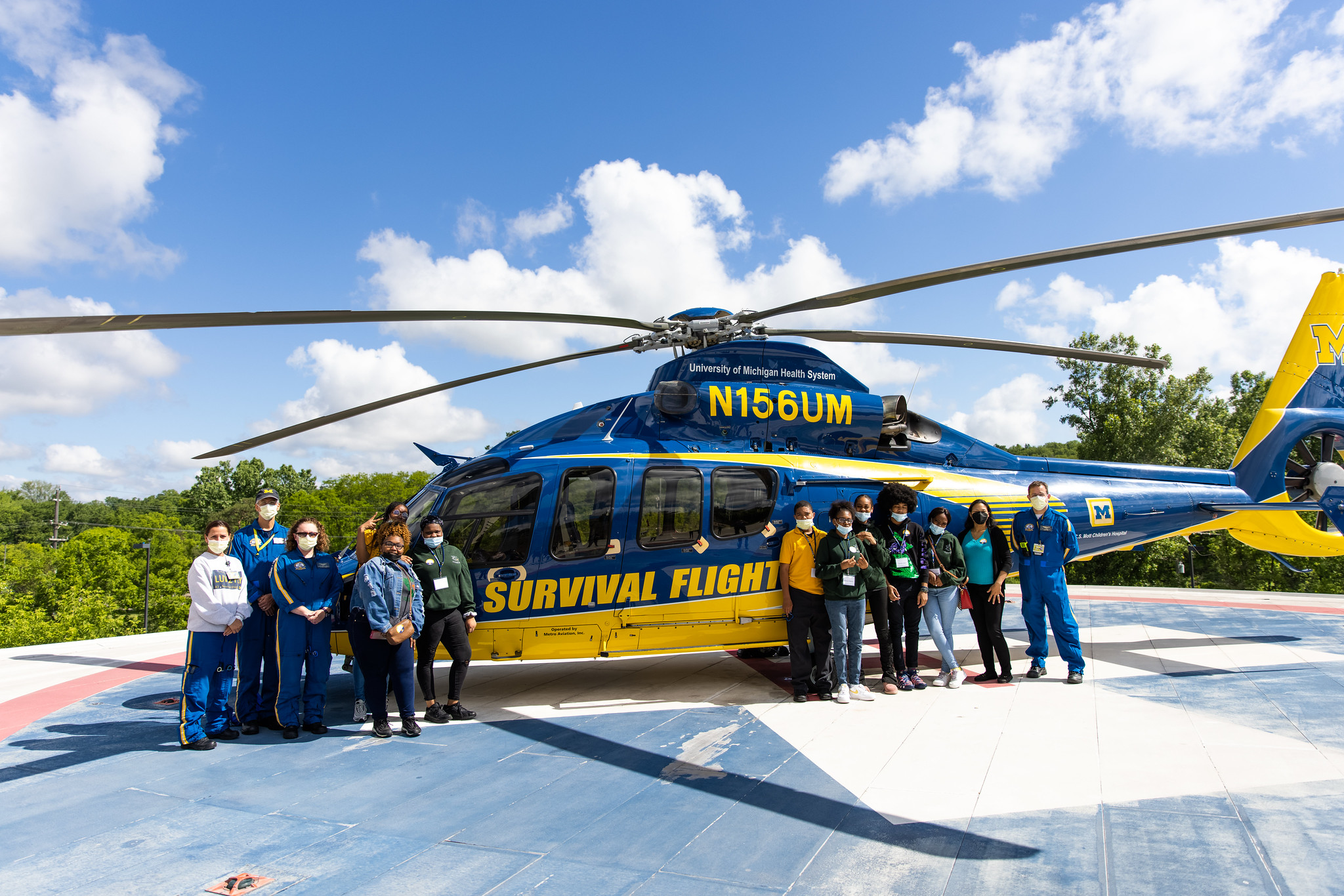 Comets touch down 34 miles from Detroit!
The Cody Comets, that is...
"They said I can cut open a pig heart."
With a statement like that, you may be having reservations about reading this.  But stick with me…
Although the very thought of pig organs can be unsettling for some, it was just the right nudge for 9th grader, Kennedi Porter-Jones to sign up for a week-long adventure into the world of cardiovascular medicine.
Through a longstanding partnership with Project Healthy Schools, students from Detroit's Cody High School (Woot-Woot, Go Comets) participated in the University of Michigan Cardiovascular Center (CVC) - Careers in Cardiovascular Science and Medicine Program.  The pilot is steered by the Diversity, Equity, Inclusion & Wellbeing Committee.  
Kennedi was one of 11 students who took the 40-minute shuttle ride each day to the Ann Arbor campus in early June.  With MIGHTY dreams and MIGHTIER motivation, it was totally worth it for the surgeon in the making.
"When I was younger my great-grandma would always have problems with her gall bladder and her heart, and I don't want other people to go through what she went through," said Kennedi.
It was no walk in the park to participate in the program.  Students had to write a 250–500-word essay on why they were interested in attending.  With the school year ending, and summer vacay around the corner, you'd think some persuasion would be needed.  Au contraire.  
"They were really excited when the Michigan staff came and presented.  Many kids signed up, 25 from my class alone," said Biology Teacher, Shanita Keyes.
The five days were jam-packed.  Students learned about ultrasounds, survival flight helicopters, dissected pig hearts, shadowed faculty and staff, and received college preparation advice.
Ah, yes.  College preparation.  Let's talk about it.
According to a Detroit Regional Chamber State of Education Report, from 2015 to 2019, 53% of the city of Detroit high school graduates had not enrolled in postsecondary education within 12 months, a 15-percentage point increase over that time.  And when many families in underserved communities are thinking about college options, for various reasons, the University of Michigan doesn't always make the shortlist.  
"The institution, over the last five or six years has been focused on diversity, equity, and inclusion work.  Specifically, how they can create a more inclusive environment, and a sense of belonging in different areas," said Joi Rencher, CVC Culture Wellbeing and Community Outreach Program Manager.
Joi is a 2008 graduate of the university.  However, she can relate to the feeling of "not belonging" at the ole Maize and Blue.  Having attended Cass Technical High School (a Detroit Public School), certain memories resurfaced during my interview with her.  "I called my father to come get me the first weekend off.  It was a culture shock, coming from Detroit."
Diversity challenges notwithstanding, Kennedi had just two words to describe the campus.  "IT'S BIG."
As the CVC DEI & Wellbeing Committee works to diversify the future ranks of health care professionals in the cardiovascular area, Joi says the institution overall is working to create more pathways for students that may not necessarily have a direct road to attend U of M.
And while a four-year college or a career in health care isn't for every student, Shanita is confident that this experience will resonate with her students.  "They see other people that look like them, and that some of the people they talked to were first-generation college students like a lot of them will be.  It allows them to have the mindset that it is possible."
With the success of the pilot program, the committee is hoping to expand the Careers in Cardiovascular Science and Medicine Program next year.
That means more students, more opportunities, and yes – more pig hearts.