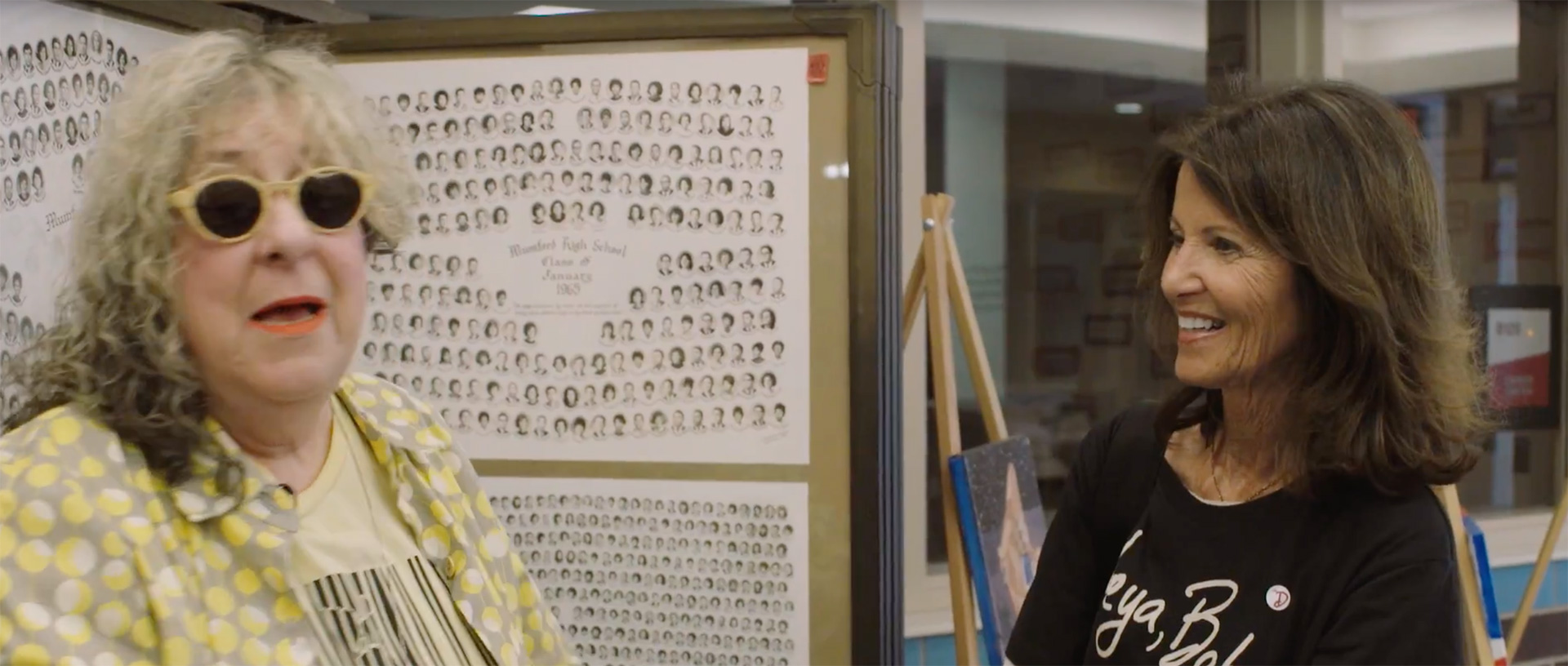 Allee Willis: The Mumford grad co-writing your favorite songs, whether you know it or not
From Earth, Wind and Fire to "Friends," you've heard her somewhere
]
Allee Willis is a white Jewish woman from the westside of Detroit who has written a hit single from the soundtrack to much of black America's life. Seriously. There is not a single black person on earth unfamiliar with Earth, Wind & Fire's "September," the relentlessly optimistic singalong that arrived — along with several other cuts — at the peak of the group's 1970s chart run. The persevering hit that at first beckons with guitar before calling to action with horns, leading to that chorus that anyone can sing along to without knowing the English language: "Ba-dee-ya! Someday you'll remember…"
But there wasn't just "September." Wilils spent a good amount of time with EWF, also co-writing "Boogie Wonderland" and "in The Stone." Deniece Williams, produced by EWF bandleader Maurice White, landed a Willis cut, "God Knows." Bobby Womack, Al Jarreau and Herbie Hancock count Willis as a collaborator; so does Motown alum Leon Ware. Her work spreads can be found among R&B songstresses (Patti LaBelle, Phyllis Hyman, Jennifer Holliday, The Pointer Sisters, Patti Austin, Angela Bofill, and our own Diana Ross and Aretha Franklin) to country-pop divas (Crystal Gayle, Melissa Manchester, Tanya Tucker). Before striking gold with Whitney Houston and Franklin, producer Narada Michael Walden called on Willis for works with Stacy Lattisaw and Sister Sledge, who he'd worked with extensively.
Even if you've never heard of any of the above, Willis is in your consciousness because of her writing credit on The Rembrandts' "I'll Be There For You" — better known as the theme song for the show "Friends." So yes, Willis has been around, owing it all to her musical upbringing in Detroit. First honed in the halls of the old, powder-blue Mumford High School, where Willis wrote some of her first songs, to hanging around Motown's studios on West Grand Boulevard, Willis' resume is certified. 
Because I'm that person that loves a deep cut, here are some of my favorite Willis songs:
1. "Now," France Joli. (Also covered by R&B balladeer Ronnie Dyson and a post-Jeffrey Osborne L.T.D.)
Looking for a follow-up hit to the disco smash "Come to Me," the Canadian transplant went with a more soulful direction on the "Now" album that came, unfortunately, after disco started to go out of style. The meaty "Gonna Get Over You" was the big hit from the album, but the "Now" cut could have fit in with the syrupy AM radio of the time had it been released as a single.
2. "Lead Me On," Maxine Nightingale
Another disco star looking for a hit to break away from becoming a one-hit-wonder, this Australian transplant actually did land plenty of airplay with a syrupy AM ballad — it hit the top 10 on the Hot 100 and hit #1 on the adult contemporary chart. Alas, it was Nightingale's last big hit in the States.
3. "I Am Love," Jennifer Holliday 
We know the original Dreamgirl can blow, and she'll always have "And I Am Telling You I'm Not Going." Lost between the Broadway play and her return to prominence after the film remake is a fairly strong output of made-for-'80s R&B, including this #2 R&B song that calls to mind Smokey Robinson's "First Time on a Ferris Wheel" (you know, that song from the closing credits of "The Last Dragon").
4. "All American Girls," Sister Sledge
The Sisters '80s run after "We Are Family" and "He's the Greatest Dancer" was mixed, but they were still able to bring the harmonies together on this cut that, by listening closely, bridges the end of disco and the dawn of New Wave.
See Allee's story in the video above and on Channel 21. Below is Allee's new song, "The D," her dedication to her hometown.