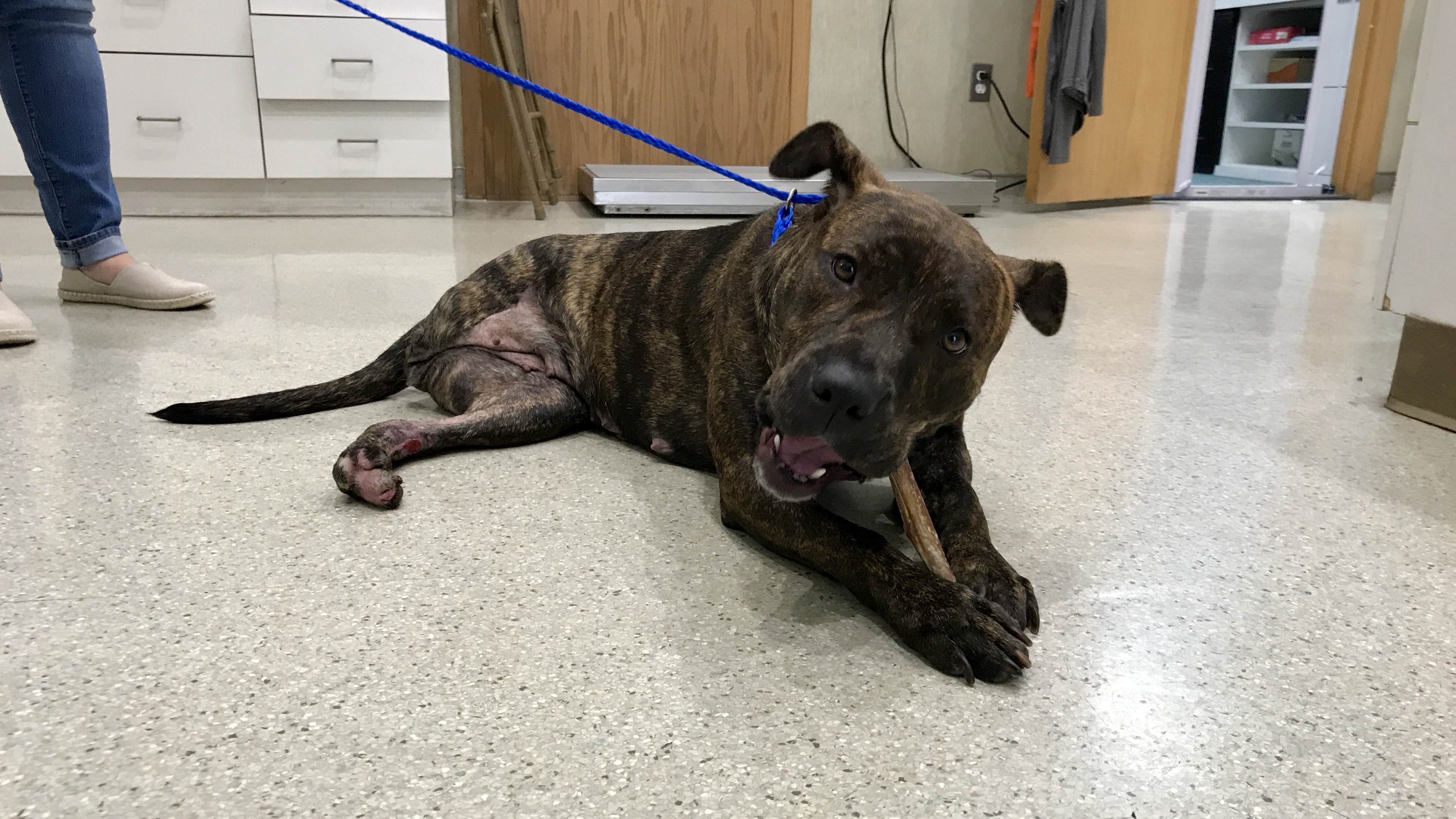 After being dragged by a car, Detroit Dog Rescue gives pit bull a second chance
Jingles is one of several special-needs dogs the canine nonprofit raises funding for
Three-year-old Jingles recently came to Detroit Dog Rescue from Detroit Animal Care and Control. She was dropped off by a police officer who had found the injured pup. The pit bull had almost no hope — her back legs had been mangled from being dragged by a car. She was in immediate need of a $15,000 surgery that the City of Detroit's animal control couldn't provide.
Jingles was taken to Greenfield Animal Hospital in Southfield by Detroit Dog Rescue, a nonprofit that rescues stray, injured and abandoned dogs. One of Jingles' back legs had to be amputated, and the other is going through wound therapy. But she's recovering, and in good care.
Since 2010, Detroit Dog Rescue has rescued thousands of dogs, established a no-kill shelter and earned screen time on the Animal Planet series "Detroit Unleashed: Motor City Rescue." The public sees the healthier dogs that receive the nonprofit's care. Few are familiar that disabled dogs like Jingles also get their second chance.
Just like Detroit, Jingles is resilient, says Detroit Dog Rescue executive director Kristina Rinaldi of West Bloomfield, 34.
The three-year-old is going to receive a prosthetic to make her life more comfortable; she'll be able to go back to playing and moving around. That way, her back leg won't get tired from all the weight.
"Her prognosis is great," Rinaldi says. "She absolutely loves other people. She's getting around on that back leg. She won't be dependent on the prosthetic all the time, but it will be a support system for her."
Jingles is a happy pup. Despite her injury, she's friendly and trusting of people; if you sit down on the floor with her, she'll come sit on your lap, nuzzle you and lick your face. "Jingles has come such a long way," Rinaldi says. "She's always going to be a special-needs dog, but I don't think she'll have a hard time finding a home."
At Detroit Dog Rescue, which has a shelter on Harper Avenue in between Cadieux and Outer Drive in the Cornerstone Village neighborhood, dogs are put through training and foster programs before finding forever homes. Once dogs who are injured, like Jingles, receive medical clearance, they're ready to meet their owners.
"There are a lot of people that believe in these dogs, and we're very happy to place them in homes and give them a chance."
Detroit Dog Rescue is on-call 24/7 with the City's Detroit Animal Care and Control, which refers cases that need extra love and care to the nonprofit. Public donations account for 81 percent of the rescue's funding, with dollars coming from as far away as California. Occasionally, they'll receive small grants for various projects and programs for the dogs.
It takes 8,200 volunteers for the nonprofit to operate and 400 volunteer hours just to run the Detroit Dog Rescue shelter. Typically, there are anywhere between 88 and 106 dogs and puppies in rescue. They work with satellite locations, like the aforementioned Greenfield Animal Hospital, to make sure the animals receive the care they need.
"We love the special-needs dogs at Detroit Dog Rescue," says Rinaldi. "The dogs that recover from this and come out of this, they are the best pets. And they deserve a chance just like any other dog that would come through our doors."
Jingles will need regular follow-ups and bandaging. But once she's medically cleared and receives her prosthetic leg, there won't be much more upkeep than a dog without disabilities.
"She'll be just like a regular dog," Rinaldi notes. "Special needs dogs are some of the most loving pets you will ever have. They come out of these situations just as loving, if not more loving than any other dog and are so grateful to their owners for everything they do for them and give them."
On days that Rinaldi feels overwhelmed by Detroit Dog Rescue, she looks at dogs like Jingles and "sees that resilience." "They're not bitter, they're not mad at anybody," she says. "They take life how it comes and they deal with it."
The dogs with special needs at Detroit Dog Rescue tend to go quickly — dogs with one eye, three legs, one ear. "There are a lot of people that believe in these dogs," says Rinaldi, "and we're very happy to place them in homes and give them a chance."
Ashley Zlatopolsky is a Detroit-based writer. Follow her on Twitter at @ashley_detroit.