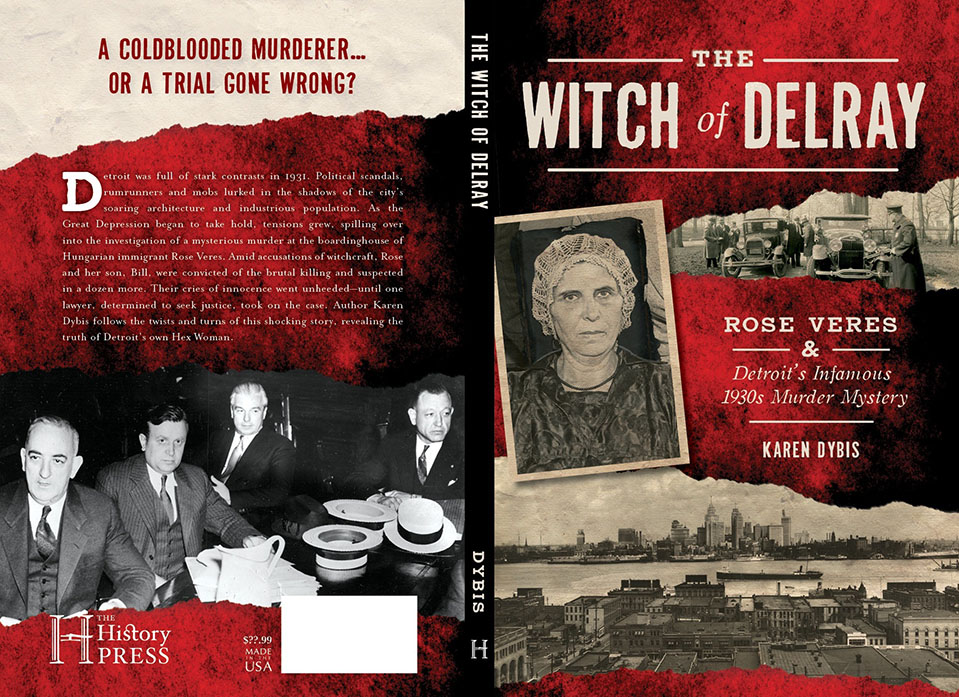 "The Witch of Delray" is Detroit's own witch trial
The true crime story of Detroit's notorious Hex Woman
Whether you grew up watching Bewitched or Harry Potter, witches and witchy things have always been present in popular culture. But in Detroit, a lesser-known witch story shook the city to its core during the Great Depression. For "Circumference," I spoke with Karen Dybis, a former Detroit News reporter and author of the soon-to-be-published The Witch of Delray, about the witch trial that shook Detroit.
The Witch of Delray is released on October 30. Read an excerpt from the true crime novel below:
   Watching police carry out handfuls of correspondence looked interesting to the seasoned newspaper reporters now gathering at the scene. Delray turned up an ink-worthy story on a regular basis, so it had its share of informants. Hanging out at the bars and restaurants that dotted the area filled a reporter's stomach and his notebook as well. And a full notebook made for a happy editor. A few questions whispered to their favorite officer got the intended result: It seemed Rose Veres had insurance policies on the men who took up residence in her house. With as many as twelve deaths at that address alone, it meant the insurance money was flowing. 
   The Detroit Free Press shouted the sensational story. Its headline on August 26, 1931, had a typeface larger than the ones used to announce Charles Lindbergh crossing the ocean. In fact, word of the suspected slaying of Rose's lodger trumped updates on President Herbert Hoover, Governor Franklin D. Roosevelt and Cornelius Vanderbilt Jr. "Woman Held for Murder," the headline read. "10 Men Missing. Fate of 3 Husbands, Others in House to Be Probed." In an era when crime news dominated the front page, the idea that a female mass murderer might be lurking in Detroit likely sold many a three-cent newspaper.
   Like ants on an anthill, Medina Street soon was covered with reporters searching for scraps. Vera Brown was the most dogged among them. Vera stood out with her sharp features and signature felt hat. Not content to write recipes or cover the social scene, the town's best-known sob sister had a knack for finding the big story of the day. Brown knew she had to move faster and talk more quickly than her fellow male reporters. Police and public officials gave her a wide berth, worried her dangling cigarette might burn them in more ways than one. 
   Brown had found a home at the Detroit Times, the city's fastest-growing newspaper due to the deep pockets of owner William Randolph Hearst. Because of Hearst's wire service, newspapers across the United States carried Brown's stories about the Witch of Delray on their front pages. People from Texas, Pennsylvania and Indiana saw her byline splashed across the newspaper and absorbed every word. 
   "Cold blue eyes, a deeply lined face, a silent tongue!" screamed Brown's first dispatch. "Mrs. Veres is known as the 'witch lady' by the neighbors who stand in groups on the sidewalks and in the street before the house where the police say Mrs. Veres pushed Steven Mak, her tenth alleged victim, out of an attic window to his death."
   Police set up a press conference. Whitman told reporters multiple men had passed away while living in Rose's house. Two lodgers, one in 1924 and another in 1925, were said to have died suspiciously. Pressed for details, Whitman stuck to the facts. "Post-mortems were held in both cases," Whitman said, his speech slow and steady. "We had been told that poison had been placed in their liquor. The post-mortems failed to substantiate the claim."
   At police headquarters, officers began to scrutinize Rose's stockpile of insurance policies. There were nearly seventy-five altogether, neatly kept in account books: cancelled policies, current paperwork and information that might help Rose make a claim when the time came. Altogether, newspapers reported police found six policies on Mak from three separate companies. 
   Detective John O. Whitman demanded field officers continue to ask questions. One interesting lead came back. A neighbor named John Walker told officers he thought there was a policy valued at $4,000 somewhere on the property. Although police combed Rose's rooms, it had yet to be found. Whitman ordered the search to continue. Follow the paperwork, he believed, and the rest of the case would fall into place.
   Not content to wait for leads, reporters did some investigating of their own. To find out more about the Witch, they interrogated the people who lived and worked on Medina Street. They started with the people who served the community the most: funeral-home directors and insurance salesmen. These professionals had multiple exchanges with Rose and her boarders, and they knew their day-to-day routines.
   The Free Press had a scoop with insurance salesman Eugene Newman, who had called on Rose's house in the weeks before Mak's death. He had come by six or seven times, Newman said, to sell insurance policies to the men who lived there. These men were single, far from home and, typically, strongly tied to the traditions of their homelands. That meant having an insurance policy to cover their death expenses. It was part of your masculine responsibilities. Rose's boarders were good customers; Newman said he wrote a $2,500 policy on Mak's life in 1929, payable to Rose. 
   "They were always too sodden with drink to appear able to work," Newman said. "Mak, as far as I know, had not worked in four years and was supported by Mrs. Veres. One day when I called about a policy, I found Mak groaning in the basement, where he was sitting on his cot in a drunken stupor." 
   Rose met the premiums all right, Newman said, but John Hancock Mutual Insurance had cancelled the policy. Newman said Rose was furious about the cancellation, and she shared her frustrations. 
   "Mrs. Veres was very angry. She asked me to get her a new one, promising to pay me well if I was successful. She didn't get the policy, but I understand she got one later for $186," Newman said. 
   With a motive in place, Rose and Bill were arrested. They were taken to the Wayne County Jail, where they would sit until their trial. 
"Circumference" is a podcast from The Neighborhoods. Look out for more episodes here.