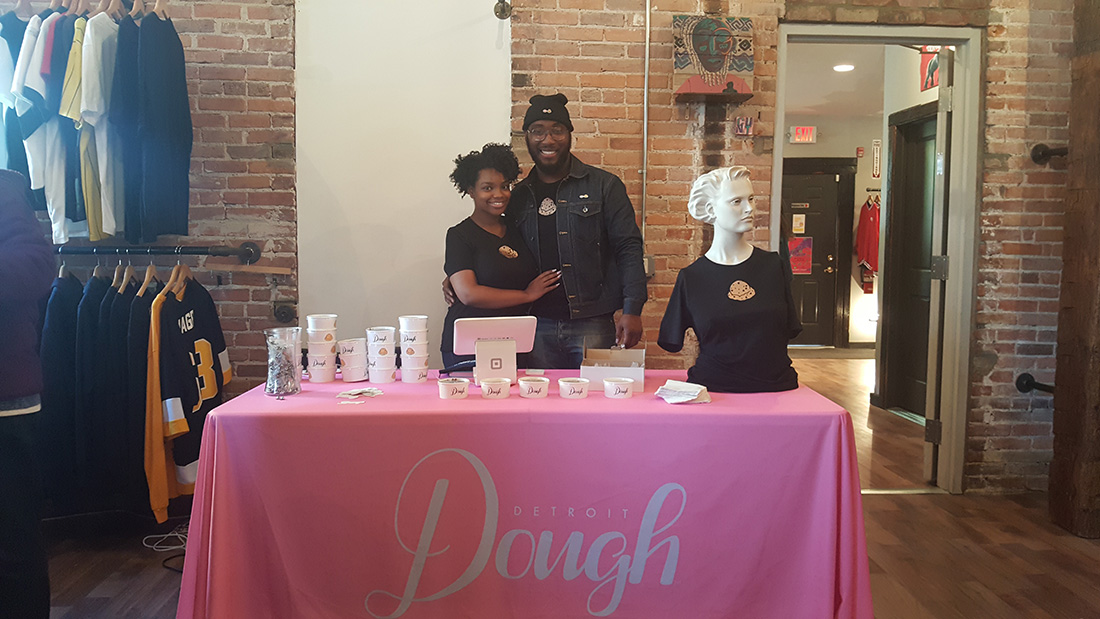 We tried Detroit Dough's safe-to-eat cookie dough
10/10, would eat again
If you're like me, you may have spent more than a few times snacking on frozen cookie dough at home on the couch, despite FDA warnings that raw cookie dough is not safe to consume. Having repeatedly ignored those warnings, I was thrilled to find out that Detroit is getting its own cookie dough café in the NW Goldberg neighborhood.
Detroit Dough is run by local twentysomethings Autumn Kyles and siblings Daniel Washington, Theodore Washington, and Victoria Washington. While they haven't opened their location at Linwood and Ferry Park just yet, they are having an ongoing pop-up November 9 - 11 at Detroit Clothing Circle, located at 449 W. Alexandrine in Midtown. 
Though the shop boasts five flavors to choose from – brownie, sugar, chocolate chip, peanut butter, and plain dough with no chips – Chief Storyteller Aaron Foley and I visited the pop-up to try just two flavors: brownie and chocolate chip. Here's what we had to say about the experience.
AF: I had the brownie flavor, and I could easily see this becoming a guilty pleasure. It's rich and chocolately, and none of the base ingredients (like, for example, flour or egg) overpower the actual flavor. There's a reason why this will taste better than the cookie dough I'll try to make at home.
KC: This is classic chocolate chip cookie dough without the looming threat of salmonella. I could definitely eat this while watching The Crown on Netflix during the long weekend. 10/10, would eat again.
Thoughts? See more from Detroit Dough here.