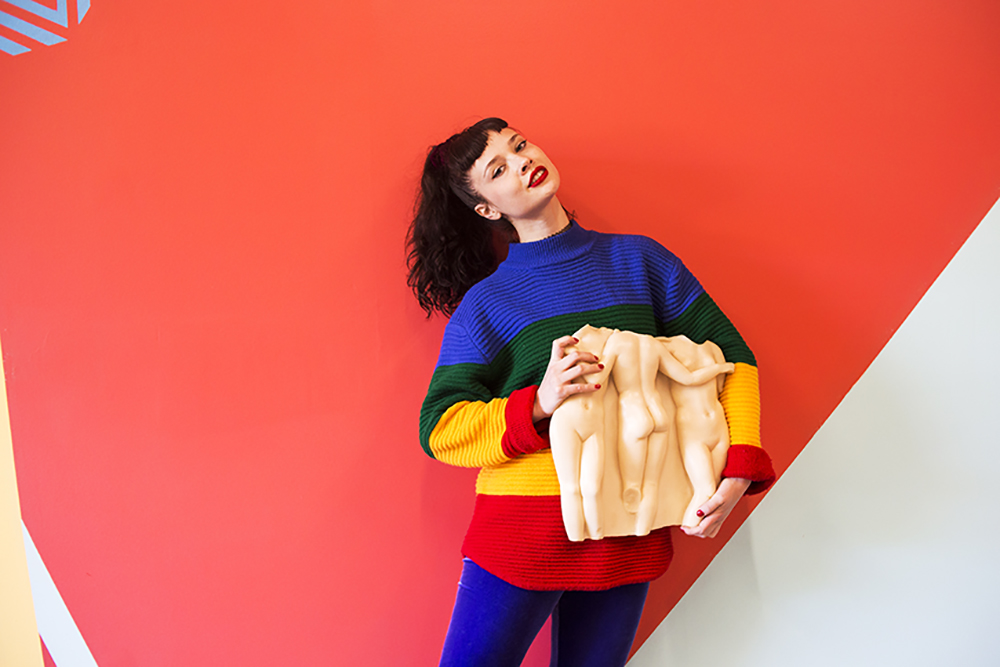 The unsexy story on opening a sex shop in Detroit
Is it time for a 40-year-old city ordinance that keeps sex shops from opening outside of industrial zones to change?
There's a warehouse on a quiet side street in Detroit's North End neighborhood. Bland on the outside, you'd miss the unassuming building if you drove by it.
Zoe Ligon, 25, stood in the middle of the warehouse and took in her inventory: carefully crafted and curated adult toys. Cardboard boxes – some empty, and some in the stages of unpacking – are centered on the concrete floor. Products line one corner of the walls.
The interior of the warehouse is starkly different from the industrial paint job outside: it's colorfully painted with geometric designs and decorated with a large, leafy plant and part of the floor is covered in multicolored foam jigsaw tiles. A table and glass case with demo products sits along the front.
Ligon is an import from New York City. She's the owner of Spectrum Boutique, a Detroit-based, LGBTQ-friendly, sex education-oriented, feminist online shop that sells sex toys, literature, and gender-affirming products.
The way Ligon tells the story, Spectrum was created after an unpleasant experience at a popular sex shop in Royal Oak. She says that instead of staff being there to enlighten or empower her in her purchase, a sales associate was overly aggressive and "dominating" in their approach to get Ligon to buy a specific product.
Citing her high tolerance for "weird attitudes" from other people about sex, Ligon said even she felt uncomfortable buying from the store. "I think I blushed, and it's so hard for me to blush."
Though she's returned to the shop since that encounter, Ligon realized that there was no other place in the metro area with a feminist, education-oriented staff to suit her standards. Spectrum Boutique would be the solution.
Prior to opening Spectrum, Ligon worked management at a well-known sex shop in Manhattan. When she arrived in Detroit and after receiving money from the unexpected passing of her father, she already knew how to run a store and what products would sell the best. She didn't know that the City of Detroit hasn't made opening a sex shop easy.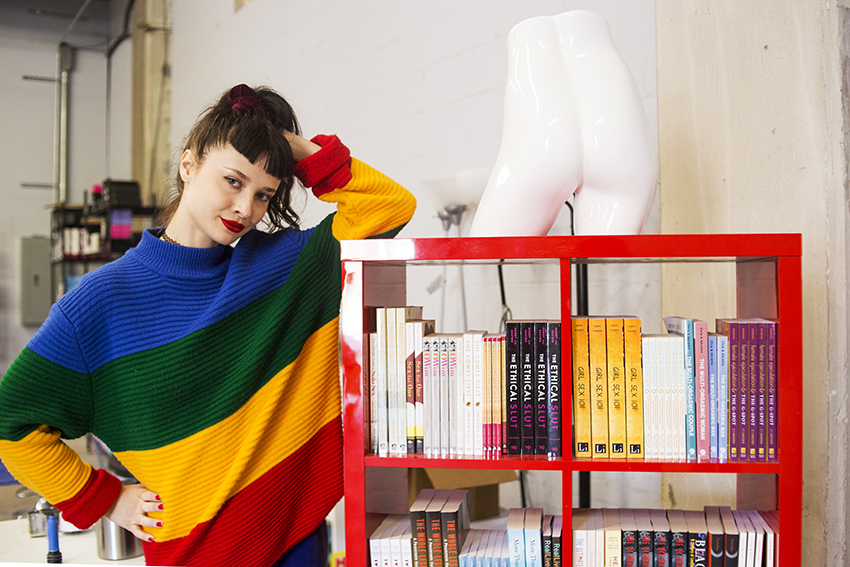 Her dream of opening the storefront quickly hit red tape. In trying to create a brick-and-mortar store in the city center, a city zoning officer told her that they didn't want downtown to be turned into "one giant skid row, since high crime is associated with sex toy stores."
The zoning officer's bias had the backing of city ordinances. One section in the Detroit, Michigan Code of Ordinances says that while the City does not intend to restrict or deny access to sex toy shops, it is also not their intent to "condone or legitimize the distribution of obscene material."
By contrast, Royal Oak's Special Provisions summary for adult-oriented business ordinances doesn't have the bias that Detroit stands upon. It ends by saying that it's "not the intent nor effect of this section to restrict or deny access by adults to sexually oriented materials protected by the First Amendment, or to deny access by the distributors and exhibitors of sexually oriented entertainment to their intended market."
To be clear, there are sex shops that already exist in Detroit, but they're branded and operate as novelty shops. This means that a dedicated portion of the merchandise they carry can be given as gifts – think bachelorette party supplies and paraphernalia, lingerie, and adult videos. You can tell what they are by their signage – containing phrases like "adult", "XXX", or "novelties" – and by their zoned location in less-trafficked parts of the city.
Ligon's shop is not like those shops. She doesn't sell the lingerie or the novelty items. Her approach to sex toys is grounded in sex education, similar to other stores around the country and world that do away with the stereotypes of sex shops as having the "truck stop" vibe of viewing booths, peep shows, and other forms of pornography. "I don't use pornographic images; I don't sell pornography," said Ligon.
Another obstacle came when Ligon tried to take out a line of credit for Spectrum at a local Bank of America branch. In an interview with Fast Company business magazine last year, Ligon said that upon a Bank of America credit agent seeing that she had initially named Spectrum Boutique as "Spectrum Pleasure", they abruptly refused to extend her the line of credit. Even since she's been established, Ligon has had difficulty with payment processors because of the industry of her shop.
"Money is money! (Unless it's from the sales of objects that are used for what we determine as "risky behavior" then it is BAD TAINTED SIN MONEY.)" —All major payment processors

— Zoë Ligon (@thongria) November 13, 2017
"I'd rather just exist online only," Ligon concluded, saying that it was the solution to the troubles she faced with the city and the bank. While she has a much wider consumer base on the internet, she says she wanted to bring something local and hire Detroiters but wasn't given the opportunity. "It's really hard to be local when there's laws like that in place," she said.
"It's so astonishing that everyone's like, 'Bring business to Detroit!'" Ligon said, with the exception to the statement being sex shops. She added that people don't understand how much money is in the sex toy industry and estimated that the industry is worth six billion dollars. In 2016 Forbes reported that the sex toy industry brings in $15 billion dollars worldwide, and is projected to surpass $50B by 2020.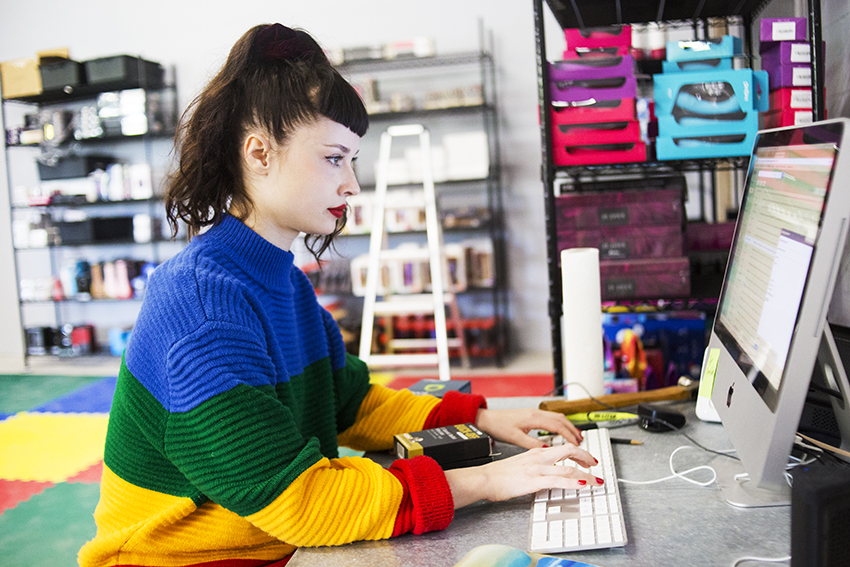 "This is not niche. This is a thing that everybody buys, all walks of life buy."
Detroit has had laws restricting sexually oriented businesses since 1976. In that year, the U.S. Supreme Court ruled in favor of two 1972 city ordinances that prohibited adult businesses from opening within 1,000 feet of a regulated use space, or within 500 feet of a residential district, thus dispersing any existing adult businesses. The trial was titled Young vs. American Mini-Theatres, Inc., named after the two downtown theatres that showed adult films.
In response, American Mini, Inc. sued the city of Detroit on the grounds that their First Amendment and Due Process Clause of the Fourteenth Amendment had been violated by the ordinances. In the end, the Supreme Court ruled that Detroit had the right to restrict distribution of sexual material.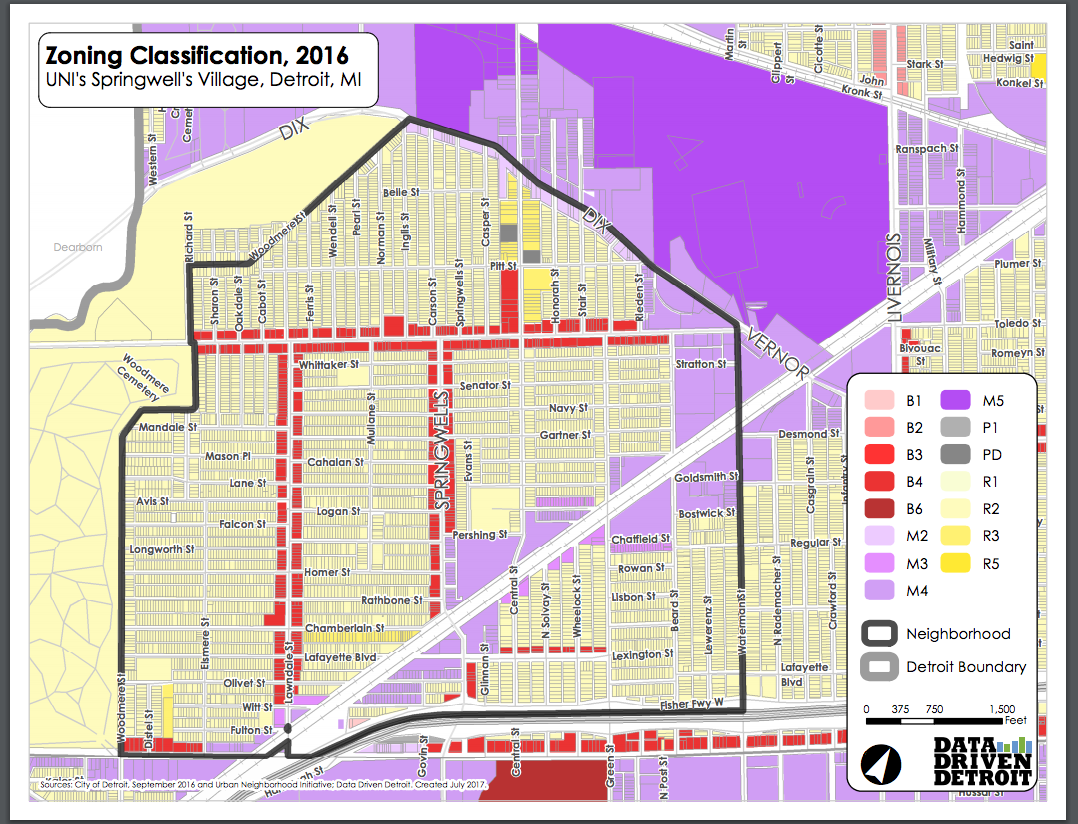 Image. "Zoning Classification (2016)". Sources: City of Detroit, September 2016 and Urban Neighborhood Initiative; Data Driven Detroit. Created July 2017.
32 years later, Executive Order No. 2008-1 was enacted in January 2008 by then-Mayor Kwame Kilpatrick. It zoned adult businesses in locations designated B6, M3, M4, and M5 after a public hearing.
The city had an opportunity to change the zoning laws when Executive Order No. 2008-1 was introduced in August 2007 after the Federal District Court ordered potential appeal issues due to challenges from the H.D.V - Greektown case. The executive order says that the city determined that the zoning ordinance needed to be amended, but that it wasn't "in the best interests of the public for the City of Detroit to act on applications for adult uses and for the expansions of current adult uses under the provisions of the current Detroit Zoning Ordinance" and that "all pending zoning applications for anew adult use, or for the expansion of a current adult use, shall be held in abeyance for a period of one hundred twenty (120) days. In addition, City departments shall not accept any zoning application for the establishment of a new adult use, or for the expansion of a current adult use, for a period of one hundred twenty (120) days."
Executive Order No. 2008-1 was then extended as multiple Continued Temporary Moratoriums all the way until March 31, 2010. The last extension was signed by Mayor Bing in Executive Order No. 2009-5 on December 18, 2009.
According to Senior Assistant Corporation Counsel Sharon Blackmon of the City of Detroit Law Department, the zoning ordinance's provision regarding adult businesses was amended in 2010 with an effective date of April 1, 2010. The amended (and still current) zoning ordinance reads "the purposes section of the ordinance contains a lengthy statement of why City Council believed regulation of these businesses was important to the quality of life in Detroit's neighborhood."
I wanted to hear from the neighborhoods, so, in a polled tweet on my twitter account, I asked Detroiters how they felt about having a sex toy store being available in downtown or midtown. Though the poll response is a fraction of the population of the city, 82% were in favor of the idea.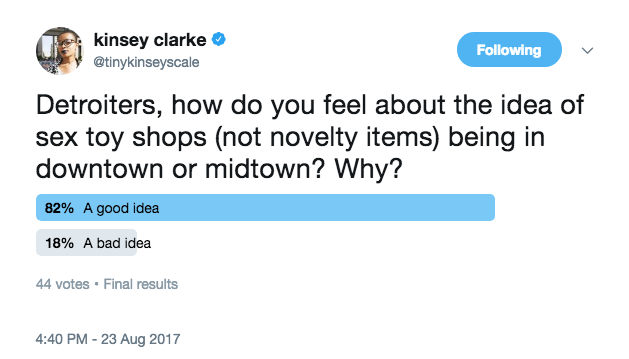 Although this small subset of people responded affirmatively online, offline Ligon said she wasn't given the chance to present her case. "This is not niche. This is a thing that everybody buys, all walks of life buy," Ligon said.
And though Ligon asserts that pornography has its own place in the world, it's not the direction she wanted to take her shop in. "This isn't smut," she said. "Most of the toys are not even representational of genitalia." A quick scroll down Spectrum Boutique's brightly colored Instagram page shows that while some of her merchandise does resemble genitalia, many of her products do not.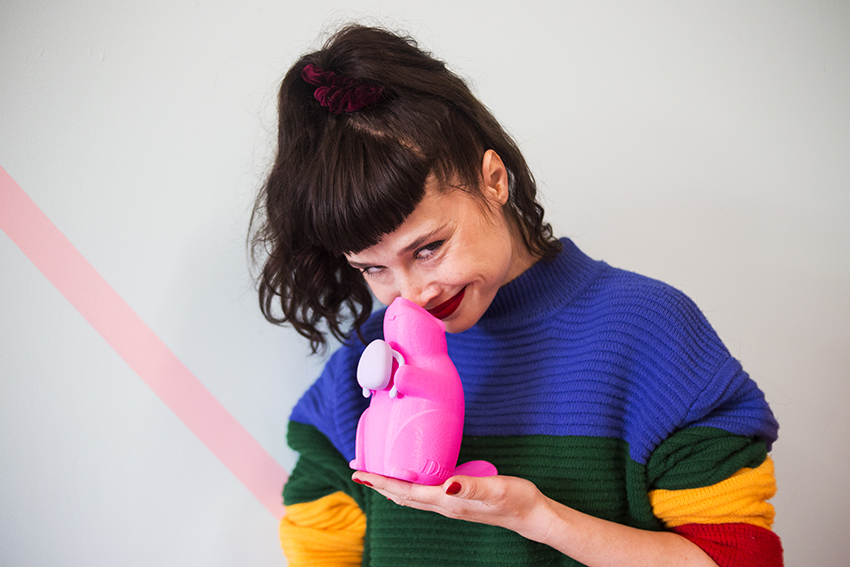 "It's not just people looking to buy a toy necessarily, but a person looking to change the way that they're able to interact with themselves as a sexual being."
In an email exchange with David Bell, the Director of Buildings, Safety Engineering and Environmental Department, I presented the dilemma Ligon faced when trying to open her shop. Bell expressed disappointment that one of his zoning officers made biased comments toward Ligon and her shop, but he also maintained the standing of sexually oriented shops in the city.
"Due to a large push from the religious community among others, the ordinance was changed to allow sexually oriented businesses to operate as a matter of right (no hearing required) in the industrial districts and nowhere else," Bell said. "There are industrial districts all over Detroit and not all them are in undesirable areas."
As recently as last year, the city's 2016 Zoning Ordinance still contained biased language against sexually oriented businesses, saying they're associated with "personal and property crimes, prostitution, potential spread of disease, lewdness, public indecency, obscenity, illicit drug use and drug trafficking, negative impacts on surrounding properties, noise, traffic, urban blight, litter, and sexual assault and exploitation."
The ordinance goes on to say that the businesses should be zoned away from the rest of the city to "minimize" their impact on neighborhoods. That same argument could be made that the fresh crop of breweries in Midtown and Eastern Market encourage the same thing, but there isn't a push to move them to heavy industrial zoning.
In an effort to find out more about the crime references and how the zoning of a sex toy storefront affects business, I contacted the sex shops that already exist in the city. They declined to comment.
Even if the city maintains its stance on new sex shops like Spectrum Boutique, maybe we can take a page from Las Vegas' book. The Las Vegas Sun reported in August that after 25 years of Las Vegas city council hoping that heavy restrictions on sex shops would cause them to "wither and die," the council unanimously voted to loosen restrictions on how adult businesses can expand and modify themselves. Las Vegas councilman Bob Coffin even believes that allowing the existing sex shops to update their look could help reduce blight:
"The councilman noted that he lives 'a couple hundred yards away' from the Park Paseo shop. He sees the need to allow that business and the other five affected to improve the look of their properties, which should help properties located nearby.
At the end of the day, he said, 'It's just a store. Retail. You can see worse things on the internet.'
Capt. Andrew Walsh of Metro's Downtown Area Command says prior to their vote, council members requested data on service calls to the businesses affected by the ordinance. The Park Paseo store had more calls to service than its peers, but the numbers weren't considered a drain on resources.
Walsh also noted that so far this year, violent crime is down more than 15 percent in the downtown area. He attributes that to stronger partnerships with community groups and elected officials.
'For me as an area commander, it's about balance — between growth and development, regardless of type of business and the needs of people who reside there,' he said."
Until that day comes for Detroit, Ligon will still be online helping others find a toy that best fits them. "Every sales interaction has a very therapeutic feeling for both the customer and sometimes myself," she said. "I think it's not just people looking to buy a toy necessarily, but a person looking to change the way that they're able to interact with themselves as a sexual being."