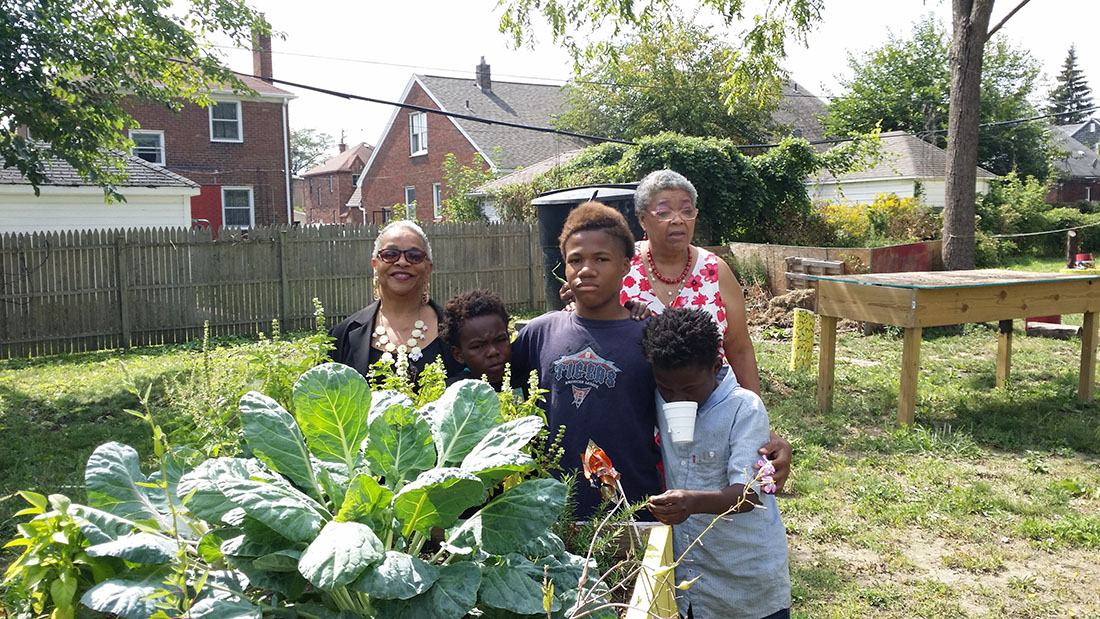 A tour of Yorkshire Woods with Community President Mose Primus
"I'm just a typical guy that lives in the neighborhood that wanted to see better."
Mose Primus has plans for Yorkshire Woods. The eastside neighborhood, physically bound by Interstate 94 and Whittier, Kelly and Morang roads, has undergone a recent makeover.
When I first spoke to Primus in May, he told me that Yorkshire Woods was established as a community in 1977. Primus has been a resident of Yorkshire Woods since 2000.
When I visited the neighborhood, he was standing outside his home on the sidewalk. He introduced me to his neighbors across the street, the most senior residents of the neighborhood: two sisters named Lieselotte (Lottie) Augth, 98, and Dorothy Gracey, 95, who'd lived on Everts Street since 1926.
Lottie and Dorothy remember Everts Street when it was a dirt road. The sisters' parents were the home's original owners; Dorothy was born there. She married Bill Gracey, former president of the Yorkshire Woods neighborhood organization, and moved across the street, while Lottie still remains in the original house. In its current state, the original house is prim and proper, with hedges neatly trimmed and grass mowed and clipped away from the sidewalk.  
The two women were cheerful, warm and welcoming, and their praise of Primus was glowing. After Primus moved back onto Everts Street, Bill Gracey became his mentor. Primus jokingly flirted with Lottie, and from an outsider's perspective, the trio had a camaraderie built only by years of being neighbors.  They say that since Primus became community president, the neighborhood has changed for the better. "(We) don't know what we'd do without him."
Primus says that he put together a group of neighbors in 2014 after they saw that "things were falling apart." He took office as the president of the community organization in December of that year and immediately set to work.
Primus says that like most of the city after the housing market crash, residents left. The Yorkshire Woods community organization cycled through several presidents after Gracey, eventually electing Primus for the position. Since he's taken office, he's spearheaded a radius patrol that's set to start by mid-October, and the organization was recently appointed nonprofit status.
In 2015, the community decided to grow a garden because the empty blocks of land were becoming an eyesore and they wanted a community space. "It was a little crazy," says Primus, "because none of us knew what we were doing." So, he called in Motor City Makeover for some help, and partnered with the Evangelist Lutheran Church of America for the project.
"When we have a major cleanup, we get community involved and we make it happen."
The distance from Primus' house to the "4 Angels Garden" – the garden's name comes from when volunteers found four small angel statues while clearing out debris – is short. When we arrived, the first thing that stood out were the rows of neatly chopped tree logs cut into sizes – perfect for taking a seat. Along the back wall was a tool shed with multiple rainwater collection barrels stacked alongside it. Among the plots of land were raised and flat plant beds with the sprouts of new life emerging through the soil. 
Primus took me around the garden, pointing out the various early spring crops growing in raised and ground-level plots: kale, lettuce, green onions, strawberries, cabbage, beets, radishes, tomato plants. The crops from the garden are open to everyone, Primus says.
He started pulling weeds from around the crops, and I joined him. It's clear that this is more than just a side project for Primus. He told me that there aren't many volunteers that are available to come out on a regular basis to take care of the garden – he has a team of four that helps him once or twice a week. "It's a small crew. It's hard for people to see the bigger vision, because for so long nobody did nothing. Now we have a little team. We have some volunteers that come out faithfully."
He's gotten community members together to do "peace walks," where they walk to local businesses to convince them to consider Project Green Light, a project that teams businesses with the Detroit Police Department and installs video cameras at local gas stations and other business that flash a green light.
The long-term plan was to purchase the five additional surrounding lots on the block in order to build a community stage for talent shows, community meetings, jazz in the park, or movie nights. That part of the plan was completed when the stage was built in July. Primus also wants to put exercise equipment in the renovated space so that neighbors can have a place to work out. They are raising funds via donations, and are applying for grants to make these plans a reality.
Since I first visited in May, the neighborhood has hosted a block "paint party" where children partnered with local artists and painted the tree stumps. There's also been a mural painted, a newly built fence, and of course, the new stage. "When we have a major cleanup, we get community involved and we make it happen," Primus says.
For Halloween 2016, the neighborhood started their first Harvest Fest with pumpkins, doughnuts and cider donated from Meijer and Tim Hortons. The crowd was small — around 40 people came out to show their support — but Primus is undeterred. He has his sights set on bringing the Yorkshire Woods community together, and even the smallest start is good news. This year the organization is having the event again on Oct. 21, but with a bigger twist: a hip hop concert for the community youth.
After the garden tour, we drove up to the old Dorothy Fisher Middle School schoolyard. "Now this is my real big project," Primus said, gesturing toward the expanse of overgrown baseball diamond. His plan for this summer was to clear out the field and put together baseball teams. His determination to see this dream come to fruition is evident in the way he speaks with conviction. "If I have to spend my own money, I'm going to have a baseball team for the kids."
Last October, he and some volunteers cleared the weeds from around the school. According to Primus, the first floor of the building was not visible due to the height of the brush.  They also cleaned up the play area, and he says that shortly thereafter children came over to play.
Though the baseball team didn't manifest this summer, Primus says that the organization did partner with District 4 Manager Letty Azar to cut the grass and do some maintenance around the old school.
He looked around the neighborhood, at the brick houses that lined the street, at the empty school, and I could see the hope and vision in his face. He says that it's amazing to him that young people and families are moving to the area. As far as Mose Primus is concerned, "Detroit wasn't torn down in a year or two years, and it won't be built in that time either."
Photo credit: Mose Primus