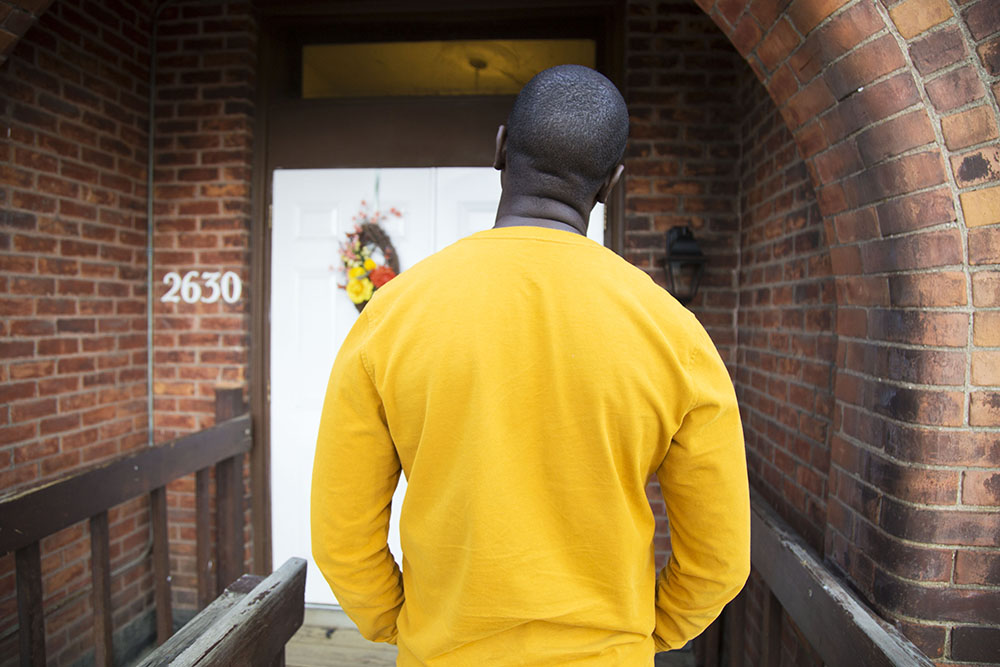 Targeted by their governments, LGBT asylum seekers find home in Detroit
How do you finally prove you're gay when you've been hiding it all your life?
The image of Freedom House is that of a family with young children taking up residence inside a museum. The front hallway of this former church convent is lined with artwork – paintings, tapestries, photographs, children's drawings. The smell and sizzle of food cooking in the kitchen reaches the foyer, and residents can be heard chattering away from the kitchen in the back. Passing through the hallway, I see two men in a blue room watching television with the light off. A computer lab with outdated desktop monitors sits to my right, and small children run past me guided by the smell of their next meal. Somewhere in the building, a baby cries. This is Freedom House.
Detroit might seem like an unlikely place for landed asylum seekers to settle, but Freedom House has been helping with settlement services since it was founded in 1983. They're a nonprofit based in the Hubbard-Richard neighborhood that provides shelter, legal aid, and comprehensive social services to asylum seekers and victims of human trafficking – the only organization in the United States that offers all these services at no charge to the survivors. 
The mainstream narrative of refugees and asylum seekers is of people arriving from areas of war and conflict; Syria immediately comes to mind. But, like asylum seekers from Chechnya, some of the asylum seekers at Freedom House are members of the LGBT community, escaping countries where they can be punished, or killed, for being gay. 
In Detroit, they are free to live in their own truth.
Out of the woods
"If you look behind, we're going to shoot you."
Samuel*, 40, is an "alumni" of Freedom House – an asylum applicant awaiting final decision. He's smartly dressed and soft-spoken, gently clasping his hands together on the wooden table between us as he tells me how he escaped certain death at the hands of his home government in an East African country and found his way to Detroit.
In 2014, Samuel (*Ed.: Samuel's name has been changed for safety reasons, and we are not naming his country of origin) was arrested during a police raid at an LGBT-friendly tourist business in his country's capital one spring night. Unable to resist arrest, Samuel cooperated with the police as they arrested him. "Of course, I could not fight three, four people," he said. "I had to give in."
An officer asked Samuel if he was gay once he was in custody. "You know when you get here, this is the point of no return. You have to die," the police officer told him.
Searching for an out, Samuel was eventually able to convince an officer to let him use the phone and when he did, he called a friend for help. Later, Samuel was called out of his cell and driven to a remote stretch of forest. It was dark –  around midnight.
"I followed men with guns," he said, unfailingly polite even when referring to people who could have killed him. "And I knew it was my time to die." 
The vehicle stopped. He was told to get out and run.
[/html] [html format="ckeditor" extra_classes="story-quote-section" different_values="0"]
"I followed men with guns, and I knew it was my time to die."
[/html] [html format="ckeditor" extra_classes="story-main-content" different_values="0"]
In the pitch black, Samuel ran. "I didn't know where I was going, so I started just running," he said. His plan was to run until he could find a road that could maybe take him to the nearest town.  After running for some time, a car approached, and he heard someone shouting at him. 
By some stroke of luck, the car wasn't full of armed officers. Inside the car was the friend Samuel called earlier. Samuel's friend had bribed the officer for his freedom. "He told me that (the officer) told him that I was supposed to die, and that I should leave the country. Immediately," Samuel said.  For reasons unknown, Samuel had been spared, but if other officials were to find out that the officer let Samuel and his friend go and that Samuel was still in the country, all three of them would be killed.
They were still in danger.
"We were panicking," Samuel said. "We did not know whether (the officers) were around, waiting to see who's coming either to be arrested or to shoot everybody." The two escaped, finding refuge at a relative's home.
Unsure whether his home was under surveillance or even still open, he sent his friend back to retrieve his personal documents to get out of the country.
Samuel then embarked on his journey to the United States.
Arriving in Boston, with the help of a local pastor there, Samuel researched how to get asylum when his search led him to Freedom House in Detroit. In need of money, shelter, and legal services, he arrived on their doorstep in May.
Now, prove you're actually gay
Earlier this year, Freedom House had their funding cut and then later restored by the Department of Housing and Urban Development. The initial funding cut alarmed the community, and the future of the residents seemed uncertain, as asylum seekers are not entitled to federal or state assistance. Even after fleeing certain death at the hands of their home government, they are not eligible for housing services through permanent supportive housing, and rapid re-housing because they do not yet have a qualifying immigration status.
Although Samuel is awaiting final decision on his case, he has since been granted authorization to work and now has a Social Security number (for employment purposes only), can hold a job, and now lives independently in the city. He considers himself a Detroiter, and plans to live in Detroit for the foreseeable future.
Though he's now allowed to live and work in the States, Samuel had another obstacle to overcome while applying for asylum protection: proving he was actually gay.
If you're a member of the LGBT community, your membership in the community is taken at face value. For many American LGBT people, proving "gayness" isn't given much thought: you say you're gay and people generally take your word as a final answer. But for LGBT asylum seekers, proving that they are in the LGBT community in order to get protections is more complex than simply stating the words.
Thomas "TJ" Rogers, program manager at Freedom House, broke down exactly what U.S. Citizenship and Immigration Services looks for when proving "membership in a particular social group." Rogers says LGBT asylum seekers have to provide "letters from former or current partners or other individuals who know they are gay, photographs with partners, letters from LGBTI organizations from home country or in US, police records, enrollment and participation in LGBT focused programs offered by (Freedom House)." 
That's a lot of documentation for people who have been keeping their identity a secret out of fear of persecution. 
Proving that Samuel was gay would mean – among other things –  weaving his way into the Detroit LGBT scene (which can be difficult to find as a citizen, considering how spread out LGBT spaces are in Metro Detroit), and photos of him participating in pride events and other documented gay circles.
American pride celebrations for first-timers can be all at once exciting and overwhelming, with its glitter and feathers and rainbows and drag performances and dykes on bikes. For foreign nationals seeking asylum based on their sexual orientation or gender presentation, it tends to be more overwhelming. For Sarah*, also an asylum seeker, it was an eye-opening experience, one that wouldn't have been possible in her home country. 
"People were free. It's public. It was really unbelievable," recalls Sarah*, who danced for over an hour at the underground concerts at Motor City Pride, her favorite part of the experience. 
Becoming a Detroiter
Even though many LGBT asylum seekers are not yet emotionally prepared to be "out and proud" after years of persecution, and often remove their Pride rainbows and beads and stickers in public, Sarah didn't take hers off. 
She wore them home, and then she continued to wear them around Freedom House. She showed me the room she shares with another resident: a very small, tidy space with a bunk bed, small table, window, and a mirror with a small rainbow flag tucked into the corner. 
Keeping her pride swag visible was about finally embracing herself after feeling conflicted about her Catholic faith and orientation. "I learned to accept who I am. I used to regret, I used to blame myself a lot," said Sarah.
Also from an East African country, Sarah (Ed.: *her identity is also being protected) came to the States after she was married off to a man at the age of 18. "A girl has to get married below 18 (years of age) or immediately after 18 years. Whether you like it or not, you have no decision about it," she said. Knowing she would be in danger if her orientation were discovered, she made the decision to leave. 
Like Samuel, Sarah finally found someone who would help her once she landed on U.S. soil. "All I wanted was to be out of the country," she said. The 26-year-old lesbian has lived in Detroit for the past nine months after finding refuge at Freedom House.
Since arriving in Detroit, Sarah has picked up cycling as a hobby during the summer months. "Girls are not allowed to learn to bike, so when I arrived in the States I decided to use the opportunity to learn," she said. "I can't even believe it. I feel like I'm in heaven when I can."
And even though she wasn't familiar with Detroit or Freedom House, she says she adjusted quickly. "I started getting a sense of belonging. I got brothers and sisters. I got kids."
She wishes more people knew about the services Freedom House provides. "Back home, you have to struggle in order to get something. You have to make sure you work hard if you want to live better," she said. "Many of us come here not expecting anything, just looking for survival."
Now, Sarah has plenty of opportunities to make connections with other LGBT community members in the metro Detroit area. She reads hard copies of Between The Lines, visits Affirmations, a gay community center, in Ferndale, and has a welcoming Catholic fellowship that embraces her identity. She, too, considers herself a Detroiter now.
For now, Sarah is getting the legal and emotional help she needs as she continues her immigration path forward. She's looking forward to becoming a registered nurse in the future and has started volunteering in hospitals so that she'll have some experience on her resume once she's eligible to work and go to school. One day in the future, she could be an alumna, employed and living independently, like Samuel.