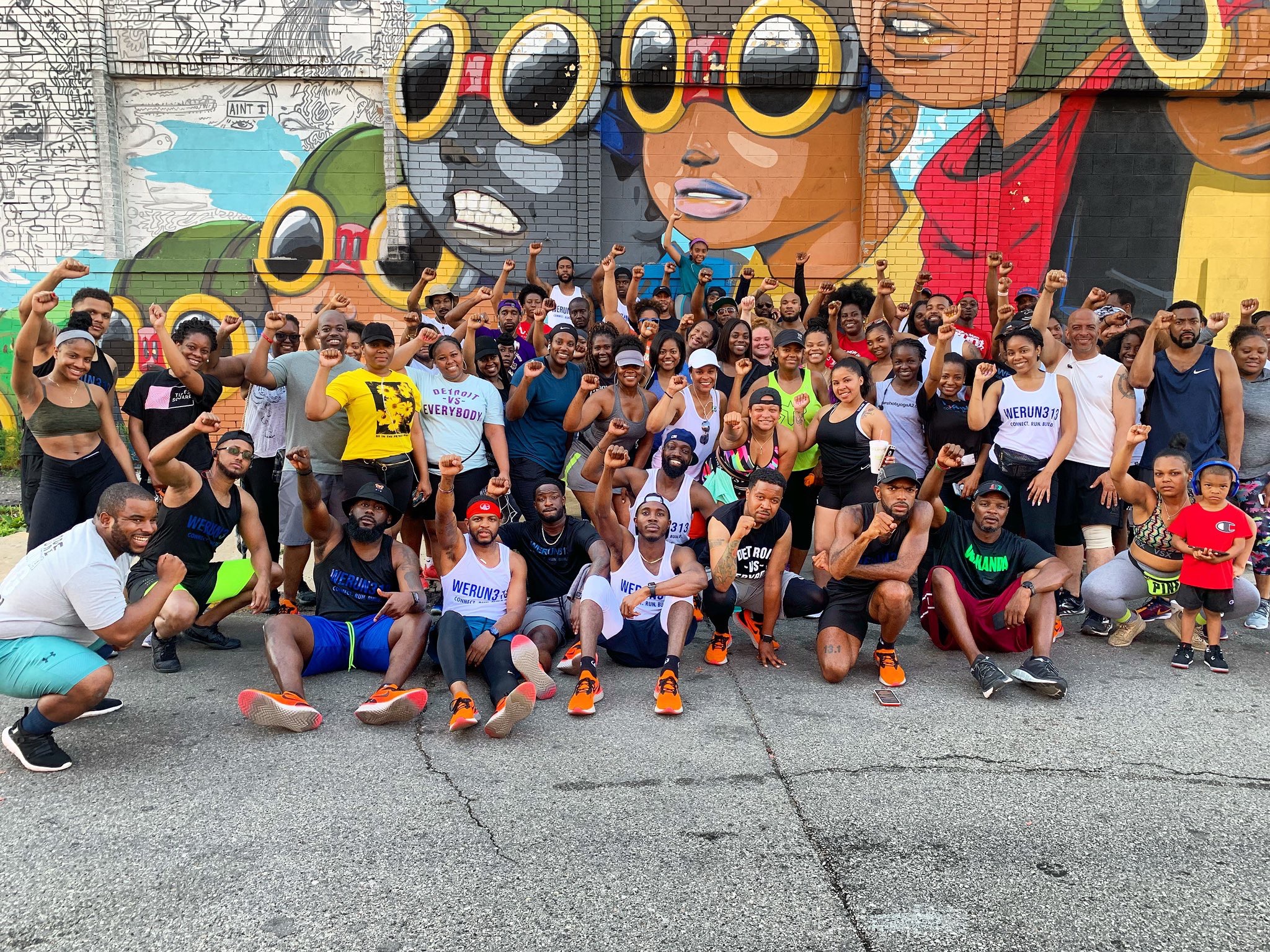 The speedy, sweaty rise of WeRun313, Detroit's newest running club
How an eastsider and a westsider came together to get the city on its feet
Who says the east side and the west side can't come together? Or, in this case, run together?
In a few short months, WeRun313, a growing running group founded by westsider Lance Woods and eastsider Joe Robinson, has raced to prominence as a leading activity for Detroiters on the move. They've racked up headlines, social media followers, and, perhaps the highest co-sign yet just last week: A Spirit of Detroit honor from Detroit City Council.
Woods and Robinson are enthusiastic runners who didn't know each other in person until mutual friends tagged them in social posts. "I was running alone and he was running, and he had other people trying to get with him to run and I was doing the same thing and we were running a lot of big races together around the country," Robinson said.
"They saw that we were in the same space, but we didn't know each other and we were doing the same races," Woods says. "He was doing the (Detroit) Free Press Marathon and I was doing the Detroit Free Press Marathon and other people saw that and was like, 'Yo, y'all need to connect.'"
After running a race in Miami, the pair finally linked up at the Lexus Velodrome outside Midtown. There, that's when they combined their individual ideas of gathering more runners together and joined forces to start the running club. Now, their goal is to get as many people out — the trails, the streets, wherever — as possible.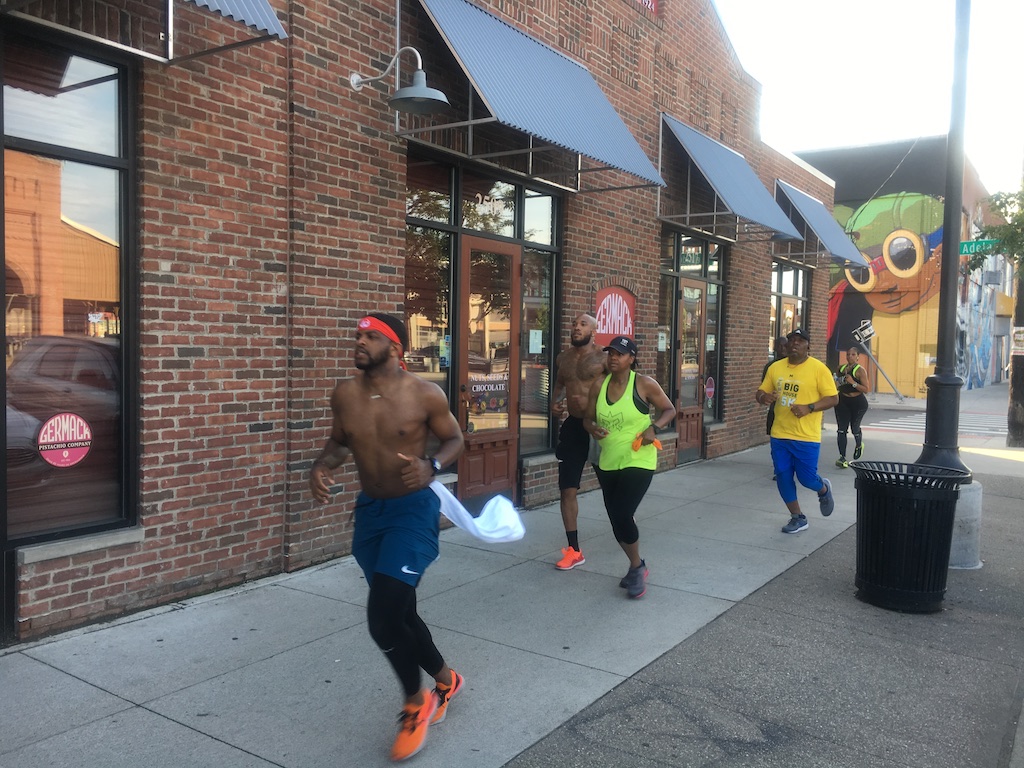 The Neighborhoods: In what ways can this club help Detroiters?
Woods: "Well, first, you're physical. Getting out there (and) running everyday will help you stay in shape, (and) can help you with your cardiovascular system, which is the most important part of your body
Robinson: "And we struggle with heart disease as African Americans"
Woods: "When you thinking about heart disease, hypertension, when you think about diabetes, high blood pressure, all of that…"
Robinson: "That stuff plagues the black community."
Woods: "It is one of the things that's taking us out. And when you get to running, you reduce those numbers. Another thing is your mental. A lot of (Black) people struggle with mental health, so running is 90 percent mental. A lot of your mind is saying, 'stop,' or your body might be telling you, 'ah, I need to walk,' but if you focus on the part of your mind that's saying, 'no, keep going,' then you'll keep going.
Your body is gonna listen to whatever your mind tell it to, so if I say keep going then I'm keep going, If I'm listening to that part of my mind that is saying to stop, then I'm going to stop and slow down and do whatever it is necessary. You become stronger mentally, and I think when you are dealing with emotional pains, which as you go through life you're gonna experience emotional pain, because trauma is bound to happen, through the loss of loved ones, lost of material items or lost of maybe a job, whatever the case may be, running is a space where is therapeutic where you can go out and set a goal and say, 'I'm going to run 5 miles today,' and when you run those 5 miles your'e gonna have a stronger sense of confidence about yourself that you were able to go out there and say 'Imma do this' and you get the instant result of accomplishing a goal."
Why start this club in Detroit as opposed to any of the places where the two of you have competed?
Robinson: "It wasn't a thing of, 'oh I wanted to do this in Detroit.' It's like this is where we are from, this where are network is rooted, so it wasn't even like a conscious decision to say, 'Let's start something here in Detroit."
Woods: "It just organically happened, I just feel like the stars really just aligned when Joe and I met. We both already been doing this, we just been doing it alone. (Now) we got together. I started to start a run club in 2017 bringing people together and then it would fall off. Joe would try to do the same thing and it would fall off. When we came together and we were two passionate runners, it worked because every time I came out to run, I didn't have people that have the same type of passion for it as I did, so the times that I'm not feeling it he's like, 'aye, let's go for a run' and the times he not feeling it, I'm like, 'Bro, we getting our miles in today.' I'm talking about long runs, running West Seven Mile all the way to East Seven Mile. Ten miles straight down Seven Mile."
"I'm talking about long runs, running West Seven Mile all the way to East Seven Mile. Ten miles straight down Seven Mile."
TN: What are some locations in Detroit where you like to run?
Robinson: "Our three locations that we run every week. Our favorite locations to run, starting at 66 East Forest in Midtown, running up Woodward to Little Caesars Arena and back. Our second favorite location is Atwater (Street) by the Riverwalk, starting at the Dequindre Cut running that and back. Our third favorite running location is Belle Isle.
Woods: "We got other things in the works, where we gonna be running more than those locations, but right now that's where we at." "And we wanted to do those particular locations to make it consistent, even if we didn't promote it, people would know where we at, every tuesday, every thursday and every sunday." "That's where we at."
TN: How would Beginners approach this club?
Woods: "We get that all the time. A lot of people see it and they have some sense of fear or they feel apprehensive about joining a run club, because they think, 'oh, I'm not going to be able to keep up or I don't know how people are going to receive me.' So, in order for you to do anything you had to start and in order for you to make it to the top you have to start at the staircase at the bottom of the steps. And you just gotta start, just jump out there and get the experience and if you don't like it — but I guarantee you might enjoy yourself, because the type of energy that we attracting to the space. It's so organic, it's so loving and it's so encouraging and that's what we do.
We created this space for runners of all levels. Two-mile Tuesdays is 2 miles because that's what gets your feet wet to run, anybody has the ability to complete two miles, you could walk it, run it, whatever you need, the only thing that we promote at the beginning of each run is that you finish what you started."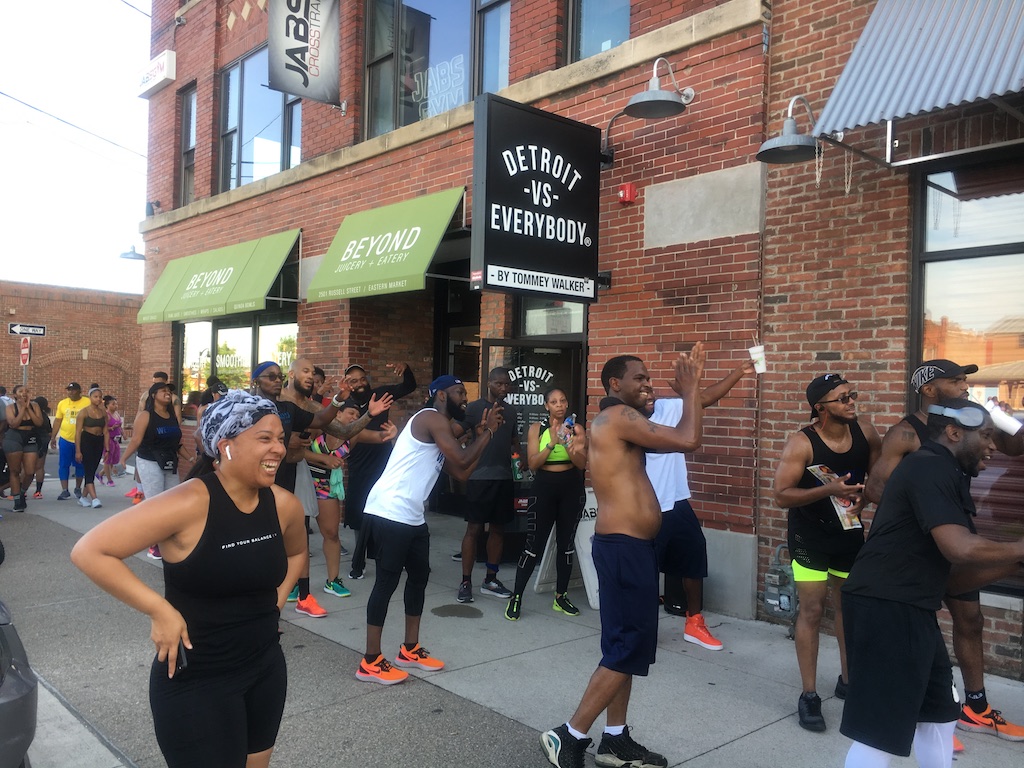 TN: A lot of millennials are in the club. Is that your target?
Woods and Robinson (in unison): "It's just that we're millennials."
Woods: "You're going to attract who you are. The millennials are the majority that rules the run club, but we had people out here at age 60, 50, 40, it doesn't matter the age, you could come out here. It just depends on what you're comfortable with. Some 50-year-olds (are) maybe like 'ah, I don't want to hang around no kids.' They look at us as kids, but we 30-plus. Some 20-on-down, we got high schoolers and we got little kids, some people bring their kids here. It's no age range; anybody can come, and we've linked up with different run clubs as well. So you got Black Women Run, you got Black Men Run, we got Wolf Pack, we got WeRun313 and Run This Town is about to link up with us, so we are open to whoever wants to join us. We just have a form of how we do things and that's just how it role."
TN: If people are interested who can they contact?
Robinson: "They can contact us on social media: WeRun313 across all social media platforms, or they don't have to contact anybody, they can just show up to one of our locations and we'll embrace them."