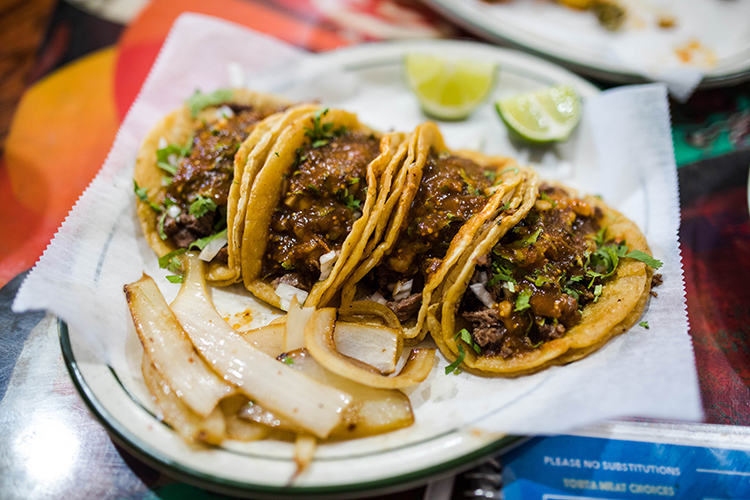 From Southwest Detroit, lessons in traditional vs. 'Americanized' Mexican cuisine
A quick lesson in how to taste the difference
The best stories come when you can admit that you don't know what something is, and that's exactly what happened with The Neighborhoods team as we went on a Cinco de Mayo search for Detroit's best botana in Southwest Detroit. 
We stopped at Taqueria Mi Pueblo for our first taste of botana – a nacho-based dish covered in various meats, beans, and cheeses. But after we ordered the dish, Jose Jesus Lopez, owner of Taqueria Mi Pueblo on Vernor Hwy, walked up to out table to ask us, "Why aren't you eating Mexican food?" 
Turns out, botana is not authentic Mexican cuisine, which is the opposite of what we originally thought going into this. Along with photographer Cyrus Tetteh and videographer Zachary Cunningham, Lopez taught us an unexpected lesson in what authentic Mexican cuisine is. From certain tacos to enchiladas and more, we were surprised to find out that many of our favorite "Mexican" dishes had been Americanized. 
"I don't mean to disrespect nobody or whatever," Lopez says, "|LS|but|RS| it's a way to make a dollar in this country," he says about the more Americanized versions about Mexican recipes. 
Lopez says a more Americanized version of Mexican food has a lot more dairy in it -- think about all the times you slathered your enchiladas in cheese and sour cream. Those hard shell tacos you love so much? Not an authentic Mexican staple either; Tacos are traditionally prepared with soft corn or flour tortillas. And spices? Lopez says Mexicans keep it simple with salt and pepper.
"We want to sell whatever we cook at home – keep it simple," he says.
Listening to Lopez tell his story about true authentic Mexican food in the video above and how food, in his opinion, "travels through the table." You can also watch Lopez's story on Comcast Channel 21.