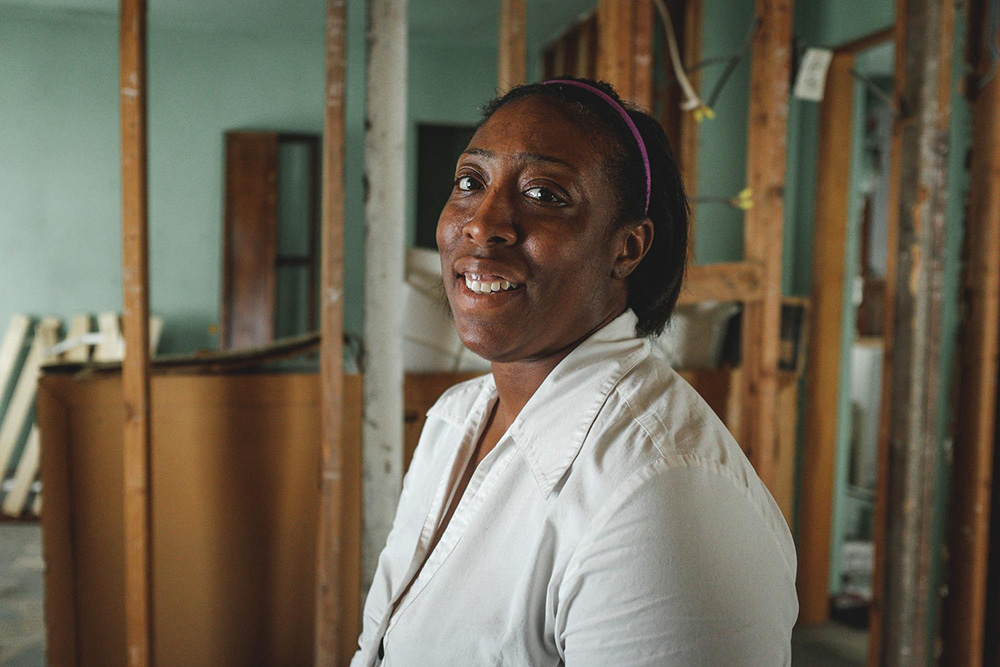 She was homeless. Then a Facebook ad changed her life.
And now, a Grandale community leader is taking matters into her own hands
Crystal Robinson is 36 years old and a mother of five children. She's lived in Grandale - a neighborhood on the west side of the city of Detroit near Plymouth Road and I-96 - for 26 of those years. And for two of those years, she's been virtually homeless: staying in different locations with family friends or supporters, but never on the street. 
The way Crystal tells the story, she went down in-person to the Detroit Land Bank Authority to ask if a house on Montrose Street was available in June 2016. To her delight, she was the only person to inquire about the house. She reached out to her district manager, Ray Solomon, and told him "Ray, I want this house. This house is abandoned, but it's worth it." Solomon reportedly asked her if she was sure she didn't want a house that was already available, but Crystal stayed firm in her decision. 
A few weeks later, Crystal said she got on Facebook around 4:30 am and saw that an ad for the house on the city's "Own It Now" page had gone up. She thought the house, with its 1940s architecture, was going to go for more than the asking price of $1000. The wait to find out if she'd been approved for the house kept her on edge. "It was like a kid waiting for Christmas." she said. 
On July 22, 2016, after weeks of checking in with the Land Bank, making phone calls, and constantly waiting for updates, Crystal had her house. She went to sign the papers for the house that Friday morning. From that point, Crystal says it's been "sky's the limit" in regards to finding resources and connecting with people to get the things that the house needs in order for it to be restored. The home has another layer of added significance: it's seven doors down from her mother's home. 
"When I walked into this house, it has…" she paused, "It had a lot of heart to it. A lot of heart. It's special. It's one of a kind over here. You don't find them like this." The price tag of $1000 only made the idea of owning the house even more appealing.
When I visited Crystal, her house was in the stages of repair. It had been gutted of its copper wiring, and there were some holes punched through the walls. From certain areas on the first floor I could look up through gaps in the ceiling and see the second floor. Both bathrooms were gutted and some of the lights didn't work. Scattered around the house were the piles of household items that she says have been donated or that she's picked up at a discount herself. There were floor tiles for the second floor bathroom that she purchased for $80, sitting chairs, house plants, shelving units, donated mattresses, a toilet she got for free, a full jacuzzi tub, and, yes, even a bathroom sink.
She was right when she told me that the house had retained some of its beautiful original features: there were two large stone fireplaces, the bathroom on the first floor was tiled in rich blue ceramic tiles from floor to ceiling, gorgeous built-in cabinets and shelves were quaintly tucked in around the house, one of the bedrooms on the second floor had its original cork ceiling, and another second floor bedroom had real wooden paneled walls - giving it a cozy cabin feel.
"The most I see of the city is when I have community meetings. I don't see the city. I don't see my councilman coming around. I don't see anyone who knows my situation. The only people who's reached out? You."
On the first floor, she's knocked out two walls to create an open floor plan for the kitchen and living room so that there's more room for the community meetings she intend to hold in her home. When she speaks about her plans, I can see them. I can see how she, her new home, and Grandale have such similarities: they're entities that have faced adversity and now have communities rallying behind them. Crystal's story isn't just her story, it's the story of Grandale - and to a larger extent - Detroit. She herself said it best: "My heart is bigger than just District 7. Yes, I live here, but my heart is really Detroit."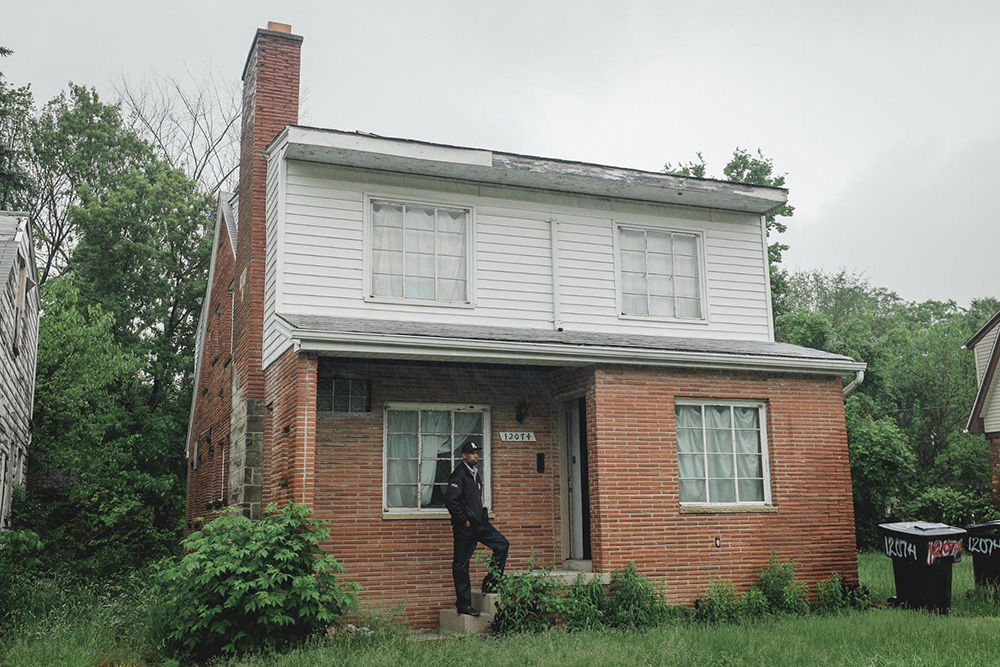 Since purchasing her house, Crystal has been mobilizing Grandale's development as its community president. Now, she's speaking out against what she believes is a mixture of city neglect of the neighborhood and city overstep. 
Crystal doesn't mince words. She loves Grandale, but she's quick to critique its swift fall from grace, as well as the city's failure to help its residents. "The most I see of the city is when I have community meetings. I don't see the city. I don't see my councilman coming around. I don't see anyone who knows my situation. The only people who's reached out? You."
"I can't do it by myself," Crystal continued in a moment of emotional vulnerability. "It didn't matter what it was going to take to get this house. I was getting this house for more than one reason. It's not just about me and my kids. It's about this community. This community needs to be rebuilt. This house really identifies the community: you walk into a place full of pieces here, pieces there, but nothing actually fits. And it takes a team, a community, to make everything fit into its right place. How do you rebuild? Take something that's torn apart, and then rebuild it?"
Last March, city council members voted unanimously to allow DTE Energy to build a solar panel facility at the decommissioned O'Shea Park. That decision, Crystal says, is what caused her to become the "big mouth" of the community, adding that she was determined to get the voices of the Grandale across. "It's gonna take me being at the table. It's going to take my voice speaking out for this community."
"If |LS|city politicians|RS| don't dive in to actually become aware of what the people are going through?" She paused, considering the gravity of what she wanted to say next. "It could be a 1967 outcome because we feel in the community that our voices aren't being heard." 
For now, she's turning her sights and energy to Grandale and to using her home as a hub for community development. Her plan is to build a grassroots company in her home once it's restored to living conditions. She wants to help families like hers "overcome and become more stable in their living situation, but also take them to the next level beyond that." 
At the end of the tour of the house, she showed me a basement filled with donated office desks, cabinets, computer monitors, and chairs.  The empty frame of an office restroom sits to the side, and she points out where and how she'll have the plumbing installed at a later date.
Crystal is one of those people who has had a domino effect of reinventing her community. Ask her how she describes her house, and she'll readily tell you that the home is a "people mover." She's a uniter, a fighter, and a real force to be reckoned with.