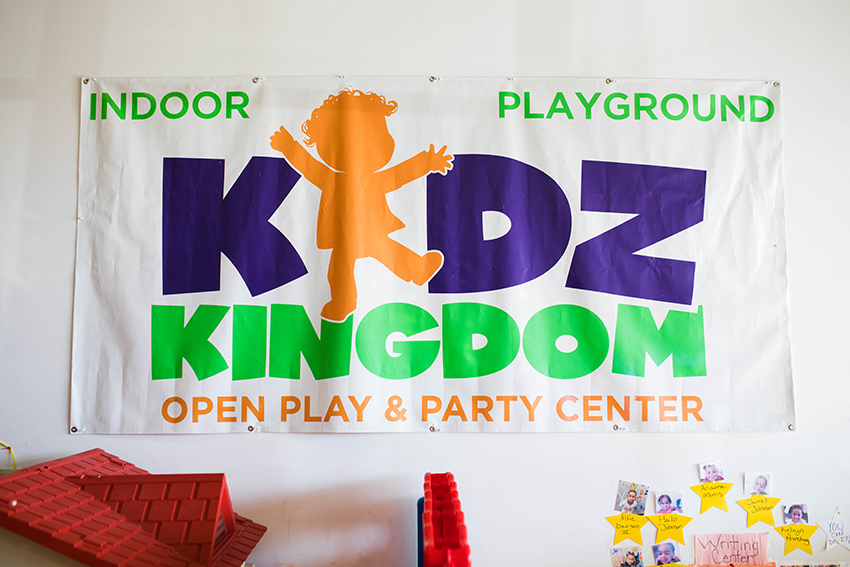 In Rosedale Park, Kidz Kingdom brings playtime back to Detroit kids
The play center blends education with old-school fun and games
If you're a '90s baby that grew up in Metro Detroit, your playgrounds might not have been jungle gyms and slides, but rather indoor free-for-alls like Jeepers at Northland Mall, Caesarland and Major Magic. The catch was our parents having to travel a good distance to get to the fun. Danielle D. North is giving a new generation of Detroit kids the same amount of fun but a lot closer to home.
North opened the doors of Kidz Kingdom in 2016 right in her own backyard: the Rosedale Park neighborhood. "It's an extension of my family," the mother of two said. "We live in this community."
North was intentional about where she opened her business. Not only was the proximity to her family's home a plus but she was also heavily focused on helping redevelop the community around her. When she opened Kidz Kingdom, only a handful of businesses were occupying the plaza at Fenkell and Grand River. Now she says more and more businesses are opening up shop.
Kidz Kingdom is believed to be Detroit's first indoor playground with a childcare center component. (Chuck E. Cheese, eat your heart out.) The play center is equipped with all the toys a kid could ask for, including an indoor tree house and bounce house, but from Monday through Friday, Kidz Kingdom is a licensed childcare center for children ages 1-5.
"They get to see me, the actual business owner, in this space and they can see the real possibilities of their ideas coming to life."
Students learn where they play
The two teachers on North's staff lead lessons based on a creative curriculum. "Kids learn through styles they gravitate toward based on their level of creativity," North said.
At the front of the center is a planning area that outlines the learning areas. Children can choose whether to spend the day in the writing, reading, art or discovery. All materials in each center are available to the kids throughout the day once they finish group lessons. "We just give them the tools and support them through |LS|their learning|RS|."
North says the students are thriving. She said she's seen two-year-olds trace their name on a daily basis and three year olds writing their first and last names, independently, every day. Spanish is taught three days a week.
North is deeply committed to the quality of education her center provides, especially since her two-year-old son is enrolled. "I build a lot of my focus around them |LS|her children|RS| and what's good for them."
The center also provides emergency school closing drop off, after-school enrichment courses and summer camp for kids up to the age of 12. Of course, open play is available on the weekends as well as a party room for rental.
Not only does North and her team provide a "safe, fun and clean environment" for Detroit children to play, they also try to provide support for parents. Parents can enjoy Parents' Night Out events and fitness classes. Even the budding entrepreneur can sign up for an 8-week course, facilitated by North with the help of the Build Institute, a local business incubator.
"It's the first and only Build Institute course with childcare," North said. "We're in the back in the party room, while the kids are up front, learning and playing with our staff." The Build Basics session gives new and established entrepreneurs a crash course in everything they need to start a business; from licensing to financial literacy and market research. Danielle finds joy in leading the class with the Build curriculum to back her up. "They get to see me, the actual business owner, in this space and they can see the real possibilities of their ideas coming to life."
Although she owns a business, North still works a regular 9 to 5 until the center is able to fully sustain itself. She hopes to expand Kidz Kingdom's services across the city and is currently on the hunt for two more spaces. "We plan to be a staple and a continued force in focusing on what families and kids need in the neighborhoods," she said.
To learn more about Kidz Kingdom and all their services, visit www.kidzkingdomdetroit.com.