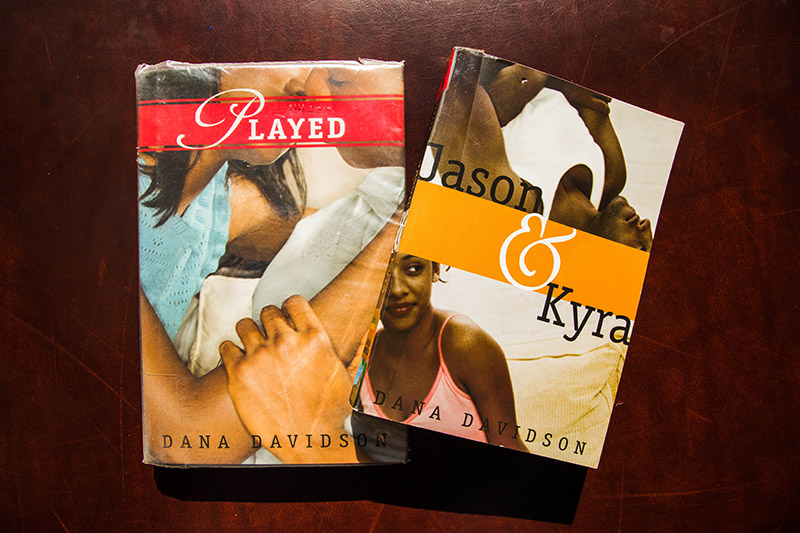 The original 'carefree Black girls' were fictionalized Cass Tech students from a Detroit author's mind
Almost a decade before the 'carefree Black girl' movement was coined on Tumblr, author Dana Davidson was writing their stories
When I started high school, there weren't many young-adult fiction novels where I could see myself reflected in characters as a Black teenage girl that didn't have to do with something tragic. 
There was Sharon G. Flake's The Skin I'm In, which tackles colorism and bullying directed at a dark-skinned girl. Then there was Brenda Woods' Emako Blue about a Black girl with a beautiful singing voice who dies violently before the book ends. 
There were also the fictional works of Sharon Draper: anything she wrote was almost certainly filled with Black suffering and pain – but with a teenage audience in mind. Her novel Romiette and Julio was a modern take on Shakespeare's Romeo and Juliette in which a young Black girl falls in love with a Latino boy and the disapproving local gang tries to violently force them apart. Another book of hers, Copper Sun, centers on a young African girl thrown into the transatlantic slave trade after her family is murdered. Yet another, Darkness Before Dawn, has the main character nearly sexually assaulted.
It's safe to say that while I hungrily read all of those books anyway, I still wanted to see fictional Black girls in situations that weren't so extreme. 
Before "carefree Black girls" were a cultural movement, I knew that's what I wanted to consume – regular Black girls doing regular Black girl things. So when I finally started high school in the fall of 2007, I was excited to find out that one of the English teachers at Cass was also the author of exactly the kind of books that I was looking for. 
Dana Davidson is a retired Cass Tech English teacher, and the author of novels Jason & Kyra (2004) and Played (2005). Both of her novels are set at Cross High School – a fictionalized version of Cass. A quick disclaimer: I grew up with Davidson's children and had her as my AP English teacher.
"There haven't been a lot of invitations to hear enough of our voices about our thoughts on ourselves, and who we are," Davidson said. 
Growing up, she said that she'd only had a handful of Black girl protagonists to read about. "Otherwise, they were either a slave or they didn't even get to be the sidekick. So I definitely wanted to write books where a lot of times we're not thinking about being Black, sure," she said. "A lot of times we are – we're forced to – but a lot of times we aren't. And I wanted books that did that that gave our young people, as well as anybody else who wanted to read it, a chance to just escape and think about stuff that they cared about that didn't have the whole weight of the race on its shoulders."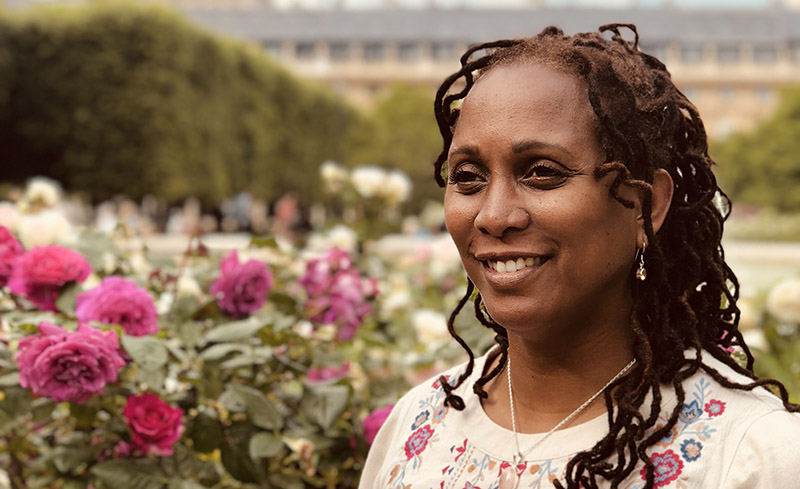 Image courtesy of Dana Davidson.
"When I got an agent and tried to get my book picked up (in the early 2000s) people were using language like they 'don't know if the market is ready' and 'who would they market it to?'"
I told Davidson about the carefree Black girl movement, and she said that Kyra in Jason & Kyra is the closest character she's written that fits the description. "She's very confident, stands up to the mean girls, she has zero interest in being like anyone else in the school," Davidson said. "One of the things I try to have us notice about her right away is she dresses according to how she wants to dress, wears her hair natural before everybody is doing it at that time, she speaks up, (and) she's into the sciences unabashedly."
Davidson published a carefree Black girl character in 2004, almost a decade before writer Zeba Blay coined the movement on Tumblr in 2013 and before the recent surge in visibility of YA novels with Black people and people of color as the protagonists. I told her how I thought that Kyra was the earliest iteration of the movement and she said that while it's possible that her novel had some influence on the authors of today, it's more likely that plenty of Black girls related years ago but weren't aware of each other due to having so few spaces that cared enough to hear the voices of our growing philosophies about ourselves.
"The fantastic thing about increased media outlets for your generation, i.e. social media and the internet and so forth, is that you guys can now have these ideas, put them out there, and people who feel similarly become the audience to hear more about themselves and talk about developing the philosophy of it," Davidson said. 
Since the early aughts, the philosophy has grown. Though representation for Black girls in literature is still low compared to their white counterparts, we're entering an era where books with Black girls and girls of color are being turned into big-name, blockbuster films (The Hate U Give, To All The Boys I've Loved Before, Everything, Everything). I asked Davidson how she felt about the sudden rise in mainstream visibility. She wasn't impressed.
"If we go ahead and try to think of how many books geared towards young adults featuring African-American characters end up coming to film whether it's TV or movies, the numbers are going to be really small again," she said. "If you look at the Asian-American market, you have The Joy Luck Club – again way back when I was a very young woman, and now Crazy Rich Asians (is) coming out. And that's supposed to be enough?"
She said that that's indicative of how Black authors and authors of color are still only allowed to flourish in small areas. "When I got an agent and tried to get my book picked up (in the early 2000s) people were using language like they 'don't know if the market is ready' and 'who would they market it to?'"
She squinted and shook her head. "Are you serious? I teach a whole school full of, live in a whole city full of, operate in a family full of people you would market it to," she said. "I was very fortunate to live in an environment where Kyra and Kylie were walking around every day."
"Those are my values in the book about how I want a boy to treat a girl if they decide they want to have sex. But I was aware that it could open up an opportunity for not just young people to talk about what they saw happening in the book, but also adults to maybe have an opportunity."
But for someone who says she didn't have a design when she wrote YA fiction and "stumbled into writing the first time around", Davidson's novels managed great success. Jason & Kyra made it onto the American Library Association's Teen Top 100 list, and Played made it onto the Top 10. 
"The way that happens is it's being checked out to the point where it's one of the top 100 books being checked out that year," she said. "If you combine (the two novels), certainly over 70,000 copies were sold and then in libraries that doesn't account from the rotation. Probably over 100,000 people read the two books, so it's possible that they checked it out and it had an impact. I certainly hope it did."
While her novel reached success across the country, Davidson was also embraced in Detroit. The novel was picked up for Author Day for the Detroit Public Libraries promotion of teen reading. In the old Cass Tech cafeteria, Davidson held the Jason & Kyra book reading and launch to overwhelming support. 
"I asked that 300 copies of the book be sent, and I thought I was taking quite a risk (having so many books)," she said. "I hadn't done anything before in terms of publishing, and they sold out. I donated all of the money to Cass' library. It was really touching especially that first day or maybe that first week to see kids walking down the hallway carrying that bright yellow book."
But while Jason & Kyra received universal support, Davidson's second novel Played was met with less of an embrace from schools and libraries. The main reason: sex – specifically a sex scene between two teens. And while Davidson has never given a book to teach where teenagers were having sex, she understands why Played didn't receive the same local acclaim as her first novel did.
"If a teacher hands you a book, it implies that you need to read this book and school districts aren't always comfortable with that," she said. "Author Day is shared middle school through high school. I could very well imagine them having discussions about 'What if we just give it to the high school kids?'" 
There were also parents who would object. "It's still parents who are just like, 'They shouldn't be having sex period and I don't want you putting that in my kids' mind,' like I'm the only source. Schools don't want a lot of controversy like that," she said.
I read Played in high school because I'd heard about the sex scene in it, but the scene I was expecting back then didn't match the reality. While there was sexual activity, Davidson wrote it in a way that puts emphasis on proper condom usage – safe sex. It stuck out to me then and it's still the main point of the story that I remember, especially when other YA novels wouldn't have added it in at all, and I told her so.
Davidson confirmed that she wrote it that way intentionally. While she traveled the country on her first book tour with Jason & Kyra, she said that parents would approach her and share their experiences reading with their daughters, which opened up opportunities to discuss its contents together. 
"I thought about that with Played – not that I wanted to care about 'What will parents think?' Because those are my values in the book about how I want a boy to treat a girl if they decide they want to have sex. But I was aware that it could open up an opportunity for not just young people to talk about what they saw happening in the book, but also adults to maybe have an opportunity."
Played did, however, sell more copies than Jason & Kyra.
"I knew that if Played had a sex scene in it (it would sell more) – which wasn't why I put it in there. I didn't put it in there to sell more books. I put it in there because of exactly what you said; there are teens having sex who are going to have it whether their parents know about it or not, but we are teaching ourselves," Davidson said. "I didn't talk to my mom about it like other teenagers were my teachers. My mom told me the esoteric version, mostly filled with 'Don't do it.'"
After retiring from teaching at Cass in 2015 and leaving a position at the University of Michigan, Davidson now has a lot of free time. Both of her children are grown and out of the house, and on some days she'll get a scene in her head that she has to put on paper. She's got three working manuscripts, and two of those are YA fiction.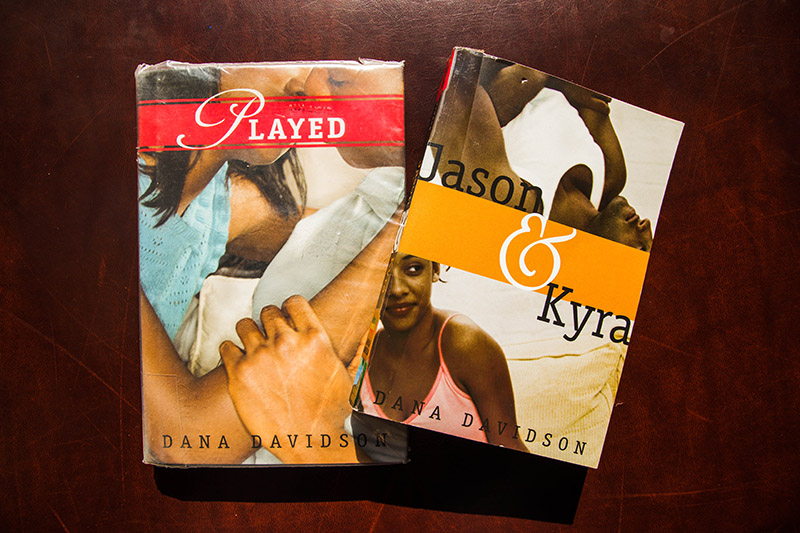 Image: Played (left) and Jason & Kyra (right) at the Detroit Public Library Main Branch.
Years ago, Davidson said she came up with a story idea on where Jason and Kyra were young adults. If you were a fan of the novel years ago and always wondered what happened to their relationship in the future, here's your chance to find out as told by Dana Davidson:
"It opens with Jason talking to a woman, and I think I had him at 24 – 25 years old. We don't know who the woman is at first, and clearly they're in an apartment together and live together. And you know it's Jason. If you've read Jason & Kyra, that's pretty easy to tell. But it's not Kyra. It's another young lady who is beautiful and smart and he loves her, or something like loves her.
They are getting ready for work in the morning, and I think I have him as a lawyer. And then the next chapter has – this is back when answering machines were happening – a series of answering machine responses. Jason wasn't answering of course, because he was out. And it was his dad who told him to call, it was important, several times. And then finally it was Kyra's mother, telling him that it was urgent and that Kyra was in the hospital.
The way the chapter ended was he was already throwing things in a bag and leaving, because he was playing the messages back.
We would have flashed back and saw that they had a relationship in college, and they broke up. Not bitterly, but she ends up going to medical school and he went to law school and they went to different spaces as they should have. They took their best opportunities. And she was in another country, I probably had her somewhere on the continent of Africa and she got very, very sick. (She was flown back to the U.S.) with this disease that could kill her.
And he lived in New York and had this new life as a lawyer, and was trying to protect society, and he moved on and was in a relationship with this wonderful young lady but when he gets this call that Kyra might die he doesn't even hesitate to leave. So that opens up 'Who are we really?' to this woman if he would be on a plane before I can even get off of work to go be by her side."
Spoiler alert: Kyra lives. So, there you have it: the story that would have brought them back together.
Davidson mused over the phone that nearly 15 years after publishing her novels they might have been moved off of shelves to make room for newer authors. I visited the Main Branch of the Detroit Public Library after confirming on their website that Jason & Kyra was available to photograph for this article, and I arrived hours before the YA section opened for the day. 
Although I wasn't able to retrieve the book myself, a librarian in the children's reading room assisted me and brought it out.
"She's a local author," she said. "She has another book that we carry, too. It's called Played."