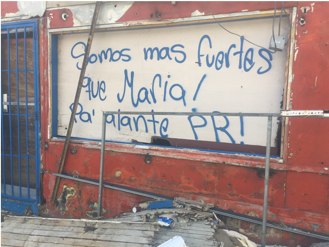 One year after Hurricane Maria, a Detroiter shares her story of survival
Elizabeth Garrett wrote in her journal every day after the hurricane. Here she shares her reflections.
For our latest episode of Circumference, we're doing something different. Instead of our usual Q&A roundtable style podcast, we've dedicated our entire episode to one Detroiters' story of living in Puerto Rico when Hurricane Maria hit - and how she and others navigated the months afterward without electricity, water, and other basic needs. This podcast was recorded before Puerto Rico updated their official death toll to nearly 3,000.
When I put a Twitter call-out for stories about migration to and from Detroit in July, I didn't know what kinds of responses I'd get. A few days after, I got a message from a 23-year-old named Elizabeth Garrett. She told me that she'd been living in a suburb of Puerto Rico's capitol city for a few months and had documented her post-Maria experience day by day in a journal and was interested in sharing it.
In a quote that wasn't included in the final cut, Elizabeth asks, "I know we destroyed nature but why does the Caribbean have to be the main ones to deal deal with the consequences?"
For many of us in Detroit, hurricanes (especially ones as devastating as Maria) are phenomenons that happen so far away from us that - although we follow their progression and destruction in the news - it feels like it's happening in another world. It felt, to me, like something that couldn't happen to anyone here. Elizabeth's story brought it home for me.
You can follow Elizabeth on Twitter at @drizzlerainman.
Image credit: Elizabeth Garrett