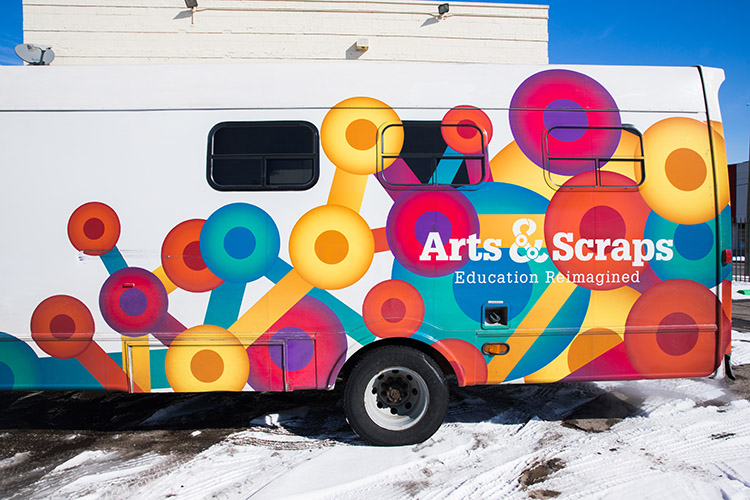 Neighborhood nonprofit Arts & Scraps celebrates 30 years on Detroit's east side
For years, the organization has "created fun with castoffs"
Long before recycling was ever chic in Detroit, Arts & Scraps made it fashionable to reuse discarded materials into something better.
Now, having grown from a church basement to a commercial space on Harper Avenue, the nonprofit celebrates their 30th anniversary this March.
"I came here as a little kid and it's great to come back here and see all of the lives that we can change just by continuing to create educational material out of castoffs," says community store manager Stevie Baka, who has been working with the program for just over two years. They say that the anniversary holds a special place in their life because they practically grew up with the store.
Like its name suggests, Arts & Scraps has been providing the community with discounted arts and crafts supplies, sourced largely from residential and business donations. The nonprofit built their platform on using recyclable materials in an effort to create sustainable art, or in their terms, "creating fun with castoffs." (A quick disclaimer: my mother has been with Arts & Scraps since 1996.)
Baka recounts the nonprofit's longevity this way: "We started (March 17, 1989) in a church basement, moved to the Morang building (July 18, 1992), and then we were on Warren for about ten years," they said. Arts & Scraps moved to their current location on Harper in June 2005.
With a milestone anniversary ahead, Arts & Scraps states that they've made "positive contributions to the community by establishing connections with thousands of children, by maintaining relationships with teachers through professional development and by helping them to expand the use of open-ended project based learning in their classrooms. …Arts & Scraps deeply values taking materials out of the waste stream and giving them a second life."
The anniversary party will be a "Funky Chic Mardi Gras" party held at The Eastern. For more information about Arts & Scraps and tickets to the event, click here.