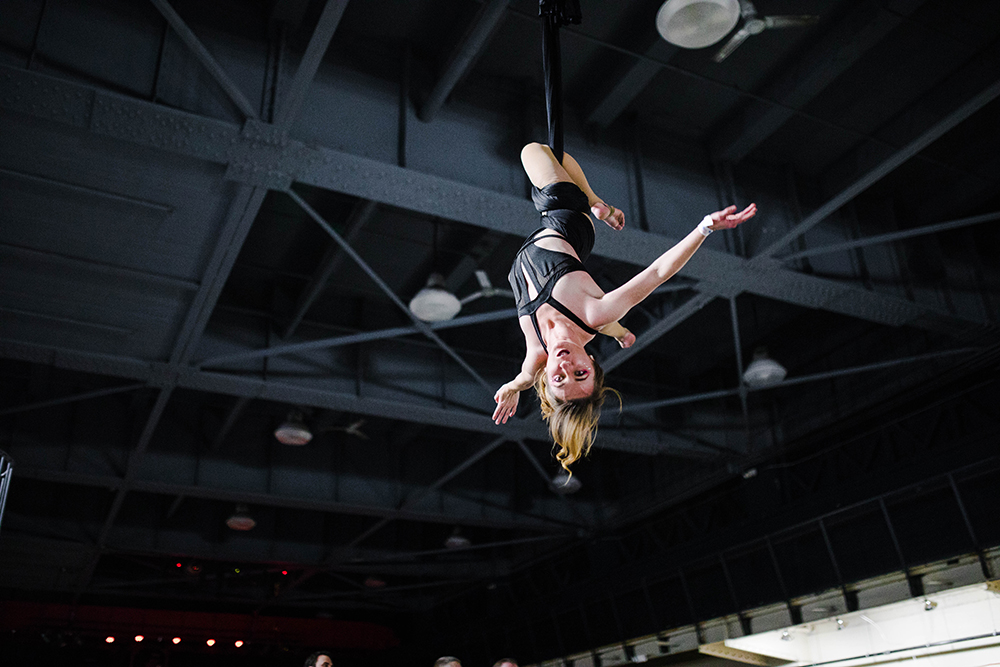 A 'destination event': The business behind Detroit's Dirty Show
At 19, the art show has become an international sensation
Writer's note: This article uses language that may not be suitable for children.
The pounding music and delighted cheering from a large crowd was audible from outside the Russell Industrial Center. Inside was even louder: enthusiastic bass notes thumped through the space as people – some in everyday civilian clothes, some in leather – strolled under the red lighting looking at the erotic art hung on the walls. This was the final night of Detroit's Dirty Show 19.
A burlesque performance was happening on stage. Later, aerial artists and cage dancers performed off stage. Shibari rope masters demonstrated their art to chopped and screwed versions of Katy Perry's "Dark Horse" under black light, and somewhere toward the rear of the exhibition was a mock-up of a 70s-era gay male bar.
It's hard to believe that this wide-ranging show started out of founder Jerry Vile's former work office 19 years ago. Vile is among the patrons wearing a bright purple suit, somehow standing out in a crowd already full of stand-out characters. 
For Vile, the show is "pretty close to a full-time job. It's pretty much all I think about every day." But although he's the show's founder, he doesn't try to run it by himself. There's a team of people behind him who run the show through its two-weekend stint.
He estimated that the show gets a crowd of a few thousand a night, averaging 10,000 over the course of the entire show. "That's why we need 50,000 square feet and more. We've got plenty of room and time to grow."
Vile said that early in his career, he'd "been shooting early digital pictures, and really there wasn't any place I could show them." And though he said the photos were tame "pin-ups" he also added that his version of tame is different from other people's version of tame.
But over the years, the Dirty Show grew, taking its place along other early-year attractions like the North American International Auto Show. It has moved six times over the past 19 years – each venue bigger than the last. "We've been very fortunate to have great word of mouth," said Vile. Now, they're at their biggest venue yet: The Russell Industrial Center with over 50,000 square feet of space.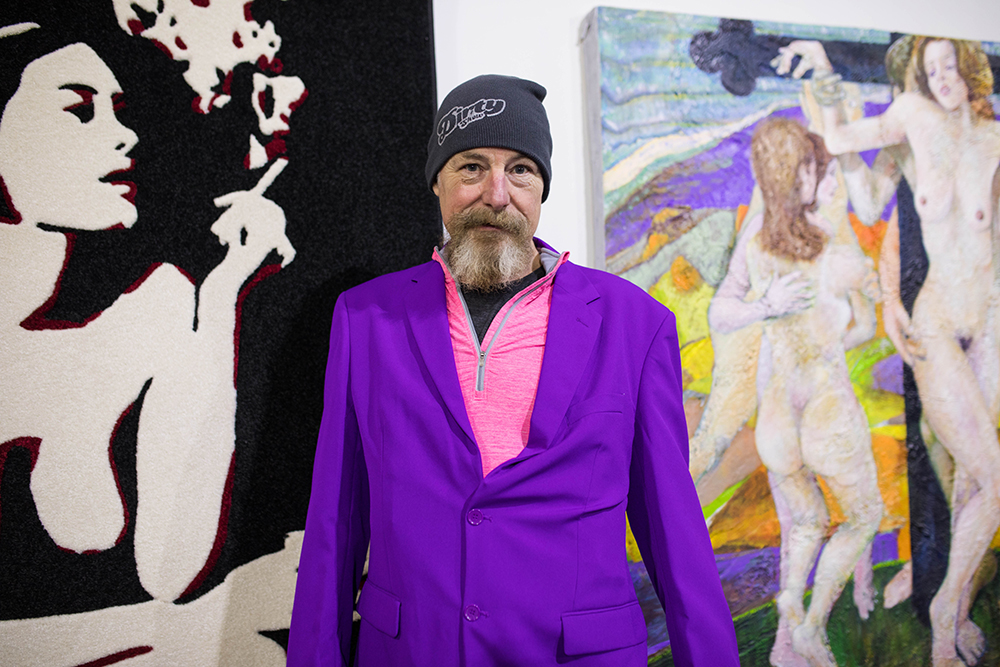 Founder Jerry Vile poses for a photo on the final night of the Dirty Show 19.
"You get to walk into the door and walk in another world. It's as interactive as you can be."
"We're lucky that we're a destination event," Vile said. "We've had people come from Europe. We've had people fly in from San Diego." 
Even though the Dirty Show has grown exponentially, Vile said it wouldn't have been possible without the local Detroit artists whose art has been continuously featured even back when their primary mode of advertising was word of mouth. 
"I give Detroit all the credit for the success of the show," he said. "It started out with all Detroit artists, and we didn't have any means of doing (the show) because we weren't on the internet when we started." Eventually, he continued, the show did get online and "started getting interest from everywhere."
For many of the patrons, it was clear that the show was more than a post-Valentine's Day date to gawk at erotic art. People felt comfortable. There was a diversity of sexual orientation that was represented in the crowd and in the art.
Vile gave myself and The Neighborhoods photographer Cyrus Tetteh a brief tour around his favorite parts of the show, and every few steps someone would approach him to tell him how much they were enjoying the entertainment, the art, and the atmosphere. 
"So many people find it like (the show) was something created just for them," said Vile. He said the gay-bar exhibit resonated with patrons the most. "It's a co-production between the patrons and the artists running it. You get to walk into the door and walk in another world. It's as interactive as you can be. I was talking to someone who told me it's the first time their boyfriend had ever been to a gay bar. And, I didn't have the heart to tell them that it's not really a gay bar, it's a performance piece about what a gay bar would have been like 40 years ago."
While the Dirty Show celebrated becoming "adult-aged" last year, Vile had a good feeling about their 19th year in the city and the future of the show. "19 is one better than 18. I guess the only thing about 19 is that it's drinking age in Canada. It's not a magic number the way 18 is, but every year we get better and smarter."