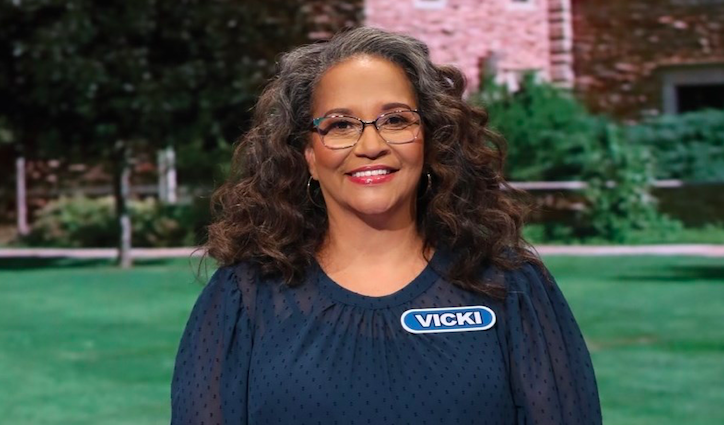 Cass Tech teacher to compete on Wheel of Fortune during Teacher's Week
Educator Vicki Green will appear on her third primetime game show in 10 years. Her advice for getting selected: "Try"
Cass Tech English teacher Vicki Green will compete on Wheel of Fortune Thursday night on NBC (WDIV). It will be her third primetime appearance in ten years. 
Green first appeared on America's Funniest Home Videos in 2008 after submitting a family video of reactions to her son making a surprise visit home from college. She placed second and won $2000. 
In 2018, Green and her family competed on Family Feud under the last name Roulhac, winning $20,000. She says many people tell her that she's lucky, but she credits her success to simply having a plan during try-outs. As an educator, Green knew that the best option for getting cast on a game show was to strategize. 
First, she said, you have to put yourself out there.
"If you don't try, you won't succeed. That sounds so simple, but you'd be surprised at how many people just don't try."
Next, be interesting.
"You have to (be) interesting or have some angle," Green said. "It can be anything where you have to present yourself in such a way where people go, 'Hmm. You're worthy of more attention from me.'"
Finally, she said, you have to pay attention. During her family's audition for Family Feud, the show producers instructed all participants on how to answer their question when they came out of their huddle. Green said that instead of following the directions provided, other teams were focused on winning their round, which wasn't a guarantee that they'd make it to the next audition. Producers don't care who wins the practice game, she said. "They want it to be interesting for the people who are watching the show."
"I don't always win. I don't always get picked. I don't always get selected. But when I do, it seems to be really big."
When Green heard that The Wheel of Fortune's Wheel Mobile would be making a two-day Detroit stop at Chene Park last May, she jumped at the chance and went both days. It was her sixth time going to The Wheel Mobile.
"There's a measure of luck with getting an audition with them," she said. "Hundreds of people are there, and they have to pull your name out of a barrel with everyone's name in it. That's what I never got past before. I always told myself, 'If they call my name, I'm (going to) end up on the show.'" 
Her strategy this time was to crumple up the piece of paper her name was written on to give it some texture and distinguish it from the rest of the paper in the barrel. Her name was called on the second day of try-outs, and she was chosen for another round of try-outs a few weeks later in June. That round was full of tests and puzzles where contestants had to solve as many as they could within a short timeframe. Shortly after, Green was chosen to be on the Wheel of Fortune season opener for Teacher Week. 
In preparation for the show, she binge-watched every episode of Wheel of Fortune in the month between finding out that she'd been selected and the date that she'd be going to tape. While she believes being a teacher has helped her attain her game show goals, she said that simply caring about learning is what's gotten her this far. "Pay attention, follow instructions. Care about stuff, care about knowledge, care about information."
Though she'd like to compete on The $100,000 Pyramid in the future, her plans are on hold because of an industry rule that prohibits game contestants from being on more than one primetime game show in a year.
For now, Green is counting down to retirement, having just started her twenty-second year of teaching. "I've decided I'm going to do thirty (years.)"
And while competing on the shows is fun, Green says that her motivation for all of this is the experience. "It's not just about game shows. It's still the philosophy of trying things," she said. "Are you always going to succeed? No. When people tell me, 'You are so lucky,' I'm like, 'I'm not as "lucky" as you may think because there are many many many times where I've tried something and it did not come to fruition.' But what's the point in talking about those times? The point is, I don't always win. I don't always get picked. I don't always get selected. But when I do, it seems to be really big."
You can watch Vicki Green's Wheel of Fortune episode Thursday, Sept. 12 on NBC (WDIV) at 7 p.m. EST.