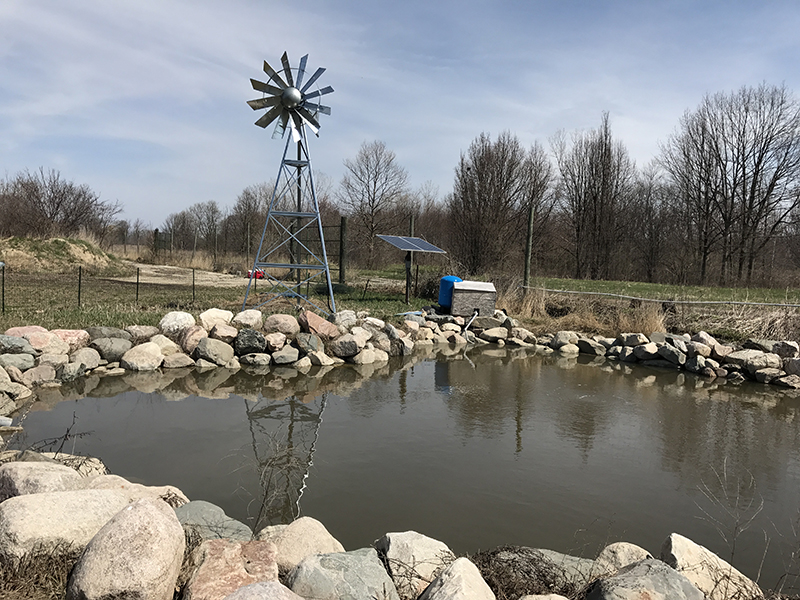 The black urban farmers in Detroit who say agriculture is 'not something to be ashamed of
The Detroit Black Food Security Network combines food policy with sustainability
Let's be honest: Across the board, Detroit isn't a "green" or sustainable city by anyone's standard, and that's something that needs to change. 
Although urban agriculture has been a topic of discussion in Detroit for some years now, it sometimes feels like the conversation ends there. But some organizations, like the Detroit Black Community Food Security Network (DBCFSN), have made it their primary mission to address concerns of food security in the city of Detroit in addition to their sustainability. 
Hanifa Adjuman, Education and Outreach Director at DBCFSN, said that they address these concerns by trying to involve the community in engaging in agriculture on their seven-acre farm – known as D-Town Farm – in Rouge Park on West Outer Drive between Plymouth and West Chicago. 
"Agriculture is not something to be ashamed of," she said. "Agriculture is part of our legacy and it should be a proud part of our legacy."
In addition to urban farming, DBCFSN also looks at how they can influence public policy. 
"Our organization was the first organization to actually draft Detroit food policy, and that food policy was introduced to Detroit's city council and it was adopted in 2008," Adjuman said. "As a result of that, Detroit now has a food policy council which looks at how the city activities can work hand in hand in an effort to address what we see as a big problem in terms of access to healthy, nutritious, culturally appropriate food." Foods like collard greens, rice, and sweet potatoes that are prevalent in traditional Black American diets, she said. 
"Agriculture is not something to be ashamed of," Adjuman said. "Agriculture is part of our legacy and it should be a proud part of our legacy."
"You might be able to find those foods in grocery stores," she said. "But, we also look at the quality." 
Meijer and Whole Foods Market aside, she said that because most of the major chain grocery stores left the city en masse in the 1990s and early 2000s, "We find that we have markets in the community that don't necessarily have or provide the quality of food that we should be guaranteed."
But even the most sustainable ventures can be affected by climate change, and DBCFSN is no different. 
"Lack of rain certainly is (a problem)," Adjuman said. "We've been struggling for sure the last couple of years with limited rainfall." Their solution was to install a 10-foot water retention pond at D-Town Farm. 
"The water-retention pond collects rainwater and that in turn is pumped to two 2,400-gallon cisterns at the front of the farm, and so the water from the retention pond is pumped to those cistern and allows us to be able to water a portion of the farm," Adjuman explained. 
Only the first two acres are watered this way, while the rest of the farm uses water from the city. "It is our hope that we will be able to use that water retention pond to water the entire farm." To keep mosquitos from laying eggs in the water, the network has also installed an aerator to keep the water flowing.
Because managing a seven-acre farm is not an easy task, DBCFSN relies heavily on volunteers, and one of the biggest goals for D-Town Farm is increasing the visibility, getting more people to come to the farm, and participate in the various activities that they have during the growing season.
Later this year, DBCFSN plans to break ground on a full-service "brick and mortar" cooperative grocery store named The Detroit People's Food Co-Op in Detroit's North End later this year. 
For more information, visit detroitblackfoodsecurity.org.
In observance of Earth Day, The Neighborhoods is running a series of posts on sustainability in Detroit. For more information on efforts to make Detroit an environmentally friendly city, click here.