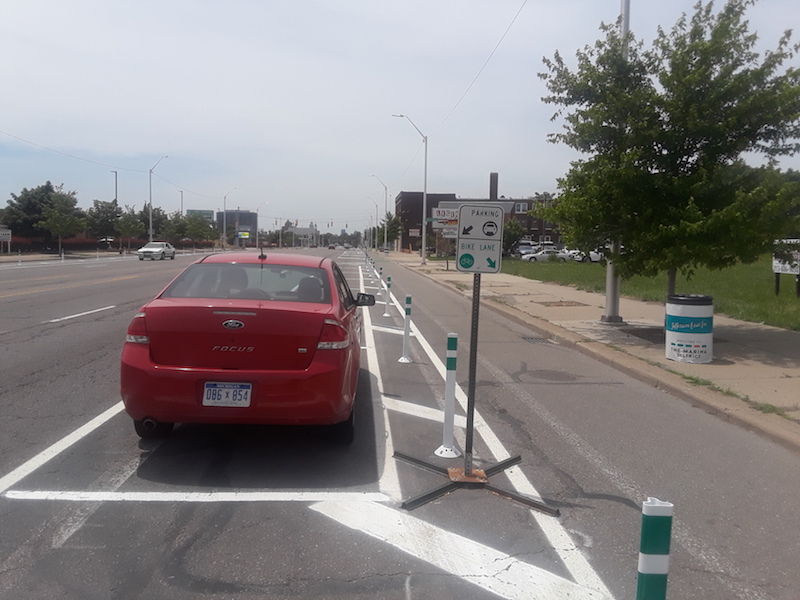 What happens to Detroit's bike lanes when it snows?
Winter is coming, so here's how snow removal works during cold-weather months
Sure, it's 80-ish degrees in October right now and this is something we totally, definitely should not worry about whatsoever, but snow will fall eventually in Detroit, which means we'll have to discuss our favorite topic at the moment: Bike lanes!
Yes, bike lanes, that hot topic that caused quite a stir on our Twitter account and seems to crop up lately at every community meeting, every City of Detroit inbox — paper and digital — and in the chatter at coffeehouses all across Midtown. It's on the minds of curmudgeonly media barons and average Joes alike, and it's not going away anytime soon.
For the record, we should be talking about bike lanes, and we at The Neighborhoods are happy to entertain that conversation. But the one persistent question that comes up relates to the aforementioned snow: What happens when temps drop and snow falls?
We reached out to the Detroit Department of Public Works and got this response:
The protected-bike lanes will be cleared utilizing mobile brooms and salted if the snow is less than 2 inches of accumulation. If it's heavier than that, we will utilize the skid steer to plow the snow to the end of the bike lanes. We will compile the snow piles at the corner of the intersections, and then we will utilize loaders and trucks to have the snow removed snow off site to a designated area. The unprotected bike lanes will be cleared as part of our majors routes snow removal operation.
The bike lanes are secondary to cleaning the traveling routes for vehicles. Once all traveling routes on major streets are cleared, then will clear the bike lanes. It depends on the amount of the snow accumulation, frequency and nature of precipitation . Our goal is to clear the bike lanes within 72 - 96 hours contingent of snow storm accumulations and snow removal from the major traveling routes.
And there you have it. DPW says for residents with any questions or concerns, call 313-224-0032 or 313-628-4265. In the meantime, let's keep the bike-lane conversation moving.