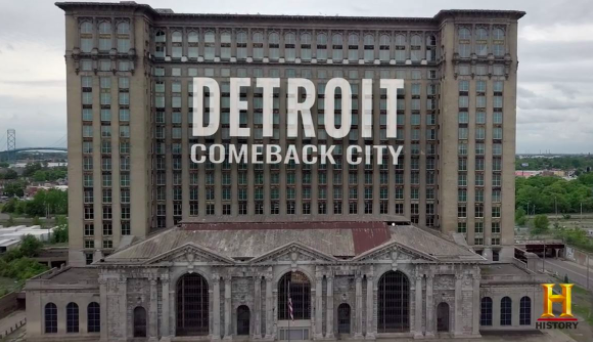 What to expect from the History Channel's "Detroit: Comeback City"
A healthy dose of the past with an eye toward the future
The Big Sean-produced, J.K. Simmons-narrated "Detroit: Comeback City" doc arrives on the heels of the announcement of Ford Motor Company acquiring the long-vacant Michigan Central Station. Ford chairman Bill Ford, of course, makes a well-timed appearance in the doc, but several local residents and natives also offer their commentary on the city's rise, fall, and rise again.
We at The Neighborhoods love documentaries, and any doc that focuses on Detroit is getting our attention. "Detroit: Comeback City" spotlights the rise, fall, and recent resurgence of Michigan Central Station as financed by Ford Motor Co. Writers Kinsey Clarke and Jamilah Jackson share their thoughts from a screening Friday afternoon at the Garden Theater in Midtown.
"Detroit has given so much to the world even when the world has given us little in return."
Kinsey's impressions:
I lived the first 18 years of my life in Detroit, and by the time I left for college, Michigan Central Station was known for years as the abandoned train depot where out-of-town trespassers went to take 'ruin porn' photos. That history was enough for me at the time, but watching the history of the building unfold on screen made me reflect on my own ancestral history.
My grandparents were part of the 6 million Black Americans who relocated from the Deep South to the urban Midwest during the Great Migration. They arrived in Detroit in 1950. I'd never given much thought to how they migrated - it was always assumed that they just appeared in the city one day and their life (and my lineage) began at that point. I don't know if they took the train into Detroit and their first view of the city was of Michigan Central Station, but I do know that many other Black Americans like them made that journey and did have that experience.
"Comeback City" is short, just shy of an hour long without commercials. Its focus is on the auto and wartime industries that caused Detroit's meteoric rise and eventual fall, white flight out of the city after the 1967 uprising, the city's stance on abandoned historic buildings, the citizen determination to preserve them, and does make mention of the eventual acquiring of downtown properties by Quicken Loans founder Dan Gilbert.
Jamilah's impressions:
I'll admit that I'm not an avid history buff but I really did enjoy the documentary. I've lived in Detroit my entire life and I knew it was always the place to be, but this documentary really showed just how important Detroit is to this country. There are your typical reminders: We provided a majority of the cars on the road from the 1920s through the 1950s. Not always as revisited: We built a large portion of the arsenal used in WWII. The underlying message is that Detroit has given so much to the world even when the world has given us little in return.
This city has seen and been through a lot and watching this doc has really made me shift my short-term goals. While the city is on the rise, a lot of the credit is going to people that may not necessarily look like me. I'm grateful for their contributions, but as someone born and raised in this city and educated by its school systems, I have to make sure I am doing my own part to bring her back to her former glory. It can be done because, as always, it's Detroit vs. everybody.
"Detroit: Comeback City" airs Sunday on the History Channel at 9 p.m. For more information, click here.
Image credit: HISTORY