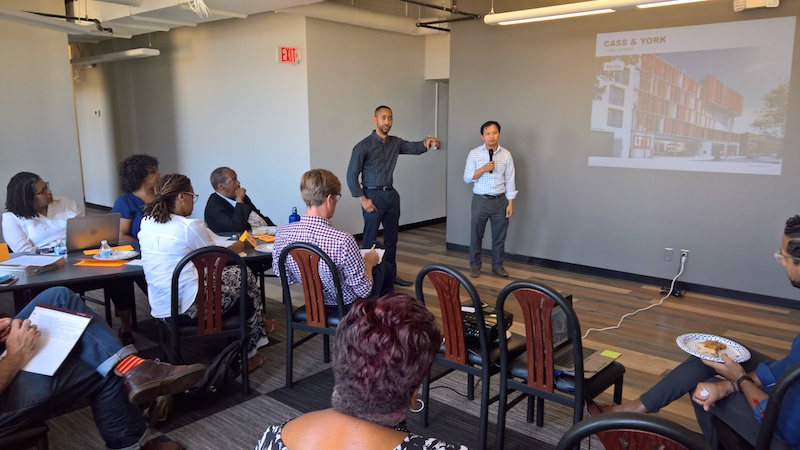 What exactly is Detroit's community benefits ordinance?
Explaining the 2016 act and how residents are part of the process
"Community benefits agreement" is one of those terms that gets bounced around a lot, but there's not always much clarity on. The City of Detroit has a Community Benefits Ordinance that attempts to bring resident concerns of job growth and equitable development to the top of the list of new projects in the city.
In 2016, Detroit voters passed what we now know as the Community Benefits Ordinance, which is written to address potential negative impacts with a development project and also identify community benefits that could benefit residents. Prior to 2016, a formal process to identify community benefits had not been in place; many developments had community benefits baked in on a case-by-case basis.
The Community Benefits Ordinance is enforced when one of three things occurs: A development project is $75 million or more in value, a development project receives $1 million or more in property tax abatements or receives $1 million or more in value of city land sale or transfer. When the CBO is triggered, the immediate next step is establish a Neighborhood Advisory Council for the impact area of the development.
The Neighborhood Advisory Council is comprised of nine residents of the impact area — which is defined as the census tract the development is in, but can be expanded to include additional impacted residents should the need occur — and are the liaisons with residents and work with the developer to establish what the community benefits for the area will be. The community benefits are included in the final development agreement approved by the Detroit City Council.
The City of Detroit then organizes community meetings over a three-month period to introduce the project — before the project begins. At the meetings, which are public, the potential impacts of the project are determined and allow for all residents, whether they serve on the NAC or not, to have a say in the project.
Who gets to serve on the NAC? They are nominated by the community, but they must be residents of the area and be at least 18. Two are elected by residents, four are selected by the City of Detroit Planning and Development Department, two are selected by Detroit City Council's At-Large Members, and one is selected by the local District Council Member whose district contains the largest portion of the impacted area.
Three CBO processes are currently under way: A residential/retail project at the intersection of Cass and York streets in Techtown, the Lafayette West residential tower in Lafayette Park, and the Ford development in Corktown.
For more information, visit detroitmi.gov/cbo.