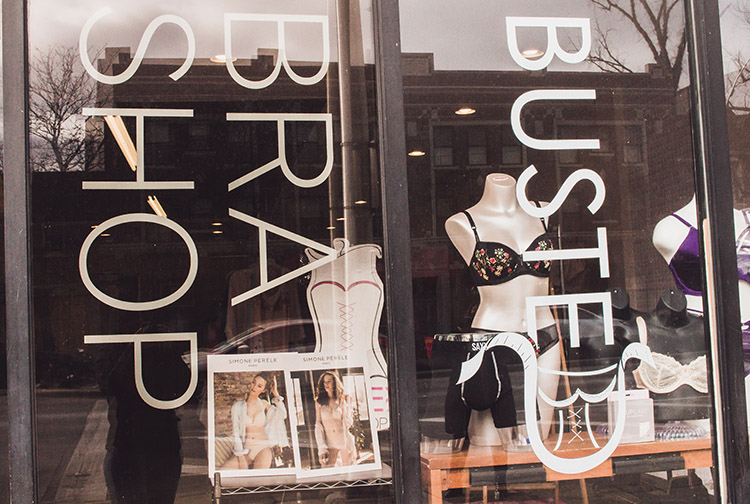 There's only one bra shop in Detroit, and it's in Jefferson Chalmers
The owner is eyeing a second shop in New Center
The pink lights on the corner of East Jefferson Ave. and Chalmers are what caught my attention first.
They glowed rosily in the evening darkness; a welcoming, cheerful shade of pink that looked warm and inviting. This was Busted Bra Shop's newest location in the Jefferson-Chalmers neighborhood.
For the uninitiated, Busted Bra Shop is the creation of owner Lee Padgett – the only shop in the city created to fill the void of there being nowhere to buy a bra. Padgett, an Alabama native, initially conceived the idea for the bra shop at a coffee shop she ran downtown. She said that one of biggest complaints she kept hearing at the coffee shop was that there wasn't anywhere to buy a bra in the city. 
Padgett applied for the Hatch Detroit business competition in 2013 and didn't win, but that didn't stop her from pursuing her goal of opening the shop in Midtown's Park Shelton building.
The first Busted Bra Shop carried just four styles, but now she's expanded her stock into the hundreds. Currently, she estimates that Busted serves about 15,000 customers. 
After a rent hike at the Park Shelton forced her out, Padgett opened another bra shop in Chicago in 2018. When considering her next move for her Detroit consumers, she said she thought, "Why not Jefferson Chalmers?"
"It seemed like a really, really hot spot for me," she said, adding that she likes being in an up-and-coming neighbourhood.
While the newest location hasn't had a grand opening yet because she says they're still in "soft open mode", Padgett encourages Detroiters to come to the neighborhood, grab a bite to eat at Norma Jean's sit-down Trinidadian restaurant down the street, and then come over and take a look at the shop.
Padgett is eyeing an expansion into Cadillac Place across from the Fisher Building, and says that she hopes it'll be open in February.