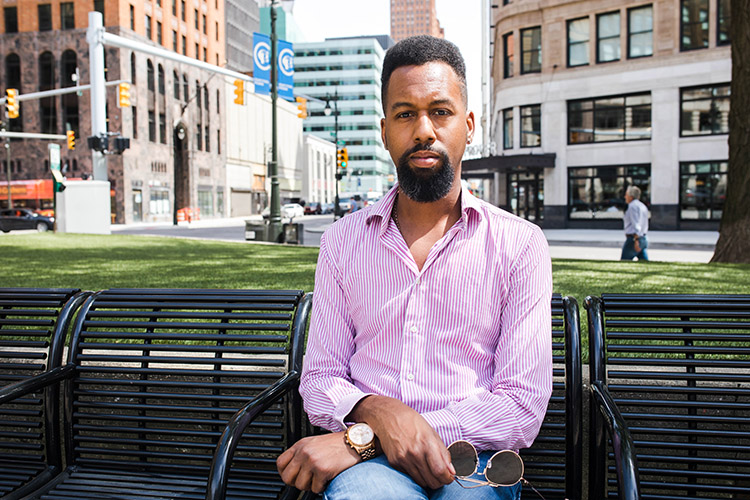 #QueerInDetroit: Roland
How Detroit can be "intentional" about investing in LGBT communities
June is LGBT Pride Month. This month, The Neighborhoods will share the everyday stories of LGBT Detroiters under the hashtag #QueerInDetroit. You can follow these stories on Facebook, Twitter, and Instagram.
"I would say for folks that are bothered by the lack of queer visibility in the city that want to see a stronger queer influence in day to day life here in Detroit invest their time and energy into organizations like the Ruth Ellis Center to support the most vulnerable queer folks that we have living in the region. That's a really great way to ensure that the community remains strong and gets stronger.
I think that it is difficult for queer folks to stay here for a number of reasons. I don't believe it's because Detroit is an unwelcoming place, but, you know, you gotta keep the lights on and feed your family and you have other needs that for some folks makes it difficult for Detroit to be a place to stay long term. I see a lot of folks come here and just not necessarily have the support and resources to stay.
I imagine you'd see a greater queer influence and everyday life here in Detroit if there were just a focus on keeping queer folks here. I don't know how that would be or how it would show up, but that's something that seems to not really be of concern when it comes to development. A string of bars! Something! Three bookstores in a row!
I think there's an appetite for it. Not just from the queer community – people love living in gayborhoods who are not gay. People like raising their families in those places too, but I think it's about being intentional about making that happen. You see real investment in other cities in both public and private sector to create those spaces and you don't see that here.
When I was a kid, (MOGO Detroit Bike Share Outreach Manager Adriel Thornton) used to host these family nights at a club in Hamtramck. So it's not technically Detroit, but he used to host these family nights for the queer community at this bar in Hamtramck called Motor and it was incredible. I was, like, 18 so I was there on the legal. The music was incredible. He'd bring some of the best acts in electronic music from around the world there. It was my first real interaction with Detroit queer culture.
Then about 12 years ago there was a queer film festival that came here called MIX, and its base is in New York. It's one of the largest queer film festivals in the world, and they plopped a Detroit version of that here and so people from all over the world came and it was a celebration of queer culture and queer art and it happened at Wayne State. They had this big party at what was then Third Street Saloon. Things like that really underlined for me that... the queer community is here, and how it has endured, and how it's been the backbone of arts and culture in this city for a very long time."