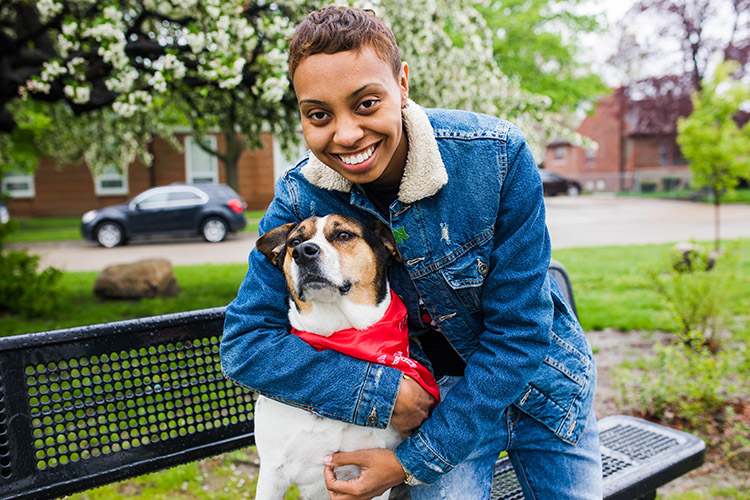 #QueerInDetroit: Liddia
Here's how a trip to the Michigan Humane Society helped this young woman heal from a break-up
June is LGBT Pride Month. This month, The Neighborhoods will share a series of everyday stories from LGBT Detroiters under the hashtag #QueerInDetroit. You can follow these stories on Facebook, Twitter, and Instagram.
"I had a dog once, when I was younger. I think I was 12. We had to give her away back to the Humane Society, because she had cancer. We couldn't afford to treat her. I hadn't had a dog since then. 
I had just gotten out of this long, six-year relationship with an ex-girlfriend. I was going through it for sure. My mom was like, 'Get another dog.' You know? I was like, 'I don't really know if I can take care of a dog for real right now. I can't even take care of myself because I'm emotionally unstable.' And then the (Michigan) Humane Society had one of those adoption days – I actually missed the first one. The second time, I was coming from Kalamazoo and was like, 'Fuck it. Maybe I need to go.'
There was a lot of good dogs there, but Sky had just got there – she came straight from Louisiana or something. Southern belle, you know. She just got there that day, and it was between her and this other little dog. I don't like little dogs, but he was real cool like we probably could kick it. But he was still a little dog. So I played with Sky, and she was just how she is with me now and I was like, 'That's my dog.'
I took her home, and I actually called my ex-girlfriend. I'm thinking, 'Well maybe, because she wanted a dog, maybe this dog can bring us back together.' I called her, FaceTimed her I think, like, 'Yeah, look what I got.' She was like, 'I don't want that dog. That's not even the type of dog I want.' I'm like, 'Oh. Well, that's over with.' Definitely cut her off after that. This is a harmless, beautiful dog. Like why would you say that about my new friend? I'm her new mom, this is my child.
It'll be our third year in August, I think? September? She's like my best friend, my soulmate. She's literally me in dog form."