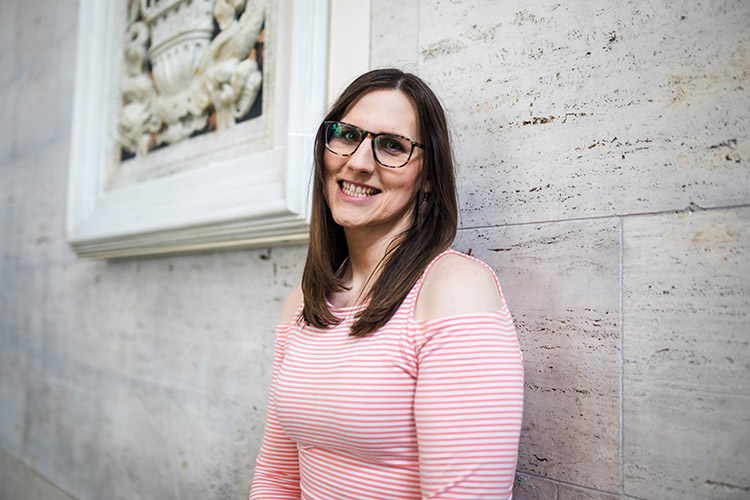 #QueerInDetroit: Emme
Here's how this young Bay City transplant is making Detroit her home
June is LGBT Pride Month. This month, The Neighborhoods will share the everyday stories of LGBT Detroiters under the hashtag #QueerInDetroit. You can follow these stories on Facebook, Twitter, and Instagram.
"I was born in Germany – military brat. Grew up in Bay City, spent my whole life in Bay City about an hour and a half north of here. Just moved to Detroit about two months ago. So, I'm very new to the city and I'm in love with it already. Detroit already feels like home.
Three or four years ago I came out to my family, a large Italian family. Felt like I was coming out for about two and a half years. It's like, 'Did you call so-and-so? Did we tell so-and-so?' You know you don't want any surprises when you show up at the family reunion or a wedding.
What I've enjoyed so far about Detroit is a really strong, queer, LGBTQ culture in the city, which I felt previously lacked (in other cities.)
It really made me appreciate (The Woodward) for what it is: a safe-haven for a large percentage of Detroit's black LGBT community, which is not something a white, fairly well-to-do trans woman encountered very much in Ann Arbor or obviously in Bay City. That fascinated me because even though I'm here in the queer community for four years now, I guess my stereotypical perception of a gay man is white, tall, skinny, effeminate. It had a really symbolic meaning the couple hours I was there to see a whole different community of gay males who aren't represented in the mainstream.
I've met a few friends that I work with now who are apart of the Detroit queer community who introduced me to the Intentionally Queer Facebook group. Some of them do drag sometimes, and I don't think I've ever personally met someone – until I moved here – who performed drag. To meet those people and get their experiences and maybe watch them do their makeup… because nobody does their makeup better than a queen.
Now I know what to look out for. You see a gay man with really nice nails that are a couple inches long, you're like, 'Hey, gay! I know what you do on Saturdays! I know where to find you! Hello GiGi's!'"