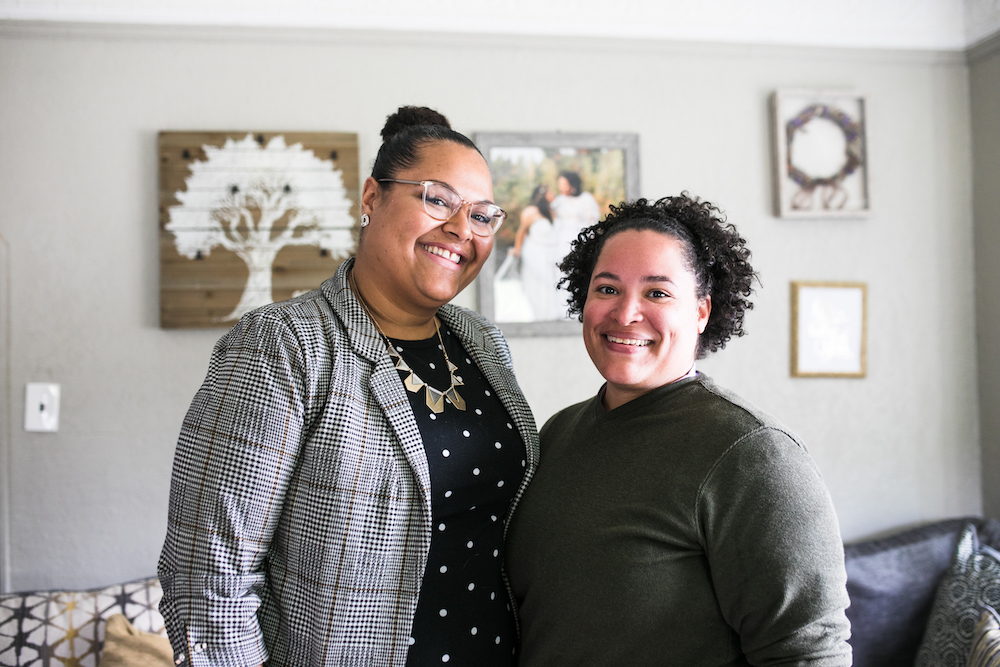 #Pridetroit: Jessica and Cara
Detroit doesn't have an official gayborhood. This couple is changing that.
Throughout the month of June, The Neighborhoods will be featuring stories from queer residents across the city. Today, we're talking to Jessica and Cara who live in Bagley and are slowly creating their own gayborhood in the city.
Jessica: "Last year Cara graduated with her Bachelor's degree in Wildlife Conservation and Ecology, and she was looking to move home to Michigan because she wanted to work in the national forests up north and she wanted to live in a more rural setting. But after we got married, all of our friends and family came so I wanted to move back to Detroit. I wanted to be closer to friends and family. I realized that I was really missing our network in Delaware, which is where we were. So moving home was this point of conflict because Cara wanted to work up north and I wanted to live in the city. But then she got an internship."
Cara: "It was just, like, pure luck that I happened to stumble upon this internship as a resource assistant through the US Forest Service, which was like my dream job. Very ideal for a forester. The department did a lot of environmental education for youth and so that's how we compromised on that, because my job was based in Detroit."
Jessica: "I had been researching neighborhoods that I wanted to live in. I'm from Southwest, love Southwest, love the culture of Southwest. But I also really love the architecture in historic neighborhoods. So I love the brick colonials. She loves tree-lined streets and we were looking at Grandmont-Rosedale… the University District, but when I stumbled upon Bagley I felt like Bagley was a more authentic neighborhood. It's an opportunity for blended connections. Fitzgerald is right across McNichols and they're doing a lot of inner-income building there, and Bagley also had a lot of accessible homes. I kinda convinced her to get this home and be in this neighborhood. 
We moved to Delaware and the East Coast for marriage equality. We knew that we wanted to get married and we wanted it to be legal and wanted to reap the benefits of a legal marriage. And we recognize that those are not the only issues facing the queer community, but those were some of the things we wanted as a couple. When we were moving back home, we knew that Michigan leans more conservative - broke my heart in the past election. We were really scared actually to move home and be out. I am a former educator and I work in non-profit space, and I talk about my wife. I use female pronouns. I make sure people know that I'm queer because I've worked so extensively with youth I know how it positively affects them. 
This past summer I worked for (residential STEM program) SMASH. One of my kids that I worked with over the summer came out to his grandmother and asked me to hold his hand while he came out. That's kind of a testament to why I don't live in a closet. 
When we were coming to this neighborhood, the other reason that Bagley was attractive was that it was close to Ferndale. I knew that there would at least be a very queer-centric community in Ferndale. There's not a gayborhood in Detroit. I think that we're all over the place, and I'm looking for space. I actually recruited some queer friends to buy houses, so we have a bunch of queer neighbors. And I'm on NextDoor and you can put that you're out on NextDoor. I would love to have rotating dinners and having queer couples or whoever come and have space. 
I absolutely feel like part of a community here. Both largely in general and in Bagley. I've been able to join a community organization, we've launched a community garden, I've been involved in the beautification and improvement of my neighborhood, but also the establishment of a queer community. Specifically queer folks of color is what I feel I've been looking for in Detroit. And that is a key difference from Delaware. I've had a lot of queer community, but not queer folks of color being the majority."