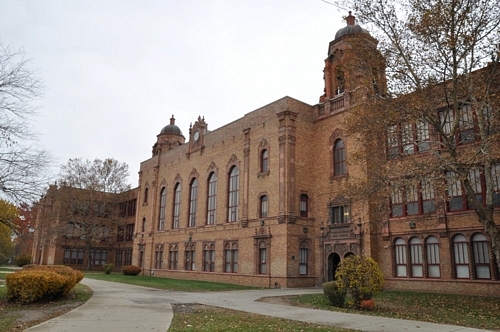 Old Cooley, Kettering high schools for sale
DPSCD also offering 21 other buildings for purchase
Detroit Public Schools Community District has moved forward to offer 24 vacant buildings for sale, including the former Cooley and Kettering high schools.
The sites were listed on the district's real estate page this week after the Board of Education moved forward to move the properties off its books. Properties — most of them former elementary schools — are spread out across the city and span several architectural trends. The oldest property for sale is the historic Beard Early Childhood Center, built in 1896; the newest is the post-industrial Stark School of Technology built in 1969.
Cooley High School closed in 2010 and Kettering High School closed in 2012. The future of Cooley's site, known for its Mediterranean Revival exterior, its expansive auditorium and Pewabic tiled-pool, has been closely watched by local historic preservationists. Cooley also suffered a fire in October, raising question about its potential for rehabilitation.
Prices for all 24 DPSCD properties are listed as best offer. For more information about purchases, click here.
Photo via Wikimedia Commons.