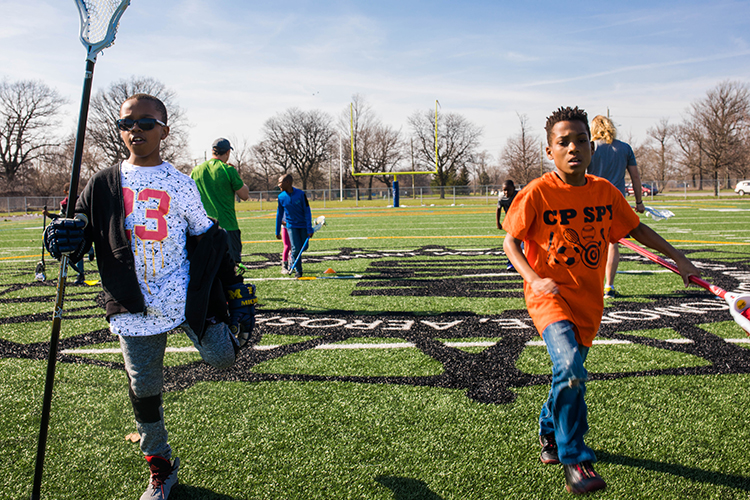 Meet the father-son duo hoping to spread the wave of lacrosse in Detroit
Lack of diversity in sport inspired player to start his own league
There are three things to know about the sport of lacrosse. It is the oldest sport in America. It is, simultaneously, the fastest-growing sport in America. And it's one of the least integrated sports played in this country. There's a father-son duo here in Detroit working to bring the sport to kids here in the city.
Alex Allen III and son Alex Allen IV are cofounders of the Detroit Youth Lacrosse Association. The younger began playing lacrosse in grade school after his father urged him to pick up a spring sport. "I didn't want to play baseball, I didn't want to run track. So I chose lacrosse because it's sort of like football, which was the sport I was playing at the time," he said.
The lack of diversity on his team inspired him to start the DYLA. "It was like that basically for my entire experience playing lacrosse from 5th grade to high school," he said. "My whole dream is to have more kids from the city interested in playing lacrosse and to be involved in it and see the opportunities that come with it. "
"This is his effort," the older Allen says. "We raised him to always think of ways for him to give back. This is one of the marks he wants to make and give back."
DYLA is in its infancy, but the Allens and the rest of their team hope to establish 501c3 status in the 2019 fiscal year. Currently, the association is receiving support from its acting fiduciary, the Chandler Park Conservancy, U.S. Lacrosse (the national governing board for the sport), the Sankofa Foundation, Harlem Lacrossse and the Smith Foundation.
"We are ground zero for youth lacrosse |LS|in Detroit|RS|," the older Allen says. "There are other places that have youth lacrosse programs. There's Harlem, Baltimore, Oakland (California). So we are in contact with some of those programs and we're learning from them."
The team currently practices on Tuesday, Thursday and Saturday with individual clinic on Monday, Wednesday and Friday and is open to children ages 7-13. They are working to establish a traveling lacrosse team, tentatively named the Detroit Panthers. The DYLA staff is also looking to create a partnership with Detroit Public School Community District high schools to expand playing opportunities for their kids after the age out of the program.
"There's a lot of skill sets in lacrosse. They have to learn how to throw, catch, scoop and stuff like that so you can just throw them out there," the older Allen says. "So we're taking time now to build skills."
Players will continue to learn the sport throughout the summer and end the season with a scrimmage. After the summer is over, students will be able to continue to learn and grow in the sport during the fall and winter. "So next spring, the kids we worked with over the winter will come back and they won't have to learn the basics all over again," the older Allen says. "This cohort of kids will already be able to have enough skills to get into a regular league."
Son Allen is hoping that DYLA will afford players a chance to expand their thinking. "Lacrosse as a collegiate sport is in a very interesting space; it's been getting more coverage on ESPN. Because the game is getting more coverage and attention, I think there is a need for the game to be more diverse," he said.
"Because there aren't that many black kids playing the sport, there is an opportunity and a market for kids to excel in that and see a lot of opportunities."
If you are interested in learning more about the Detroit Youth Lacrosse League, visit www.detroitlacrosse.org.