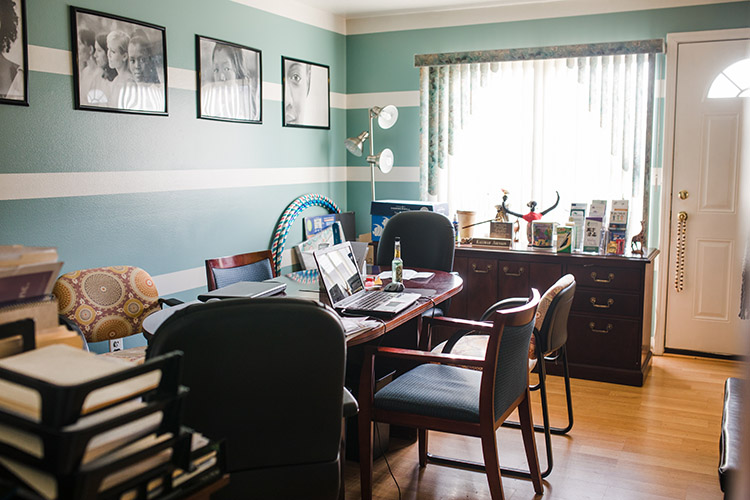 Meet the Black women in Detroit fighting R. Kelly, and healing women's trauma
SASHA takes a holistic approach to helping women navigate sexual assault
Kalimah Johnson is one of those dynamic speakers who, when she looks at you, makes you want to listen closely to what she's saying. She's the founder of the Sexual Assault Services for Holistic Healing and Awareness Center, or SASHA, a support group agency on Detroit's east side.
Founded in 2010, the SASHA Center office space sits on a quiet street and looks like a home. There's a kitchen that's been painted purple with matching barstools, a soft blue living room space with a long conference table, file cabinets, thank-you notes, and a bookcase full of material on surviving sexual assault. Upstairs has a quiet room with a futon and a yoga and meditation room. The space, like Johnson, feels secure. 
"We were created intentionally to address the African-American community around sexual abuse and assault, and we're going to continue to do that work," Johnson said. 
One of the core beliefs of SASHA is that "culture cures and history heals." 
"Black folks have been healing on their own for a long time, and we're just trying to create spaces so that they can tell us what they've been doing," Johnson said. What they've learned is that there's a myriad of ways Black women have healed: prayer, rituals, ancestor recognition, chanting, meditation, yoga, and more. SASHA integrates all of that into the agency.
If the SASHA Center sounds recently familiar to you, it's because their model of understanding why rape in the Black community is perpetuated went viral online after Lifetime's Surviving R. Kelly premiered in early January. The model illustrates the three things that happen to members of the Black community surrounding sexual assault and abuse: keeps black women and men from reaching out about assault, keeps funders from being able to fund programs like SASHA due to miscommunication, and educates the community at large.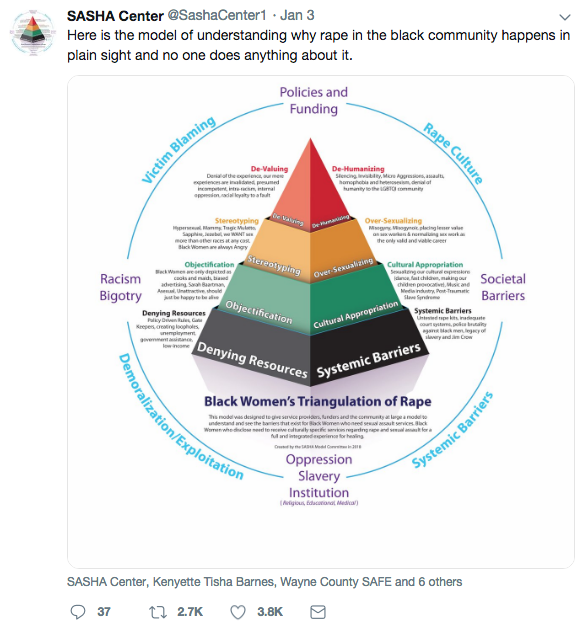 Image: "Black Women's Triangulation of Rape."
"We're building this plane while we're flying it."
The model, titled "Black Women's Triangulation of Rape", is in the shape of a pyramid. Each level details the societal forces that keep Black women in the cycle of sexual violence. The base of the pyramid details the systemic barriers and resource denial Black women face, and the further up the pyramid you go you'll see that cultural appropriation, objectification, stereotyping, over-sexualization, de-valuing, and dehumanizing all play a role in how Black women are treated.
SASHA has been advocating against supporting R. Kelly's music for a decade now. They protested his concert at the Fox Theatre in 2009, and when he held a concert at Little Caesars Arena in February 2018, Johnson was again outside of the venue protesting.  Footage from the latter action can be seen in the Lifetime documentary.
"It wasn't just about us coming down and showing signs," she said. It was about showing support to Black women and girls.
Shame, guilt, and victim-blaming are only a few of the reasons why survivors don't come forward. For Black women, the forces in Johnson's model create a power dynamic and intersection at which Black women sit. "Rape culture says that black women don't get raped," she said. 
Since Surviving R. Kelly premiered, there's been a renewed discussion of how so many factors failed Kelly's survivors, as well as how R. Kelly himself was a victim of childhood sexual abuse who then continued the cycle. But because men report their assaults far less than women do and face a greater stigma when they report, like Kelly, it isn't easy to reach them when they need help until it's too late.
The historical treatment of black men accused of raping white women also impacts how our community views black men accused of rape today, said Johnson. "And not in a way that is necessarily supportive," she added.
That's why SASHA is starting a group for men in February –  SASHA MEN (Male Engagement Now) –  and the point is to engage men in talking about sexual assault. "Because it's been so difficult over the years to try to get men to disclose that they've been sexually abused, we're doing it like a prevention and intervention program," Johnson said. "Where do they take it and where do they tell it? Because once they can unpack that anger maybe we can help them carve off some of this community violence that we're experiencing."
Funding for the SASHA Center comes from grants, state funding, and private donors. The NFL awarded the center a $50,000 grant this year, and a former Lions player Deandre Levy will be leading the SASHA MEN support group.
For now, Johnson is dedicated to "building this plane while we're flying it," and she's the pilot.