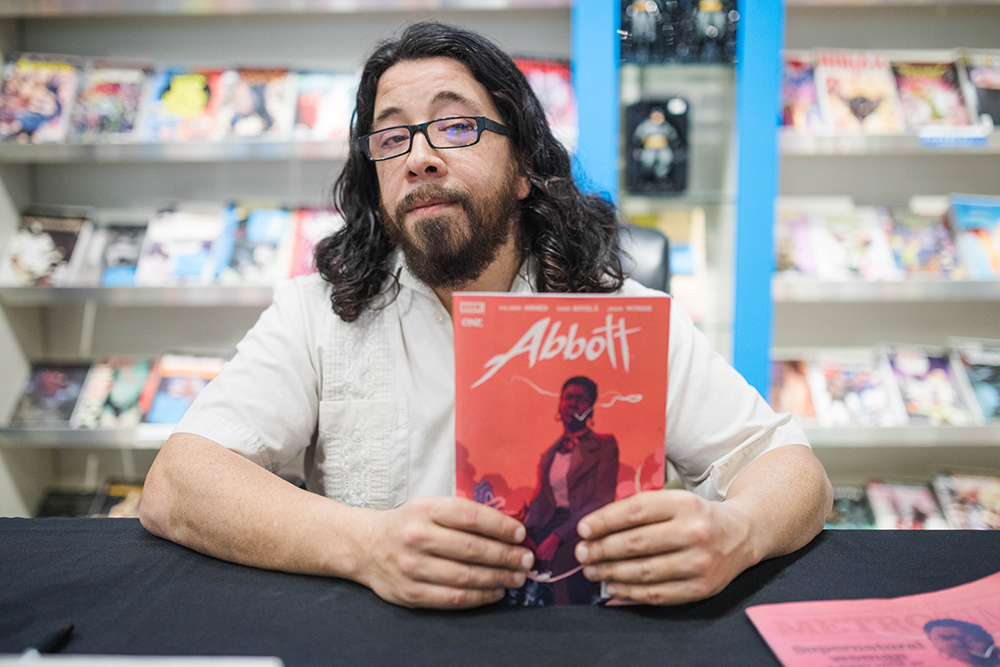 Detroit goes supernatural in new comic about black female journalist
Saladin Ahmed's "Abbott" is a "horror crime" set in Detroit
Even fictional stories from Detroit's neighborhoods can have their moment here at The Neighborhoods, so let's get into this one.
This month marks the release of Abbott #1, a comic born from the mind of author Saladin Ahmed, writer for Marvel's Black Bolt. It's his first creator-owned comic book, which is different, he says, than working for Marvel or DC where you're working with established characters that are owned by somebody else. "This is my story from the ground up," he said.
"I've told stories in magical Middle East, in post-apocalyptic Egypt, and super space prison," Ahmed said, but ultimately – even though he's from Dearborn – "Detroit raised me."
Abbott #1 is set in a slightly fictionalized Detroit in 1972. Ahmed said he was "trying to tackle some of the things that were going on at that time in the city, about race, about women's rights, about economics" but all of that is background to the main story of Abbott #1's titular character Elena Abbott. Abbott, a black investigative journalist working at a "slightly sleazy," mostly white newspaper is following a lead on the death of a police horse in Palmer Park where the story picks up.
The paranormal investigator genre has always resonated with Ahmed. "The dogged soldier for the truth who's digging and uncovering a glimpse of horror," he said. "Pretty typically, as with most heroic types, it's centered on one kind of person. It's always a straight white guy."
And he's right. Nobody asks why an author would decide to write about a straight white male journalist investigating the paranormal because whiteness is still seen as the default. In the series, an entire comic panel is dedicated to showing the disgusted facial expressions white male journalists direct toward Abbott while on the job. She's the outsider – and still the best at her job – in a world of white men.
"Pretty typically, as with most heroic types, it's centered on one kind of person. It's always a straight white guy."
Abbott #1 fits squarely in a nationwide conversation on newsroom diversity, even with its fictional 1972 setting. Just prior to this interview, National Public Radio released its own diversity newsroom stats for 2017, showing little gains in efforts to diversify its newsgathering teams. In fiction and in reality, it seems we can't escape the whiteness of newsrooms. That's what makes the timing of Elena Abbott's character interesting.
"She's an investigative genius, so she's the best reporter at a bad paper. And she's a black woman in this field in 1972, so she's dealing with a lot of overt hostility as well as covert hostility and cluelessness," Ahmed said. "She's contending with all of that as she also investigates a series of murders."
This is where the plot takes a turn for the supernatural: the murders resemble the crime that took her husband from her years prior – caused, she believes, by "shadow things."
"She knows she's not losing her mind," he said. "There really is a force out there and she's spent the past several years trying to forget about it, and then bodies start turning up that are clearly other victims of this force."
The bodies, he said, are of people who the mostly white press and police department aren't "super invested in caring about." It's then up to Elena to use her training to uncover what's happening in Detroit.
This is what makes Detroit as the backdrop to Abbott #1 interesting. Historically speaking, Detroit has a reputation of being the backdrop for a crime story – which, yes, Abbott #1 still is – but Detroit isn't depicted as a setting where anything fantastical happens in the way New York City is. We don't get to be supernatural. 
"Detroit as a setting had a big appeal in telling this story," Ahmed said. "(It) has a different feel, a different look. It's not the same as writing about New York."
Detroit is always firmly grounded in reality, but in Abbott #1, Ahmed allows the city to explore its darker side.
Read an excerpt from Saladin Ahmed's Abbot #1 below.  More information at boom-studios.com.