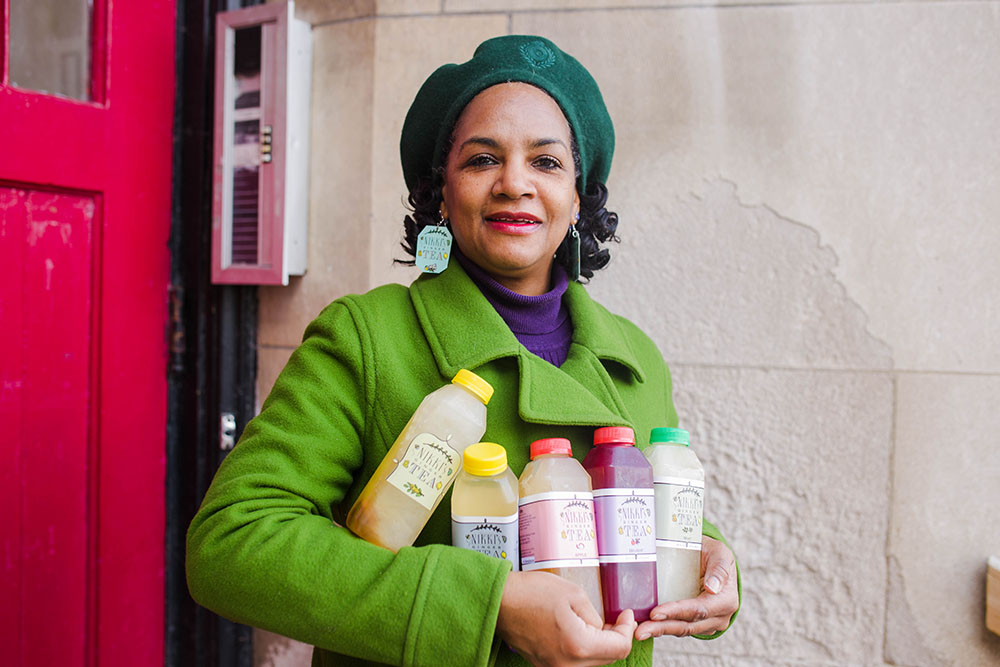 Detroit-based Nikki's Ginger Tea looks to grow into new cafe
What started as an affinity for ginger has blossomed into a multi-platform business
"I always wanted to be on the front lines of making this city better."
Monique "Nikki" Sasser is the name behind Nikki's Ginger Tea. I met with her on a blustery Saturday in November at her booth at Eastern Market.
"I fell in love with ginger in the early '90s," Sasser said. Her family used to regularly visit Eastern Market and they would bring different kinds of tea. They brought home ginger root and sassafras, put the two into a boiling pot, and from that day on Sasser was hooked. "I added some lemon and honey. I picked it up and I remember looking at it and saying that I gotta get every ounce of flavor possible out of this root," she said.
It was 1996, and Sasser was heavily into juicing. She'd often have family and friends over her home to try her newest "ginger concoctions" and when flu season would inevitably approach, they would inevitably ask her when she'd be making more of the drink. Sasser would try to explain to her friends how she made it, but they insisted that it wasn't the same. "They said 'That's too much, that's too much. That's too complicated, but if you sell it, we'll buy it.'"
It was also around that time that Sasser was researching how to start her own business. The jump from there was obvious. It was 1996.
"I started in my apartment across the street from Church of the Messiah (on East Grand Boulevard and East Lafayette Boulevard), and it's four floors (and) no elevators," Sasser said. Dedicated to her new business, she routinely carried sixty-pound containers of honey up and down the stairs of her building. She became so invested in making the tea that accidentally filled her apartment with bottles she ordered for the tea. After a friend suggested going to the church to use their commercial kitchen, Sasser began making her product there.
There was originally only one flavor of tea. After much experimentation, Sasser decided to add apples, carrots, and grapes to the mixture and created six flavors in total: original, unsweetened, ginger apple, ginger carrot apple, Nikki's Ginger Delight (with grapes), and ginger mint. Her favorite out of all the flavors are original, ginger mint, and ginger apple, and she recommends serving them heated.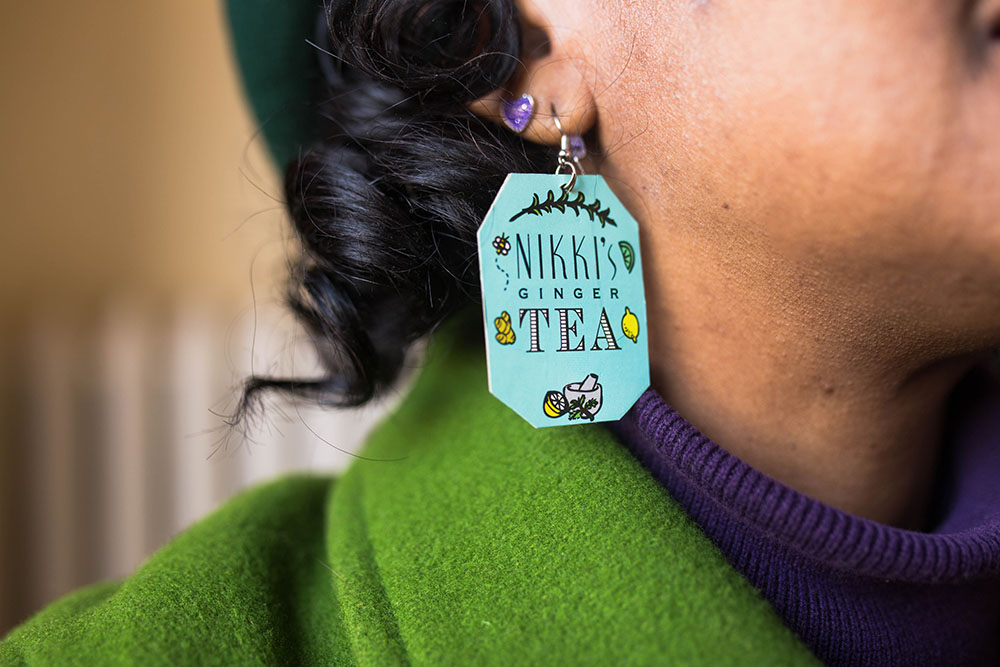 Her goal was to be a resource to her community. Sasser was already certified to be a fitness instructor, and had joined multiple health associations and the Health Department to promote healthy eating in the city. News of her business spread through Islandview, and parents would call her to volunteer their teenagers to help.
"What would happen is mothers would come and they would work out and then sit and talk to me over a cup of my tea when it was cold out, and they would say, 'Would you give my child something, some work? I don't want him out on the street.' And I would create something for them to do," she said. Her persistence didn't go unnoticed: In 2011, Nikki's Ginger Tea was recognized by Crain's Detroit Business in the social and entrepreneurial category for helping youth in their community.
"If you sell it, we'll buy it."
For a while, Nikki's Ginger Tea was only a part time endeavor for Sasser. As Michigan-made products increased in popularity, Sasser made the switch to full-time.
Now, Sasser is looking toward the future. "We want to open Ginger Spell Café which will be the home of Nikki's Ginger Tea," she said. Coming off of winning a space award from Motor City Match and a $10,000 grant from NEIdeas, Sasser's first priority is getting a new delivery truck. The current delivery truck was an old green pickup truck that the business paid $100 for five years ago from a soup kitchen.
The next step in her plan is to expand the Nikki's Ginger Tea product list. She wants to sell various tea-based products to sell, and she's also teamed up with local designer Bridget Rice of Cass Collective's B'Juelz into getting earrings designed with the company logo. "Now, some people laugh at me and say, 'Look Nikki, I love your tea, but I'm not wearing no Nikki's Ginger Tea earrings,'" said Sasser, but she insists that many people do want to buy them.
"I don't like to do anything, any relationship, unless it's a win-win," she added. "If everybody's not winning, I'd rather not do it." She's genuinely about that mantra, too: I made the mistake of biking to Eastern Market on a day when the weather shifted and the temperature suddenly dropped. She offered me a ride home in the pickup truck, no questions asked.
And while it's often that she has Detroiters approach her and tell her how the tea has helped sooth a sore throat or warm them on a cold winter day, she says she never gets tired of hearing how her work has helped people. "There are days when I'm having a hard time, and when I hear that, it makes me smile," she said. "I love that. It's music to my ears when I hear that."