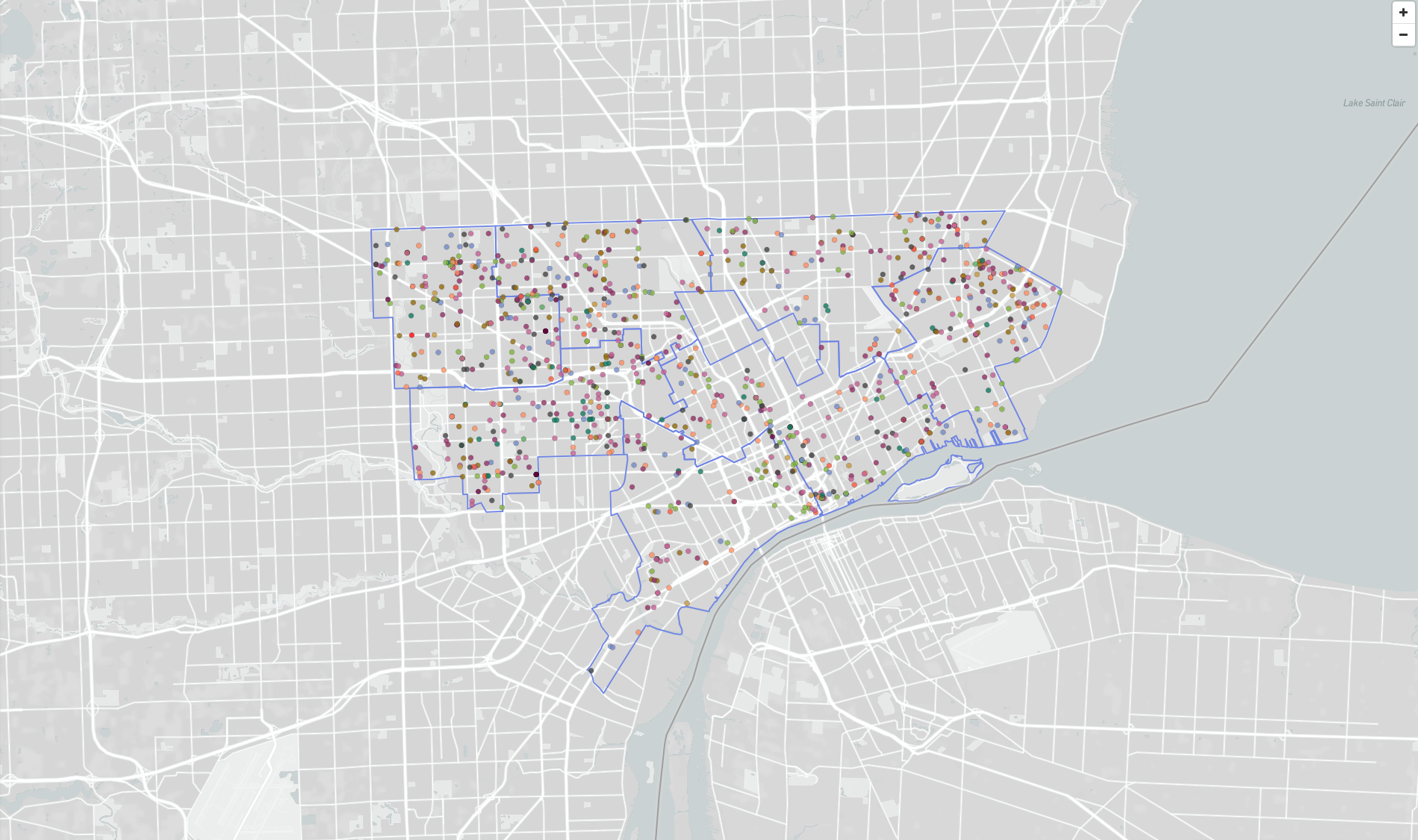 The City of Detroit has a new neighborhood crime-tracking tool. Here's how it works.
Residents can use the tool now available on the City's open data portal
A few months ago, the Detroit Police Department came to the City of Detroit's information technology department with an issue: Current tools are insufficient at analyzing and visualizing crime incidents in technologically-accessible, affordable and meaningful ways for community organizations and citizens.
Despite making crime incident data available on the city's open data portal, the police still often received calls from residents asking how to access crime statistics themselves without relying on a third party to gather the data and do analyses. Recognizing that our open data portal requires some technical-know-how, we worked together to design a more usable interface to view and filter crime data.
We worked with scenarios presented by Detroit's neighborhood radio patrol members. Hearing things like "we need to be able to see recent house break-ins in our area and the time that they occurred so that we can better deploy our volunteers" directly shaped our feature list. We designed the tool to be straightforward and focused around a discrete topic of information, but also robust and customizable, by enabling users to draw-their-own geographic boundaries for example.
After a few code writing sprints with user-testing sessions in between, we're excited to share the final tool. We've put together a visual tour below based on sample research scenarios or you can start exploring at detroitmi.gov/crime-viewer. Here, we answer two common questions.
Question 1: What crime incidents have been reported in my neighborhood recently?
Drop down the "Location" filter. Change "Current boundary:" to "Neighborhood" and then select "Pick Neighborhood" from the map. Now you'll see a monotone map with neighborhood names. More labels become visible as you zoom in. Click on a neighborhood to select it and filter the points. You can click on individual points to learn more about the incident details. By default, the map has loaded the latest seven days worth of crime incidents that have been verified by DPD and reported to the State of Michigan.
Question 2: When and where have incidents involving stolen property been reported?
Drop down the "Crime Types" filter. Select "Stolen Property" (or any crime type(s) that you're interested in). In the sidebar, notice that the table has less rows and shows only the crime types you've selected. Toggle to "Show Charts". You'll find three summary charts:
Stolen Property Incidents by Location
Stolen Property Incidents by Date
Stolen Property Incidents by Day of Week & Hour of the Day
As you apply or reset filters, the charts will respond.
The Crime Viewer is an open source tool; the raw incident data are available on our open data portal and our code is published on Github. We're using modern libraries that are best experienced in Chrome or Firefox and may prompt you to update your browser. Based on our user research, we've also optimized our design for desktop use, rather than mobile, in order to include valuable features like printing a report. We welcome feedback, ideas and bug reports through this web form.
The Office of Innovation & Emerging Technology (IET) is a team of programmers at the City of Detroit. We partner with departments to build digital tools that solve civic problems and information challenges. We guest write about open data for The Neighborhoods. Find all of our work at https://cityofdetroit.github.io/iet/.