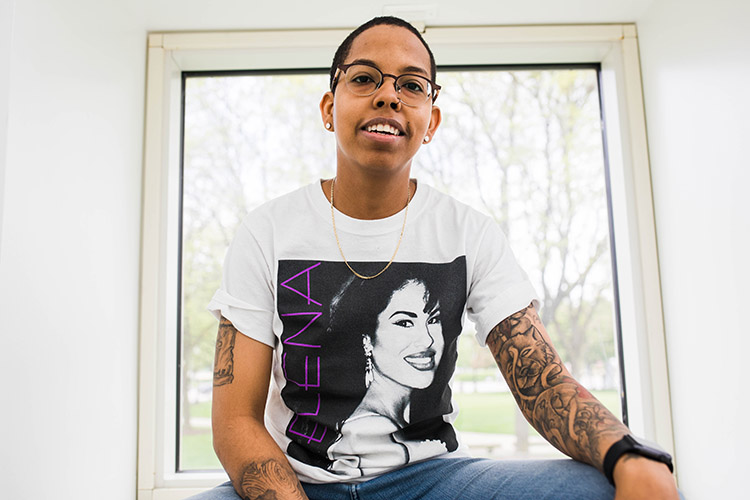 #QueerInDetroit: Snazz
Detroit's lesbian scene has changed over the years. Here's what one woman had to say
"I really don't like the term 'coming out', but I came out to my mother when I was 15.
Right around the time when I first came out – this was 2005 or 2006, maybe 2004. At that time in the city, there was a lot to do. There were a lot of different bars across the actual city, not on the outskirts. There were tons of lesbian bars, clubs, everywhere. So my experience was that I got into these places pretty easily. I'm not sure why (laughs) but I would get into these places because that's where we congregated.
We would all meet at Inuendo's, there was a place called Pink – it was on the East Side near Groesbeck – then there was another place named Pandora's Box. The building is still there, but I don't know what goes on there anymore. There was another place on the West Side. Now in the city, there's Inuendo's and other than that I'm not sure where queer folks meet up. The Woodward? But even that's predominantly men, so I don't think we have a space outside of Inuendo's. And that's in an area…pushed off into a corner kind of.
I remember there was group of studs called the Polo Studs. They threw some really dope parties. I'm sure there were other people but I'll remember them always having the best parties.
Palmer Park – I remember when that was the place to go. There was a particular spot where all of the lesbians would congregate.
You would go have barbeques, or you would go and afterwards we would all go to whatever party was going on. There were a couple of gay men, but this was where you would go. At that point, I would say the lesbian community was very visible. Now? Not so much. Every now and then you might see a couple, but (back then) that was our time to be a gay woman or a queer woman. That was the time. It was so accessible. Now I don't really see a lot of people who look like me in one area.
"We forget that straight people exist, because you just create your own world and you feel safe in that."
Over the years, me and my friends did music. So, we performed these songs over industry beats and we would go around and to lesbian clubs and rap. Very gay. It was very gay and I wasn't a rapper (but) that's how I started doing music.
My friend called me one time, and she and I and another stud recorded this song over "Blame It" and we were kind of a big deal. No one was really doing that – doing little gay tours. So it was cool.
It's just like one day everything just kind of went away. I guess people grew up and went their separate ways and that became less important. A lot of things were happening on the scene too. There were cliques and a lot of fights. I think it started getting too real and that violence started trickling over. We thought we were in safe spaces, and then someone died. I'm not sure if that was the shift, but it got to be too much for me too. People were bringing guns and I'm not confrontational like that. Hypermasculinity can trickle into our community – heteronormative behaviors. I feel like that's not normal.
Now there's little sectors of queer women and lesbians within the artsy scene. It kind of transitioned from when I did music in the gay clubs over to what we call "the scene" in Detroit, which is all the artsy folks – the rappers and the painters and the producers. The dancers and all that stuff. But in the beginning it wasn't really like that. Now you see more queer people, trans folks.
I know me and you were talking one time like we forget that straight people exist, because you just create your own world and you feel safe in that. My circle is mostly women, and it's mostly queer women or femme people in general. I have that safe space which is important to me.
I don't know how we bring that back. Maybe Gen Z has the answers? The people coming up behind us, maybe they have the answers."