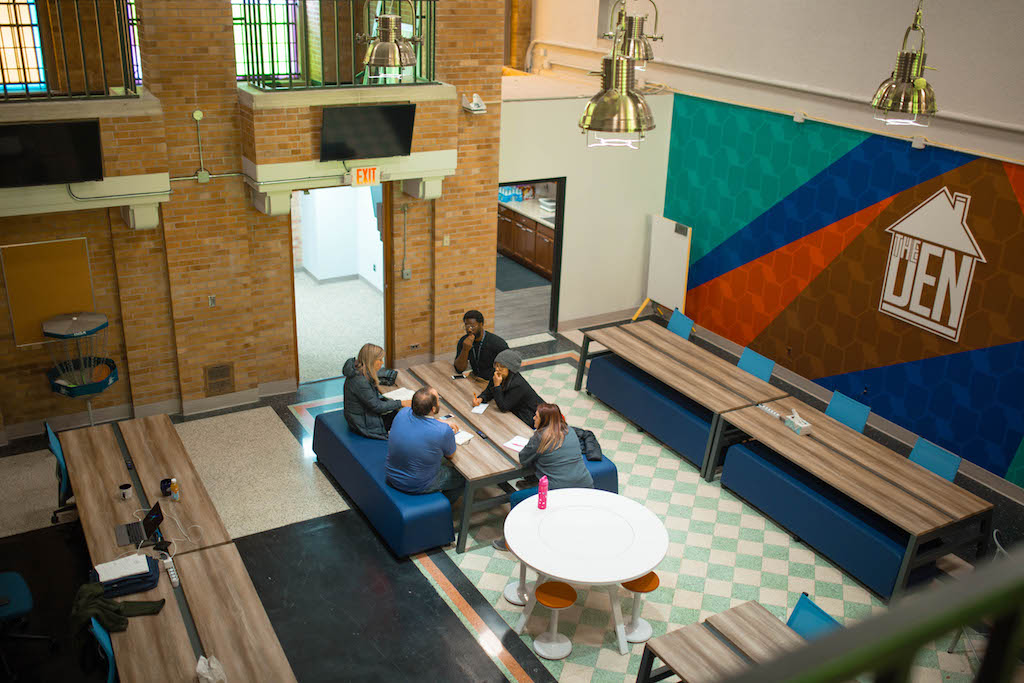 Wolverine Human Services firmly plants roots on east side of Detroit
State's largest child welfare agency branches out beyond family services
On an unseasonably warm Saturday in December, 13-year-old Akeeyah and her siblings and cousins were walking by Wolverine Family Services on the east side when they saw a board with a hand-drawn chef announcing the menu for that day's neighborhood meal: chicken strips, salad and rolls. With her baby sister on her hip and her twin sister at her side, they walked in with their cousins, their first time attending the nonprofit's weekly meal.
The kitchen is newly renovated with equipment – so new, it still shines, and even the instructions are still in the fryer – is open from 3:30-4:15 p.m. every Saturday. Anyone in the neighborhood is welcome regardless of income, whether they're first-timers such as Akeeyah and her family or regulars such as Delois Crenshaw. Crenshaw has lived in the neighborhood (down the street from Wolverine) since 1970. I ask her what she likes about the Saturday community meal and she says "the people and community." She's seen families come and go, especially with the closure of Carstens Elementary School, which she says was devastating to the neighborhood, and she'd like to see something for the kids in the community.
The meal, which reopened two years ago at Wolverine, is one of the ways the nonprofit is helping to give back to the community it has called home for three decades.
Founded 30 years ago by Robert Wollack, a (self-described, and actually convicted) corrupt New York detective-turned-Michigan social worker, Wolverine Human Services is well known as an adoption agency and the largest child welfare agency in the state.
But it has also grown in a different way by spearheading projects that may not seem like the typical initiative that a residential treatment and adoption and foster care agency might offer.
In addition to the Saturday meal, the nonprofit offers other services in its food program. One of the more ambitious projects is an urban apple orchard that will feature 350 honeycrisp trees over a half acre of land that Wolverine acquired about two years ago, according to Greg Hoffman, director of community relations for Wolverine Human Services. It's a scaled-back proposal from the original vision to purchase 12 acres of vacant, abandoned land in response to some pushback in the community regarding the original proposal.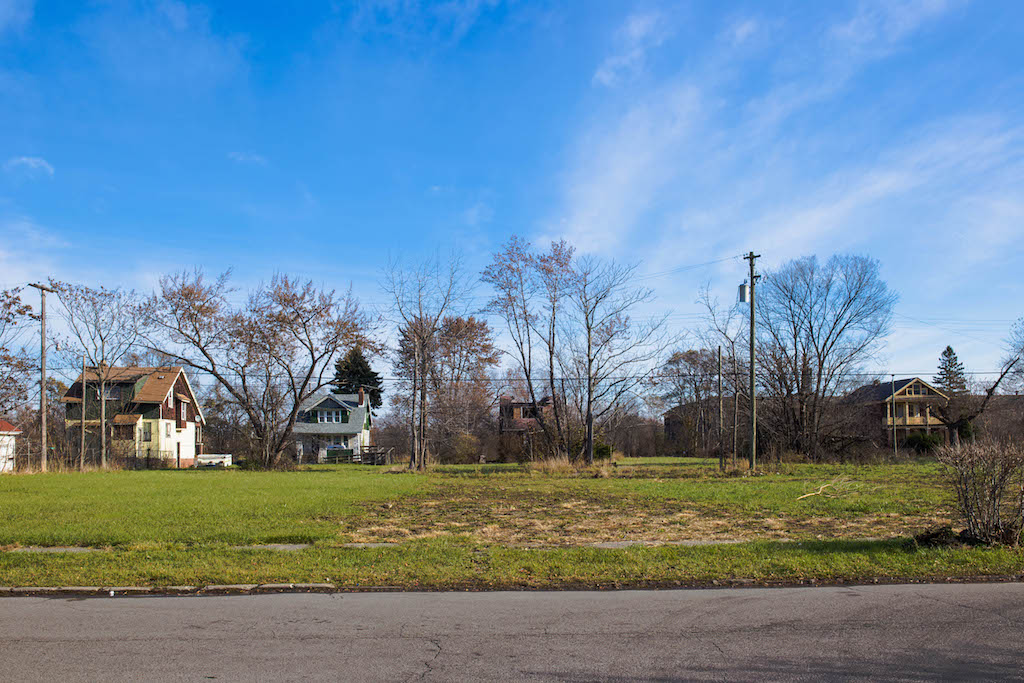 This season Wolverine also offered a community garden, a large hoophouse with nearly 15 raised beds. The goal was to promote healthy living by offering fresh produce, Mays says. Wolverine got the garden started and vegetables such as kale, heirloom tomatoes and squash were ripe for the taking for anyone in the community to get. On this recent Saturday when it was 50 degrees, the garden was past its prime with some tomatoes rotting on the vine but a kale plant continued to thrive as well as a stalk of Brussels sprouts and some verdant and fragrant rosemary.
Mays says it was a bit of a challenge to engage the community with a few residents such as Crenshaw, the regular from the neighborhood meal, who got tomatoes, but he's hopeful to get more participation next year.
"I can tell it's gonna grow and it's almost scary because I went from just a guy with a vision to almost starting to see that vision take course."
They're not only hoping to engage residents but also food entrepreneurs. After the $50,000 renovation of the kitchen, Hoffman says Wolverine is planning to offer it as a shared kitchen space available to rent hourly. For many enterprising Detroiters with a food business idea, working out of a commercial kitchen is a challenge because there is a lot of competition to get into these spaces. Without this type of access, it's difficult to scale up so that is a need Wolverine aims to address.
Another community Wolverine is hoping to reach is the nonprofit leader. The nonprofit accelerator and co-working space The Den has been up and running for a couple of months. There are about seven member organizations with three others in talks to join, Hoffman says.
There are a couple of factors in providing the accelerator. For one, Hoffman says Wolverine had the space. The Dickerson site is located in a historical nearly 100-year-old church.
"When Carstens Elementary School was still open and was kind of the anchor of the neighborhood we had a lot of collaborative programming with them," Hoffman says, such as an after-school care program with 75-100 kids, tutoring and even dinner. Then when Carstens closed a few years ago, "by that point the neighborhood had heavily emptied out and that was kind of the last straw" for families, he says.
"We figured this was a good way to create additional services potentially for our kids for our neighborhood and really utilize this beautiful old space in a new way."
He compares membership in the accelerator like a gym membership. For $25 a month, organizations get an official Detroit mailing address and discounts to workshops and events; the $50 membership grants access to the office space as well as the commercial kitchen and gym. The enterprise level is geared toward more established nonprofits.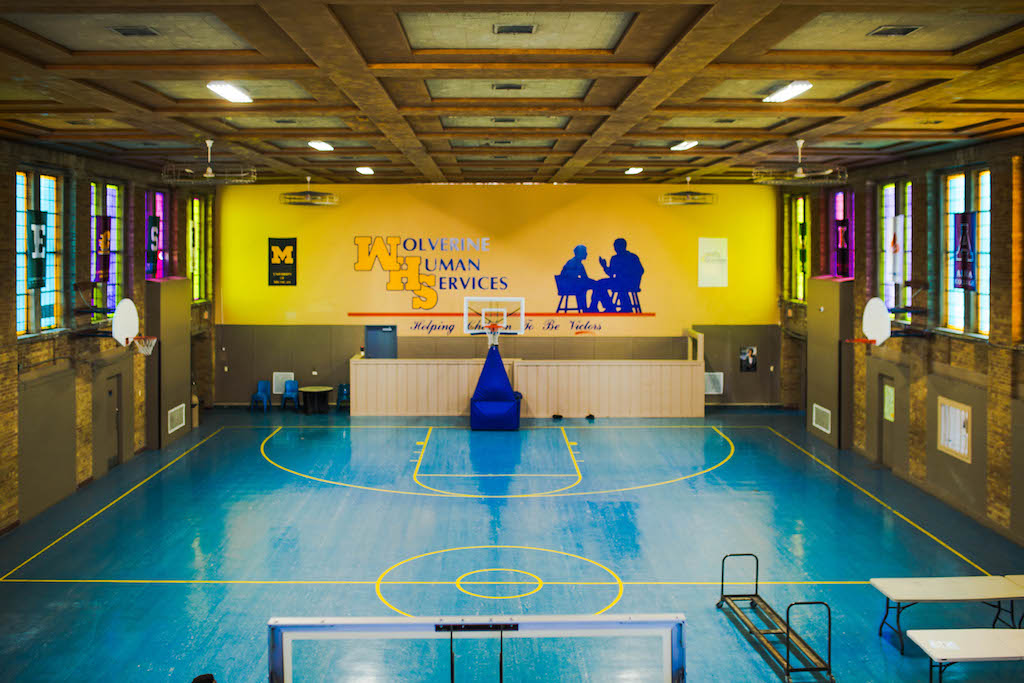 One of The Den's members is Detroiter Darrell Battle, who is forming a new baseball youth organization called Defenders Association. Battle, who is a team leader at the Chrysler Jefferson North Assembly plant, had little nonprofit experience before starting up the Defenders this summer.
He was looking for a gym to rent for the kids to work out, knocking on a lot of doors "and they were the ones to let me in," he says. The Jefferson-Chalmers resident has about 45 youths in his organization but wants to go bigger. But before he does that he needed a home base.
Aside from using The Den as an office he's also learning to apply for nonprofit status. Now that things are falling into place he says he can start recruiting more families.
"I can tell it's gonna grow and it's almost scary because I went from just a guy with a vision to almost starting to see that vision take course," Battle says.